Miley Cyrus' Mom Tish Opened Up About Miley's Sobriety
"She's the cleanest person I know."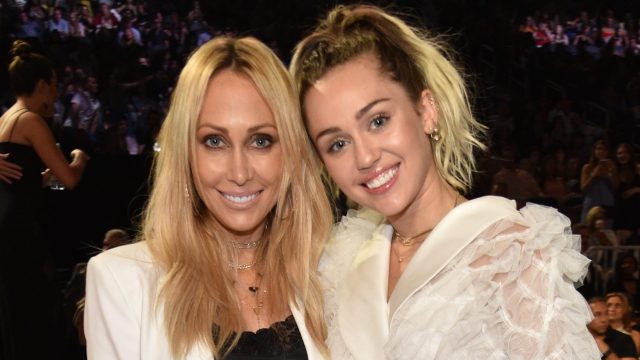 Miley Cyrus has always been honest with fans about her relationship to drugs and alcohol, but she recently revealed in an interview with Variety that she has been "sober sober" since her vocal cord surgery last November. In a new interview, her mom, Tish Cyrus, opened up a bit more about Miley's sobriety, sharing that her daughter doesn't quite fit the "wild thing" image often portrayed by the press.
Tish appeared on the July 13th episode of the Chicks in the Office podcast, sharing that it was her husband Billy Ray Cyrus' musical success that allowed her to focus on being a mom—attributing that attention to how Miley has been able to grow up and remain grounded.
"Listen, everybody thinks Miley is like this wild thing. First of all, Miley doesn't even smoke pot anymore. She smokes CBD only. She doesn't drink. She's the cleanest person I know. She's like, she's just so solid," she said.
Tish continued, gushing about Miley's life and habits now that she's sober—and taking credit for her daughter's lifestyle.
"She is just so unbelievable. She's just incredible. That's all I can say about her. She likes yoga and working out, eats clean and all this. So whatever I did, I feel like I did right."
Still, Tish admits that growing up under the glare of the spotlight wasn't without its challenges for Miley in particular. "Of course, she grew up in the public. And there were those times where she was pushing the boundaries."
"We were arguing and I was punishing her, you know, just being a full momma bear. But I think she always knew that I did those things because I loved her. And so it just worked," she said.
Tish also discussed her own relationship with marijuana, sharing that it was actually Miley who suggested she smoke weed for the first time after she began having trouble sleeping while out on tour.
In late June, Miley talked about getting involved with therapy and looking into her family history of "addiction and mental health challenges." She noted that she chose sobriety because of this therapy and to "polish up [her] craft" of singing and music. Miley deserves all the credit for deciding on sobriety, if that's what works for her, personally, for her life and her career, and we're glad to hear that she's doing so well.