9 Tips Party Experts Want You to Know About Celebrating the Holidays at Home
Hint: It's time to start now.
This year hasn't exactly set the tone for celebrating. With so much grief, violence, and tragedy on the news, plus the constant stress of the election, even birthdays have felt poorly timed in 2020. So, when it comes to the holiday season, it's easy to feel like we should just call the whole thing off and add it to the list of things that have been canceled due to the pandemic. But no matter how different the world may be, there's always something to celebrate. So this year, let's make the holidays about granting ourselves permission to feel joy amidst sorrow—to eat, drink, and be merry, because we could all use some of that right now.
With most public events and gatherings called off across the country, there's all the more reason to go all out with the festivities right at home. Whether you're planning to have a Zoom party, a socially distanced outdoor hang, or a small indoor celebration with your house or podmates (after taking important precautions into account), you can still make the holidays feel special this year. To help you figure out where to start, we tapped party planning experts and various creatives who know how to set the tone for a good time.
Follow the tips below to curate the glamorous holiday party you deserve.
1. Plan ahead.
In the context of party hosting, planning is a virtue. Mixologist duo Raquel Ravenell and Erika Moore, known as Whiskey and Rosemary, say their best advice for throwing a party is to "thoroughly plan and prepare," adding that "having everything laid out will set you up for success."
To Lee Mayer, CEO of interior design and home decorating company Havenly, this means preparing all of the necessary lists—like your guest list, grocery list, and decor list—far in advance. Instead of waiting until the day before to decide what you need to pick up at the store, use your lists to create a schedule of everything that needs to be done leading up to your celebration. This will also allow you to relax during the event. If the food and drink are all prepared and organized before guests arrive, you won't have to spend the majority of the party being busy in the kitchen.
Planning ahead is also especially important if you're hoping to gather with family and friends outside of those you live with. With more time, you can better establish guidelines for how to approach the event as safely as possible, whether that means setting clear mask and social distancing guidelines, requesting that your guests get tested for COVID-19, or deciding to quarantine before the event. Reach out to your friends or family during the planning stage to discuss these guidelines (i.e. like bringing hand sanitizer), or share them in a virtual invite to make sure everyone is on the same page. "I would do my best to create a safe environment so everyone felt relaxed and comfortable to hang," says Australian-born DJ Amrit Sidhu.
Aside from establishing important coronavirus safety guidelines, Mayer warns not to get too caught up in worrying that every other aspect of the event goes exactly as planned. "There is a moment when striving for perfection can become the enemy of a truly delightful and wonderful good time," she says. "Like all things in life—and certainly this past year has reinforced this mantra—it's the art of balancing preparation with flexibility."
2. Create new traditions.
To make the holidays feel even more special, consider setting up new traditions and activities with those present (in person or virtually) at your event. Desiree Ontiveros, cofounder of Badass Balloon Co., says that this year she plans on setting up fun and extravagant photo opportunities in the yard to make things especially exciting for the kids. To help with the decor, she recommends the Candyland Christmas DIY kit, which makes a 12-foot balloon garland to hang above a doorway or drape around a dessert table.
Since her family won't be sharing a big meal together, Ontiveros says she's also planning to create pre-made meal boxes containing everyone's personal favorite family recipes, with mini menus on the front and hand-lettered names on each of them. "This is a great way to still enjoy the tradition of a holiday meal with your family and friends while protecting the ones you love," she says.
If you aren't able to be with your family in person, create and send care packages or gift baskets filled with snacks or cozy items to let them know you're thinking of them even when you're celebrating in separate places. "Music, color, decor, lighting, and theme are all the cornerstones of a great party—but during the pandemic, I think knowing your guests and making sure you are being thoughtful is what makes a great gathering," Ontiveros says.
3. Create the menu.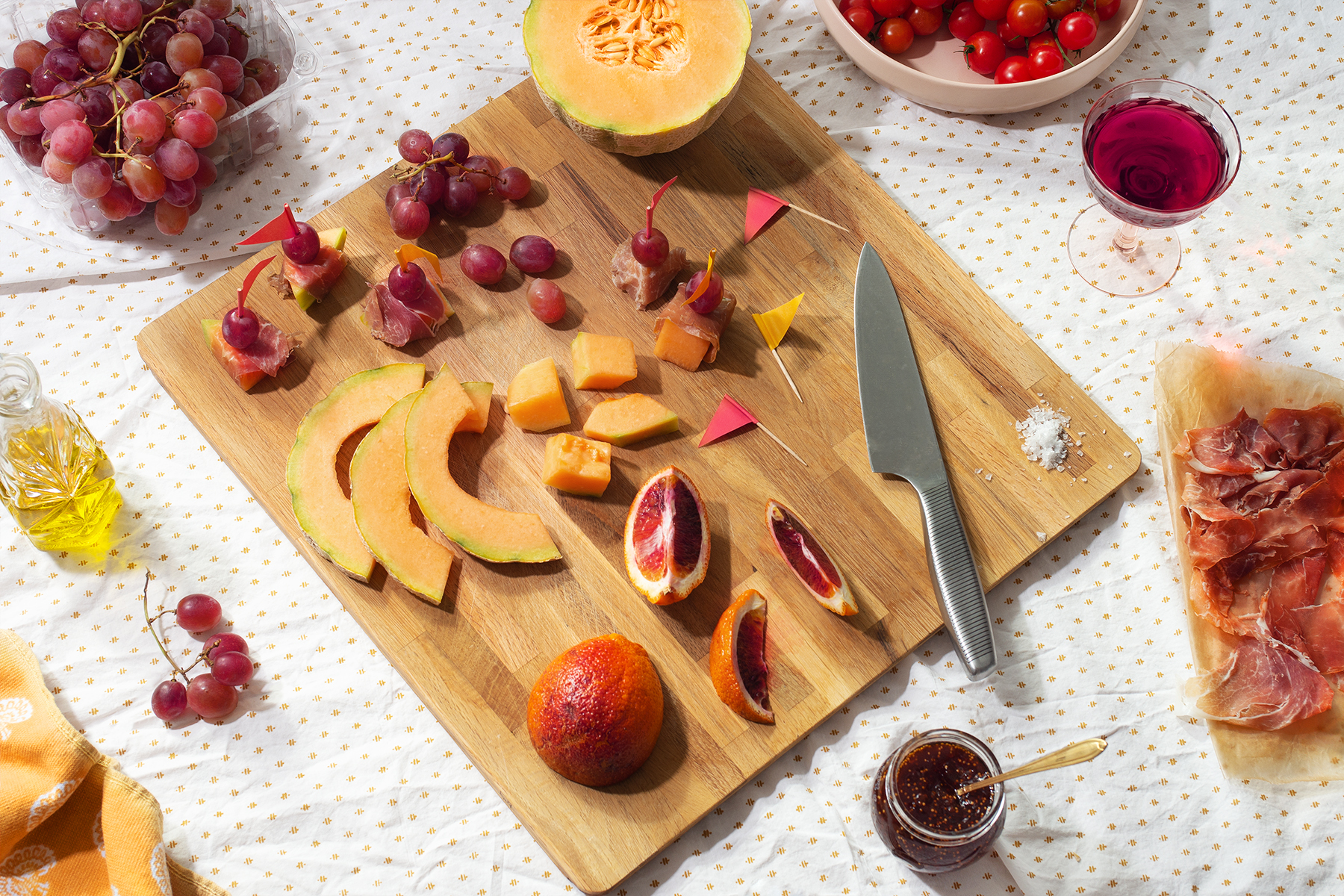 If you're tired of having the same casseroles and crockpot creations year after year, now's the time to get creative with your holiday menu. Just because you may not be able to go out and have a fancy holiday meal doesn't mean you can't create one right at home.
Don't know how to start? Take a tip from Mayer's holiday party menu, which she plans to use for her own party: "We'll start with charcuterie and melons wrapped in prosciutto, followed by a salad with pomegranate seeds and roasted carrots, leading to my favorite: Julia Child's coq au vin. For dessert, we'll keep it simple yet delicious with chocolate mousse topped with whipped cream."
If you aren't one for cooking or you just want to cut back on the stress, there's nothing wrong with ordering takeout. You can help support local restaurants in your community—and you can still plate the food to look festive and party-ready at home.
Meyer also shared his baked brie recipe, which is an easy-to-prepare crowd-pleaser—whether you love to cook or not.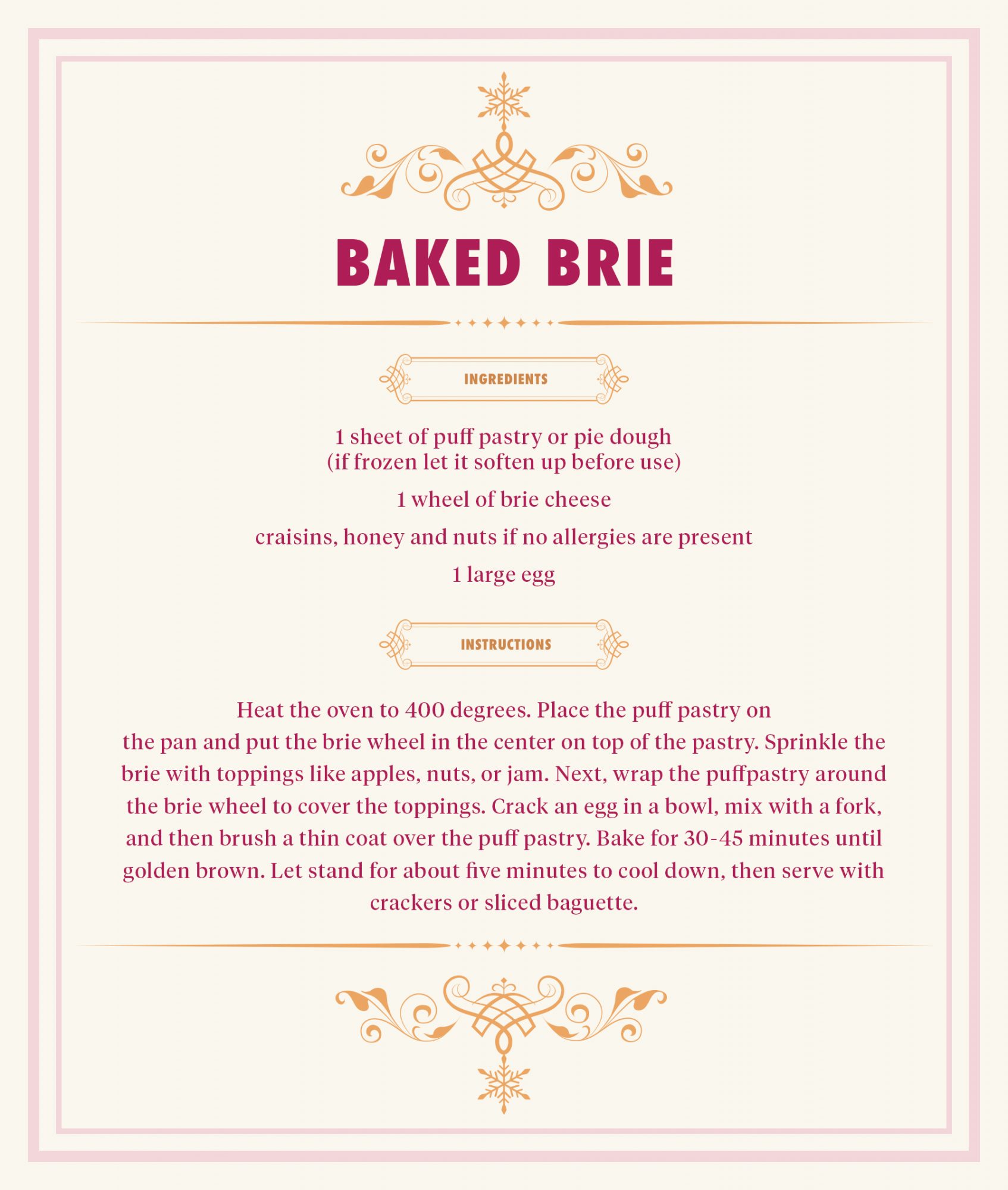 If you need more meal ideas, ask your relatives to share some of their favorite family recipes. This way, you can make something that's already been verified by your loved ones and get in touch with family traditions.
4. Get creative with the drinks.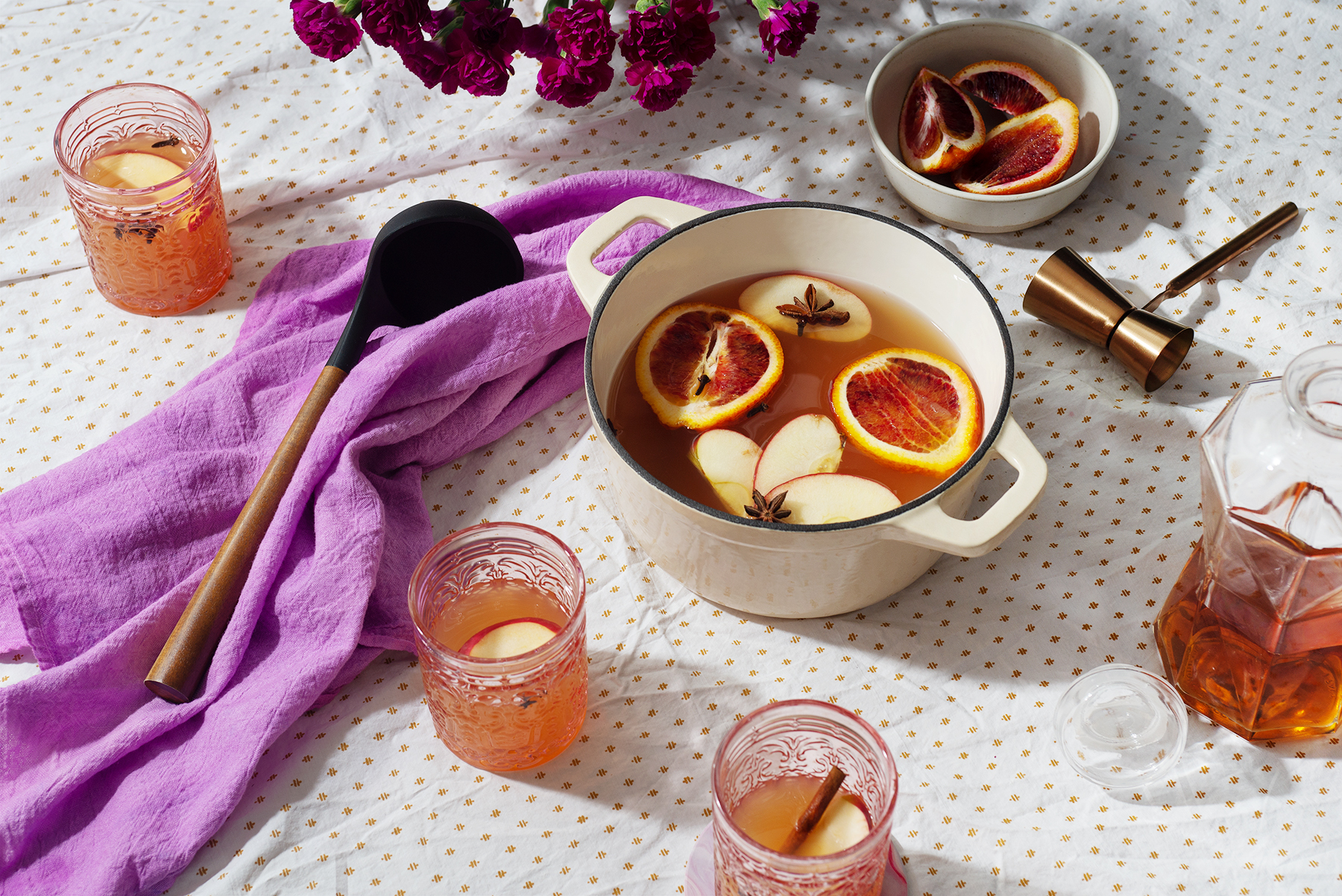 To really elevate your party menu, get creative with your bar offerings. Wine and beer are tried-and-true options, but offering cocktails your guests have never had will make the party even more memorable. While Ravenell and Moore couldn't share their exact recipe details, they did offer up two different cocktail options that would be great for experimentation and impressing your guests.
There's the savory "Campfire Cocktail," which includes scotch, gin, marshmallow syrup, BBQ sauce, bitters, and a pineapple jerk beef jerky garnish. Or there's the sweet-tooth pick: the "S'mores N' More" cocktail, which includes cognac, spiced plant-based chocolate milk, honey, and a graham cracker/chocolate rim garnished with a roasted marshmallow. (For a non-alcoholic option, simply leave out the cognac from the S'mores N' More drink and you'll still be left with a tasty and unique beverage.)
For a simpler approach, Virginia Frischkorn, founder and principal of Bluebird in a Box, suggests filling a slow cooker with apple cider and offering guests the option to add dark rum and cinnamon per their liking—just make sure that any communal beverages are distributed safely and separately. Sara Sylvester, business development manager at Chillhouse, an N.Y.C. nail salon, spa, and event space, also offers this important tip: "Having water and ice for guests are my most important checklist items. Gotta stay hydrated to keep partying."
5.  Decorate based on your desired party scene.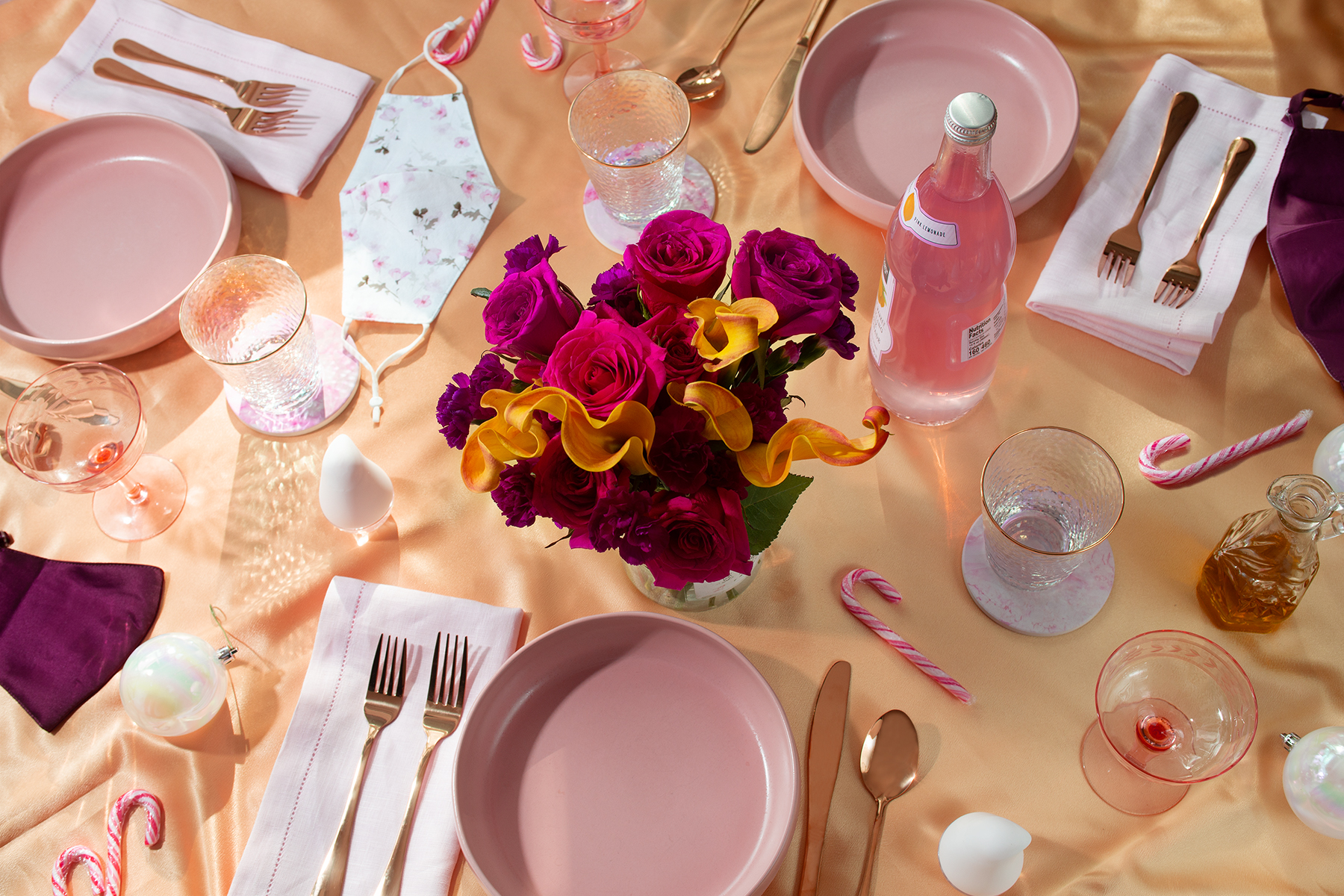 It's important that you prepare the scene for your celebration, because this will set the tone of the party for your guests. Whether you go for winter wonderland decor, playful dance party vibes, or something more subdued and minimal, decorations can be a clear way to make a party feel like an extra special occasion.
This year, wedding and events planner Jove Meyer is throwing out tradition and welcoming in bright, fun colors for decor. "I would say 'goodbye' to typical holiday colors and 'hello' to those that make me happy and bring a smile to the faces of my friends and family, as we can all use a little more joy these days," he says. He also shares this important lighting tip to help set the mood: "Dim your house lights—if not on dimmers, turn some off and leave others on. Use candles to set a tone and ambiance, and use some that can burn for hours so you can light them early and not have to worry."

Mayer, on the other hand, is planning to take a more classic and cozy approach with a Scandinavian twist for her celebrations, emphasizing nature and comfort. Her Christmas party decor will feature a large frosted tree with silver, ivory, and glass ornaments and a wooden bead garland; gifts wrapped in craft paper and twine and accented with sprigs of greenery; and neutral tones and natural materials throughout the home, like olive branch garlands and cozy cable-knit throws.
Frischkorn recommends placing accents of seasonal decor—like leaf garlands, bowls of apples, pumpkins, and LED lights—around your home for an added touch of warmth. She likes her fall holiday decor to evoke a message of gratitude for "what the world and each harvest have given us each year—especially this year, as many have worked extra hard to provide." To continue a theme of gratitude—whether you're hosting Thanksgiving, Friendsgiving, or any holiday gathering with loved ones—Frischkorn recommends providing colored notecards or stationary with cute pencils for guests to write down what they're thankful for. These can be tied with ribbon and placed at each table setting or handed to guests as they arrive.
6. Accept a helping hand.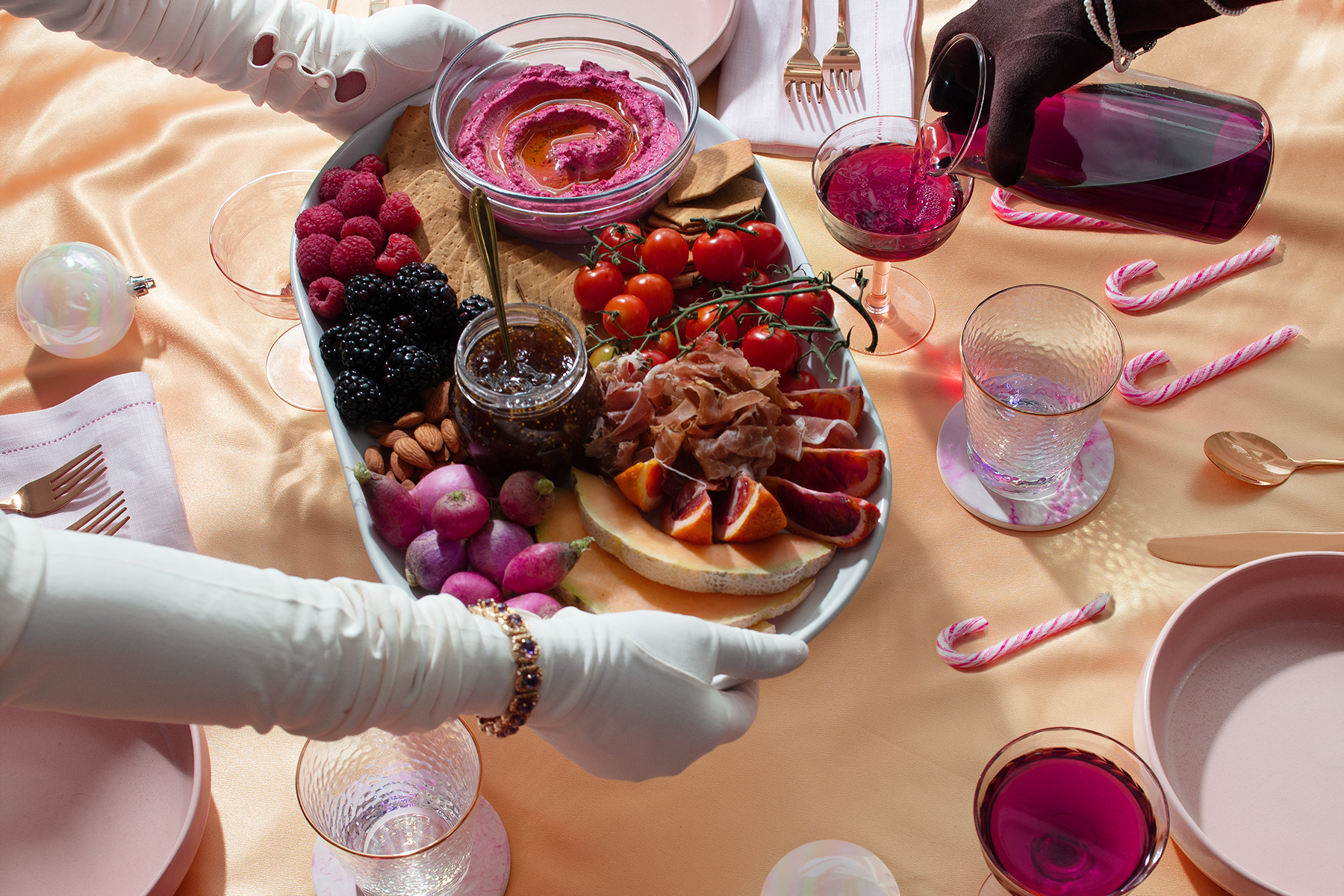 Pro tip: Even party experts ask for help sometimes. While you may be busy trying to be the hostess with the mostess, the experience will be better for everyone if you simply ask others to contribute. "My best piece of party advice is to assign your guests something to bring," Sylvester says. Not only will this lighten your load as a host, but it will also give your guests something to be proud of (and to brag about at the snack or dessert table). "People want to feel like they had a part in the success of the event," she says.
Sidhu agrees that accepting help has some major benefits. "I'm used to always being in work mode at parties, so if I'm not DJ-ing and actually throwing a party for fun, I like to delegate and take on as little as possible," she says. "It's okay to ask everyone to bring something, potluck style, and take the pressure off so you can enjoy yourself."
Plus, with your guests bringing dishes to (safely) share, you'll have built-in conversation starters—because someone is going to want to know how to make that savory dip or what makes those cookie bars so good.
If you're having a Zoom party, you can still create the potluck feeling by asking everyone to share their favorite recipe with the group in a Google document, so you can all end the event with a miniature cookbook of your crew's favorite party dishes.
7. Get the music going.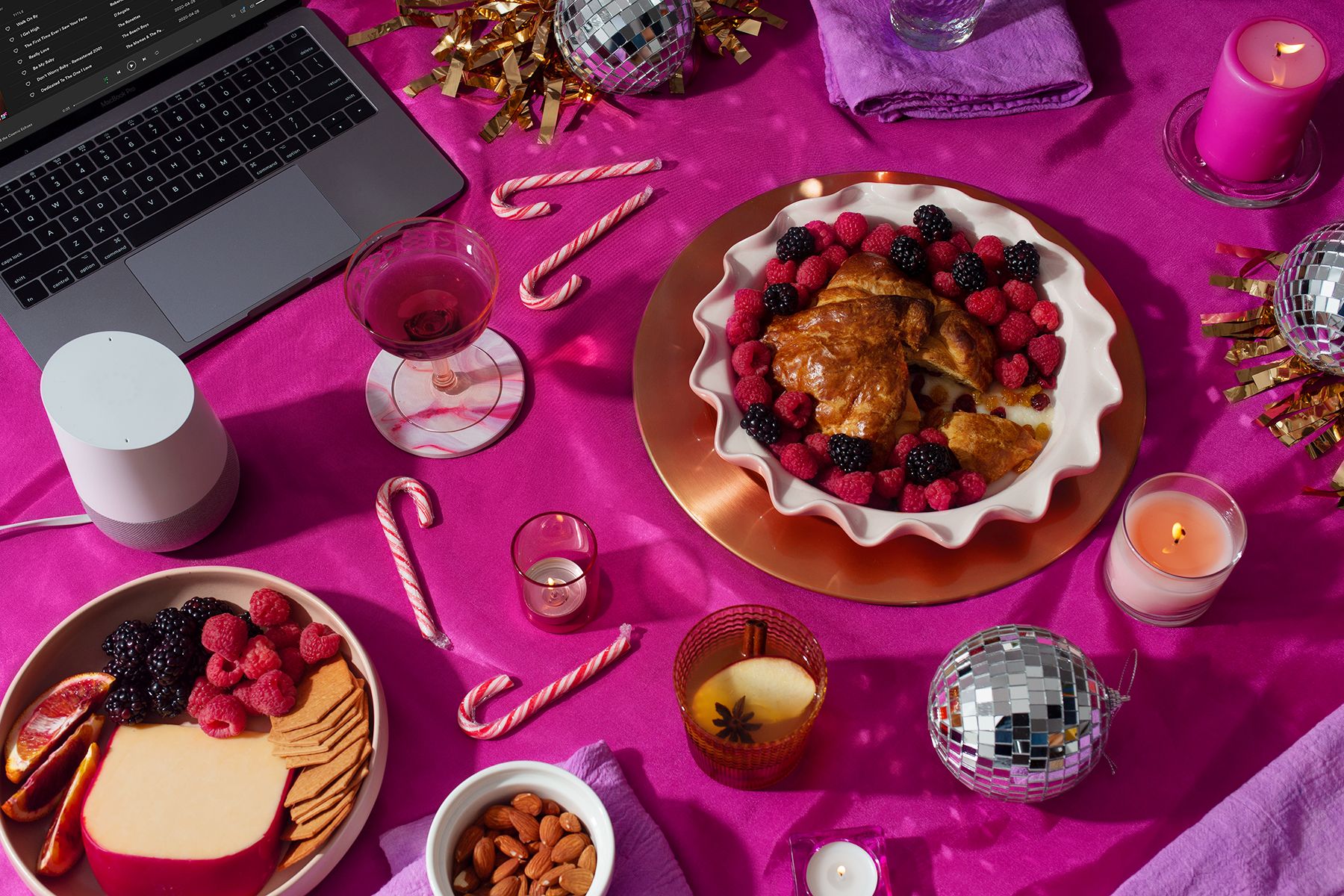 Sylvester says her telltale sign for recognizing if a party is going well is whether or not people are dancing. "If they're not, pass the aux cord," she jokes. So a killer playlist is a party must. If you're intimidated by choosing the music for the entirety of the event, you can always rely on Sidhu's DJ-certified playlist called Rumours, which she says has "a good mix of every genre and has enough music to last an entire day." While it's not specifically a holidays-themed playlist, with songs by artists like Chaka Khan, Stevie Wonder, The Mamas & the Papas, and The Beach Boys, it's sure to get a crowd in a good mood.
Britt Stewart, the first Black female Dancing With the Stars pro, says music has always been a constant at her family gatherings. "No matter what food we decide to make, drinks to drink, and games to play, that music always stays the same," she explains. Her family's go-to Christmas albums are Every Year, Every Christmas by Luther Vandross and Merry Christmas by Mariah Carey. "These albums will definitely get everyone moving, grooving, and in the holiday spirit," Stewart says.
No matter what your preferred music vibe is, Meyer says, "a playlist is a must, and it should be for hours longer than you think it should go for." He adds that he likes to have three different playlists at the ready: one that's calm, one that's upbeat, and one that's all-caps PARTY. "This way, you can transition as the night goes on and be ready if the party heats up or cools down," he explains.
8. Start up the conversation.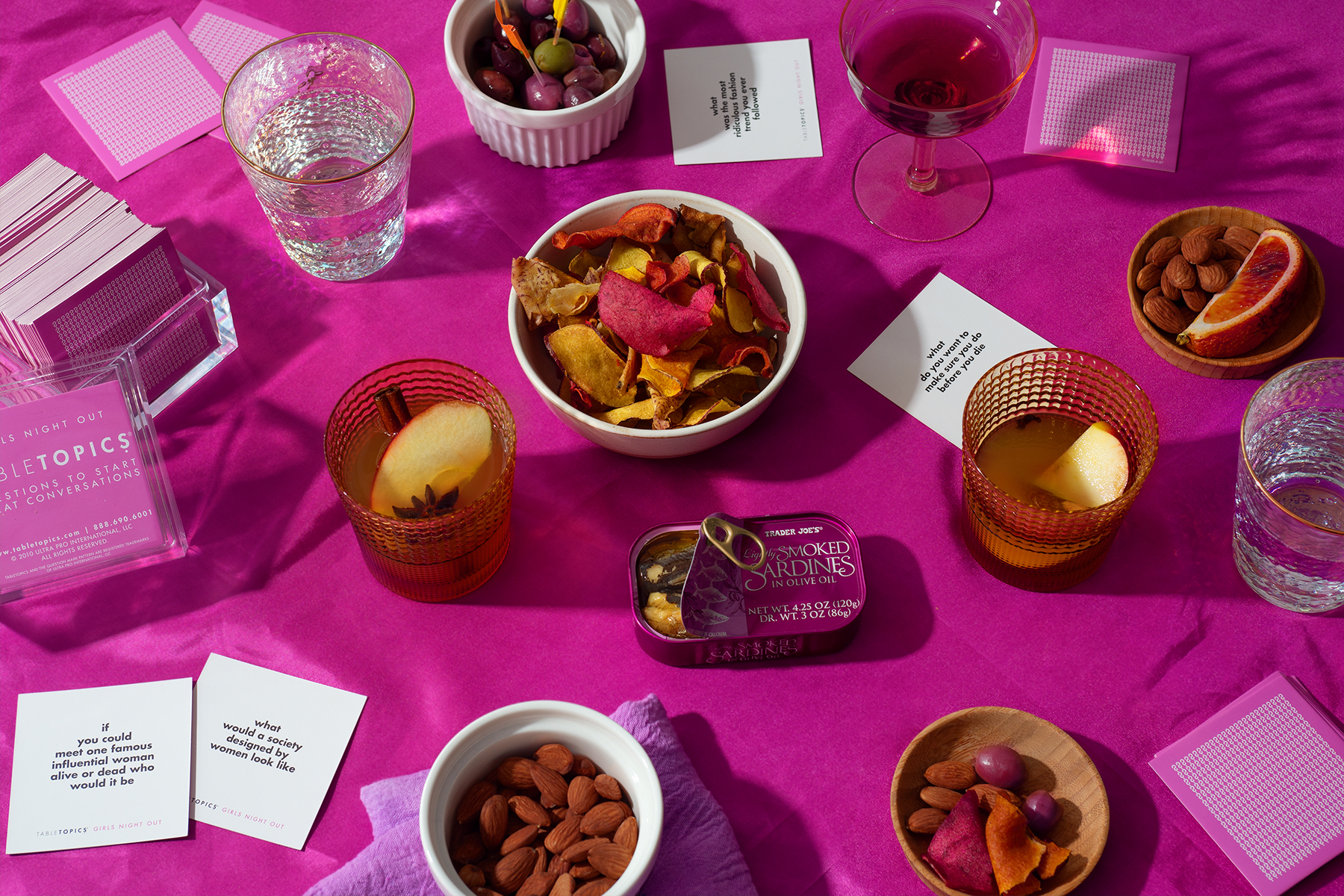 If the food and drinks aren't enough to sustain the conversation, get your guests to mingle by pulling out some conversation-starting cards. Frischkorn specifically suggests the TableTopics Family Gathering deck, which includes prompts like, "What do you remember most about the homes your family has lived in?" and "Who do you think is the most inspirational person alive?" Online trivia games via Houseparty or Jackbox Games can also be a great way to get your guests engaged—whether you're celebrating in person or from a distance. For more virtual party ideas, check out these seven online games to play with friends.
9. Relax and enjoy yourself.
For a busy, hard-at-work host, this part is much easier said than done. However, as Mayer says, "The best gatherings are those where the host feels truly present and not overly stressed or structured." As the party host, you should be a part of the celebration—not constantly on the margins managing every little detail. Don't stress too much over everyone's drink being constantly full or whether or not everyone is enjoying themselves. If you allow yourself to enjoy the party as the host, others will follow.
"Remember," Mayer says, "before you open the door to your first guest, make sure to transition from prep mode to party pants, pour yourself a healthy glass of wine, and just have fun."
Art Direction: Jenna Brillhart, Photo Styling: Caitlin-Marie Miner Ong, Photography: Jasmine Purdie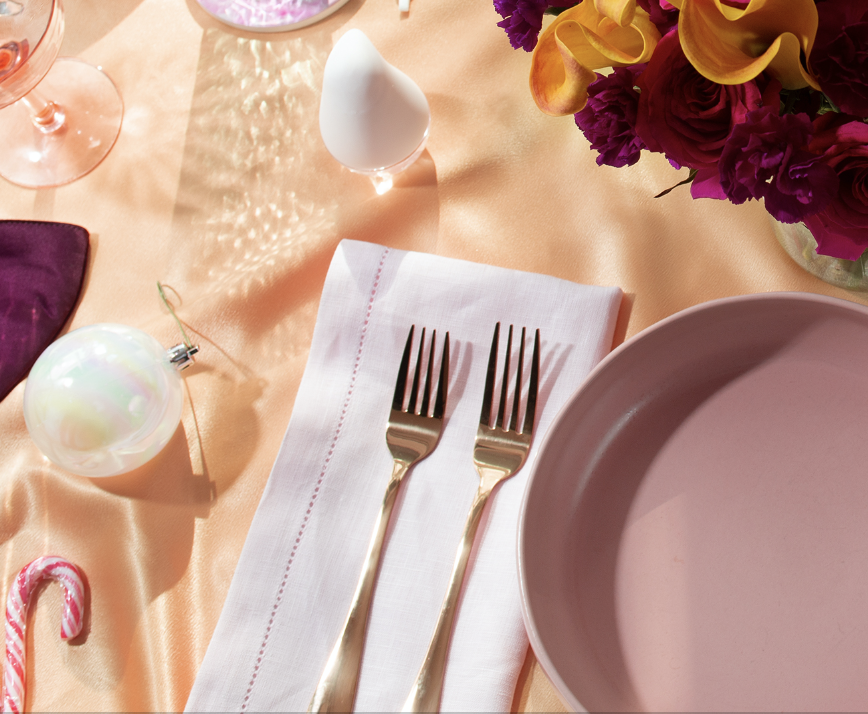 D'Moksha Homes 100% Pure Linen Hemstitch Dinner Napkins
$34.99
Shop it
Amazon
Alytimes Mirror Disco Ball
$18.99
Shop it
Amazon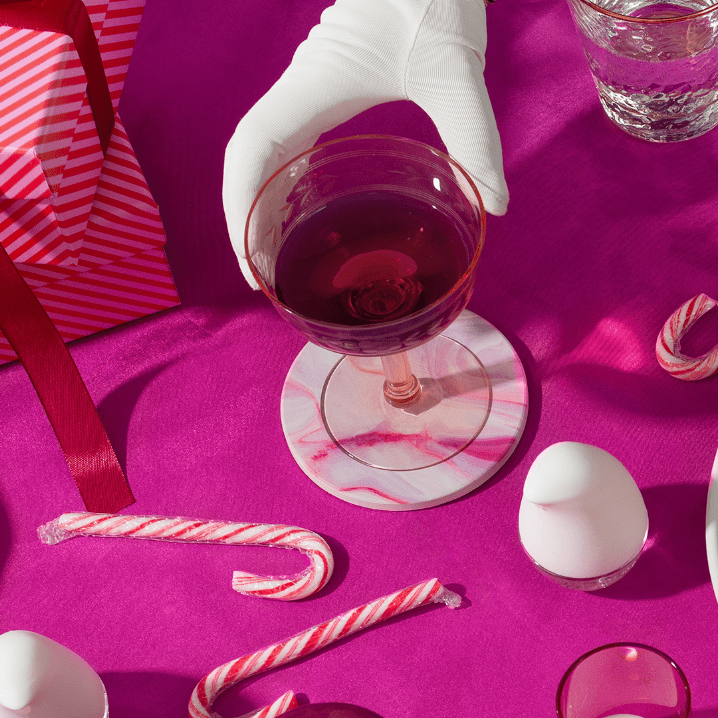 Acme Designs Round Pink Stone Coasters, Set of Six
$13.99
Shop it
Amazon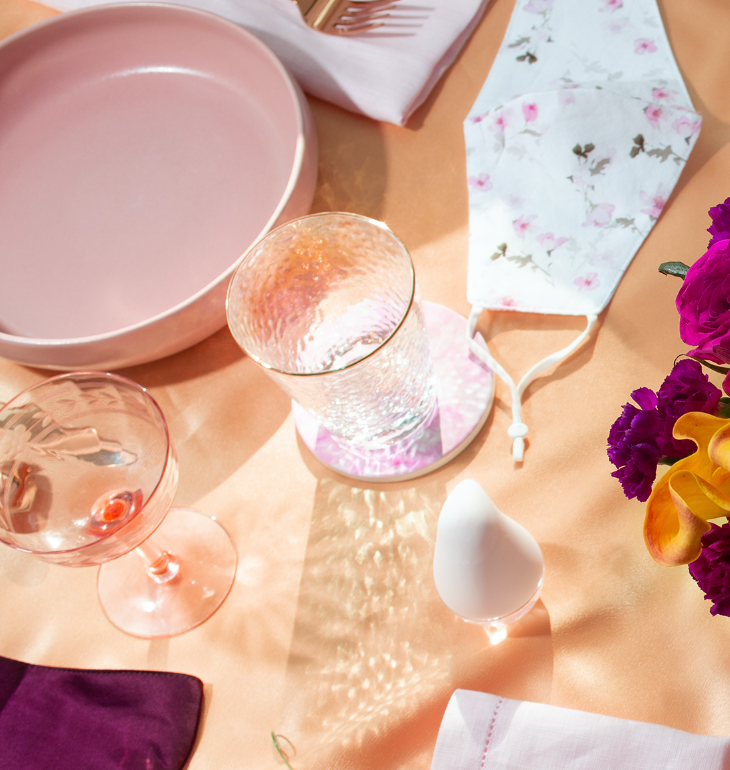 Iridescent Tumbler Drinking Glasses with Gold Rim, Set of Four
$26.95
Shop it
Amazon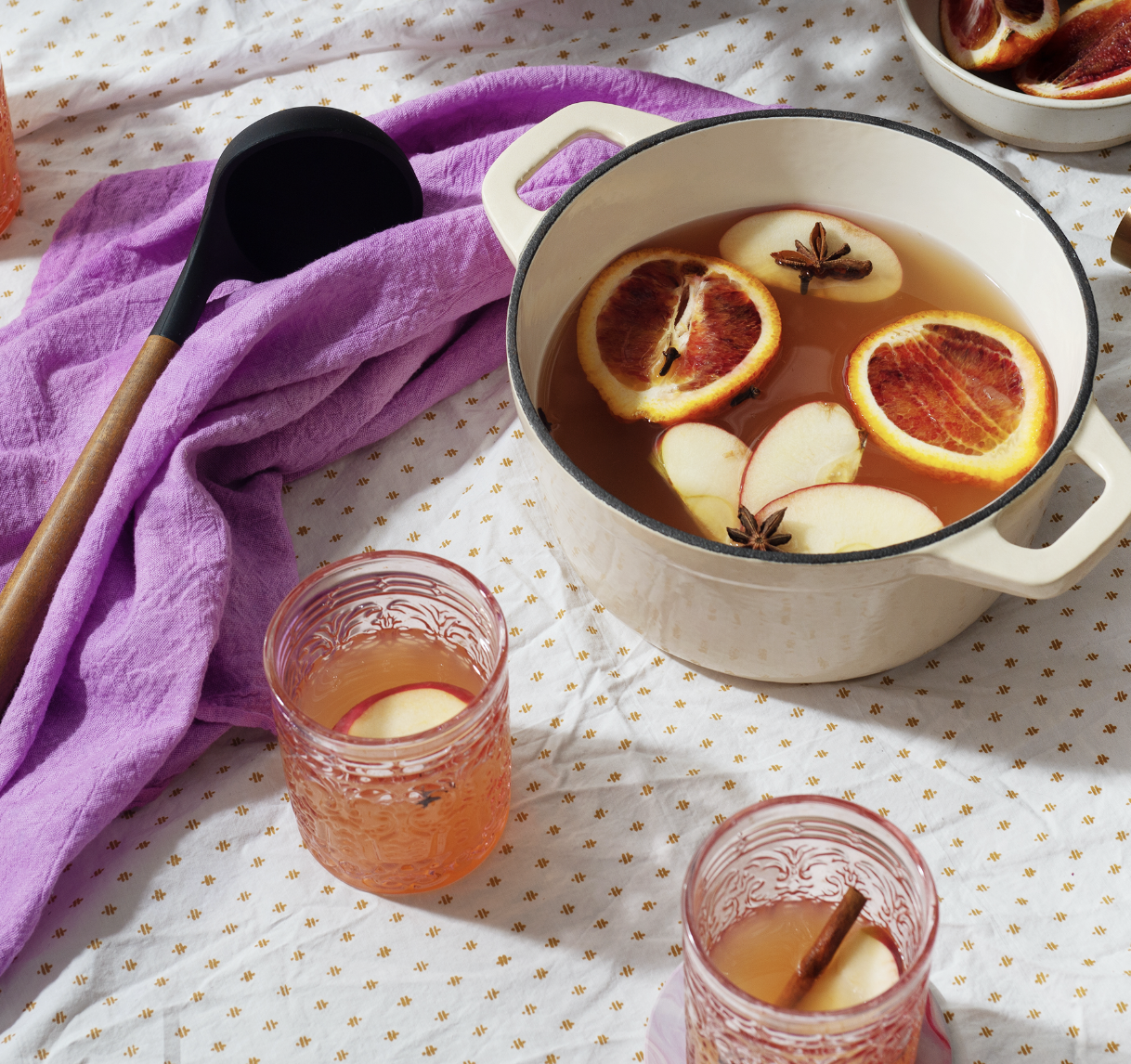 Jax Double Old Fashioned Beverage Glasses, Set of Four
$24.99
Shop it
Amazon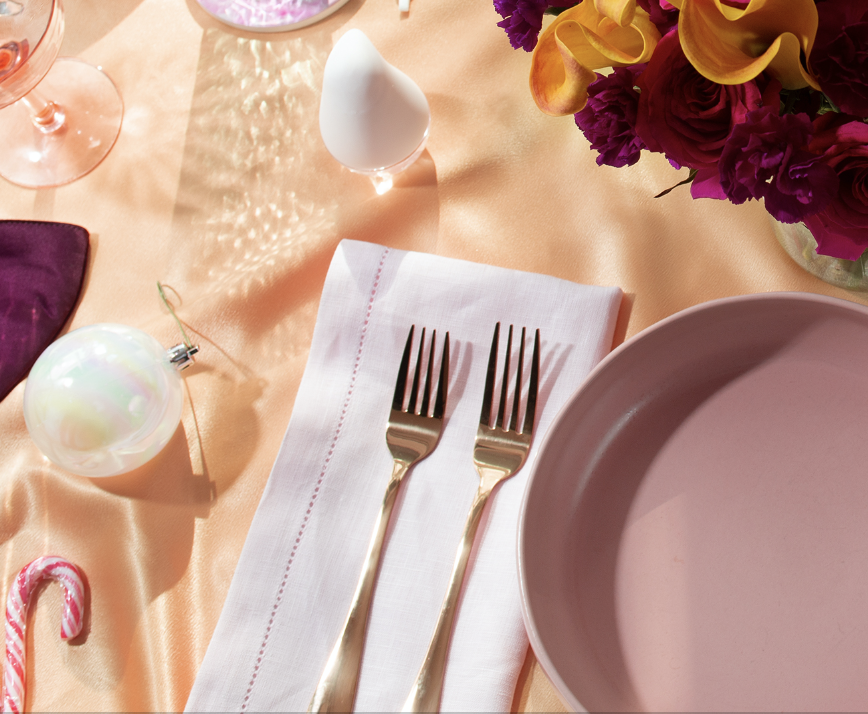 Berglander Flatware Gold Plated Cutlery Set
$24.99
Shop it
Amazon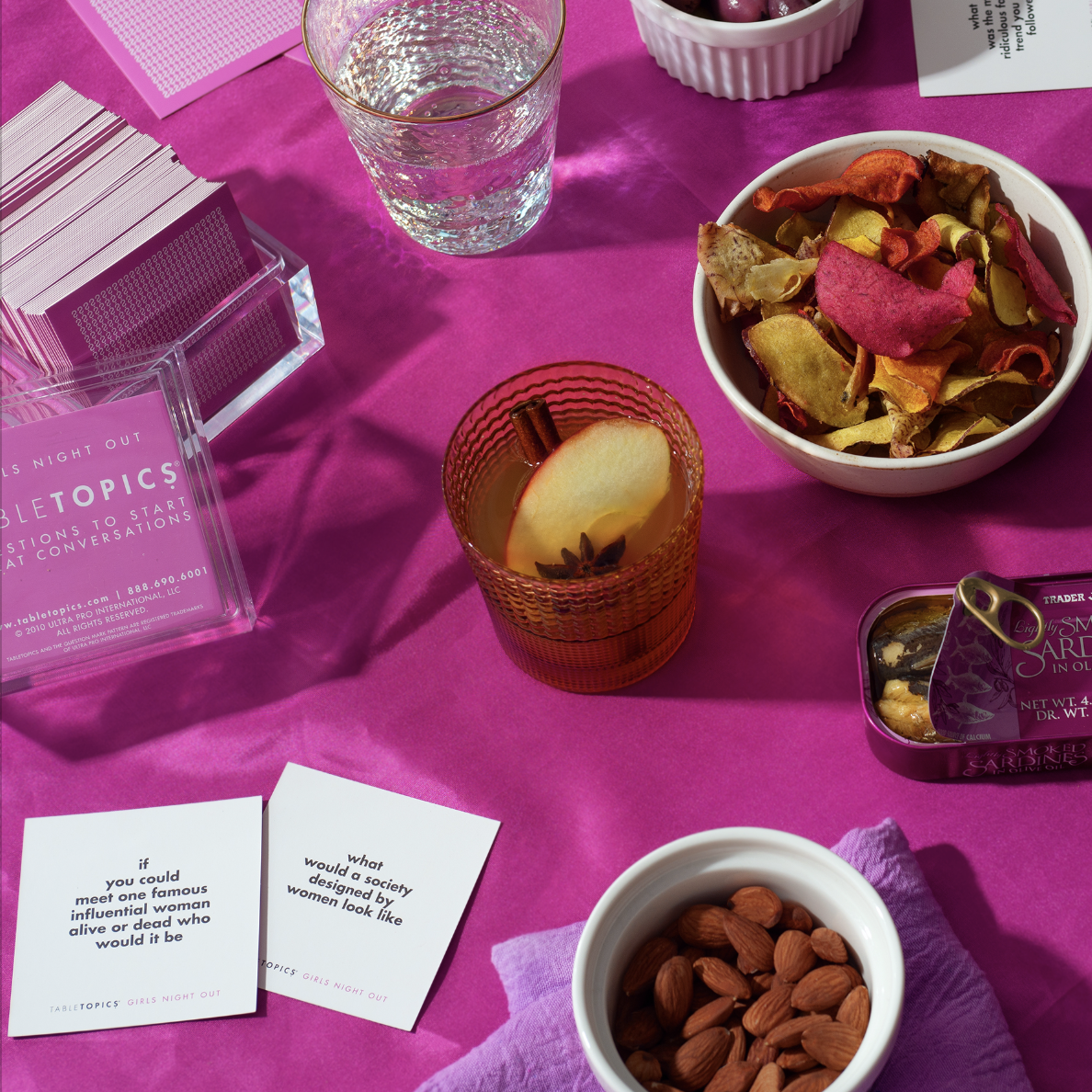 Tabletopics Girls Night Out: Questions to Start Great Conversations
$25
Shop it
Amazon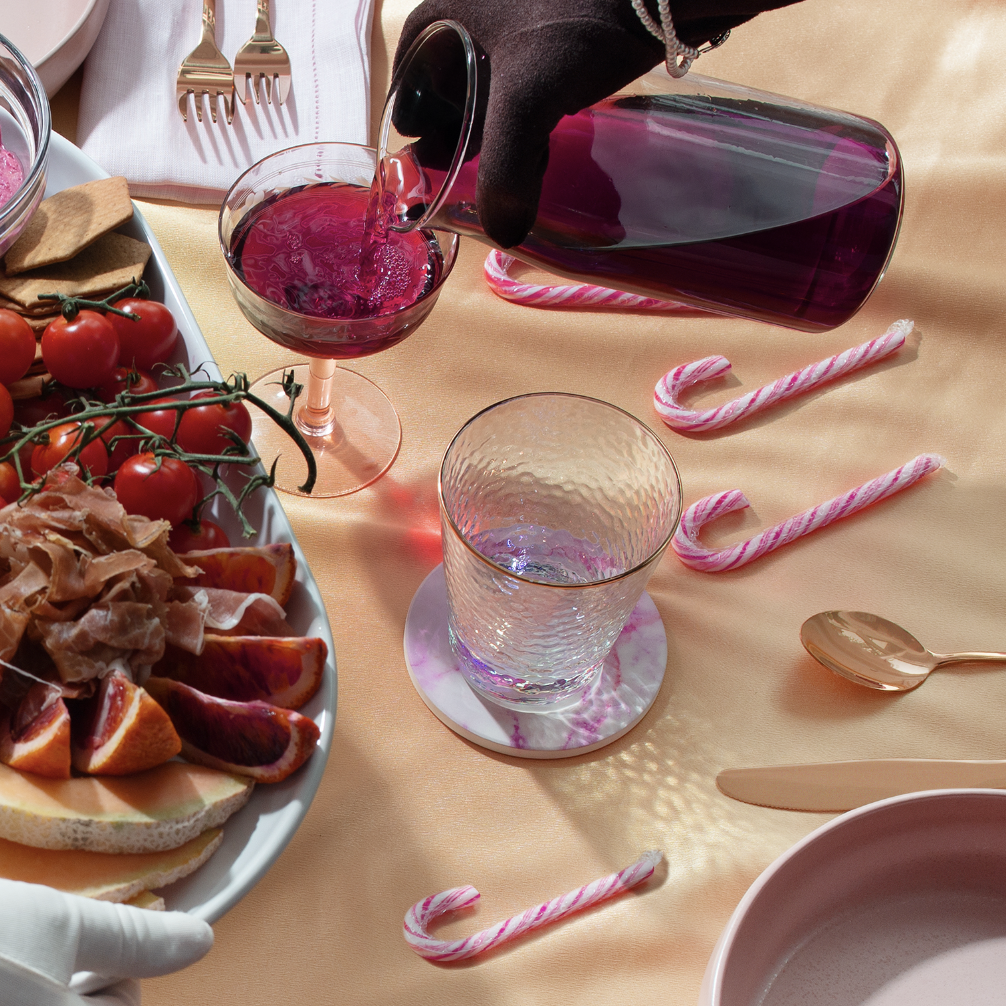 Peppermint Flavored Candy Canes
$10.97
Shop it
Amazon