These adorably tiny layer cakes are the latest Instagram food trend, and we are IN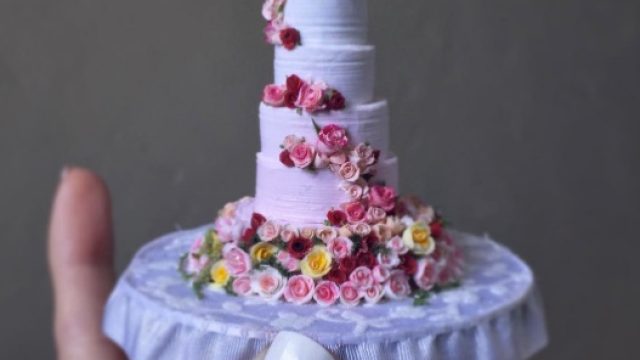 Tiny food is all the rage these days. And one baker is taking the small food trend to new heights with adorable (and Instagram-able) tiny layer cakes.
It sometimes seems like Instagram is full of bakers specializing in miniature edibles, and lifelike polymer sculptures that are totally drool-worthy. From McDonald's happy meals, to fully balanced breakfasts, to cookies and donuts and cakes, itsy bitsy food has captured our imaginations.
From ornate to themed to floral to woodsy to layered cupcake cakes, she's got everything any bride could desire. As long as said bride desires tiny. And we mean tiny. Like, three inches tall.
https://www.instagram.com/p/BSR0ZPaF5_f
And as long as said bride desires the not-actually-edible.
All of Dyke's creations are sculpted from polymer clay.
So, sorry, that "fondant" will NOT melt in your mouth.
https://www.instagram.com/p/BRZ5uOeFr-s
These are for-your-eyes-only. But we guarantee you won't be able to stop looking.
First of all, she makes models of celebrity wedding cakes.
https://www.instagram.com/p/BSSozCRlDFz
Furthermore, she makes the wedding cakes of your dreams.
https://www.instagram.com/p/BSZmpcAlQhd
In addition, she sculpts teeny tiny flower petals that are absolutely perfect.
https://www.instagram.com/p/BR7DhEFlDZQ
Finally, she does side-by-sides of real cakes with her mini ones.
And we can only tell the difference because one fits in the palm of her hand.
https://www.instagram.com/p/BSZmpcAlQhd
According to Cosmopolitan, it takes Dyke around 12 hours to complete each cake. Given the remarkable detail of each one, we're not surprised. Finally, she scents each cake with fragrant oils to make it smell like the real thing. Umm? Yum.
We're thinking these would make excellent wedding favors. Every guest gets their own cake!