12 tiny Halloween tattoos that are way more edgy than scary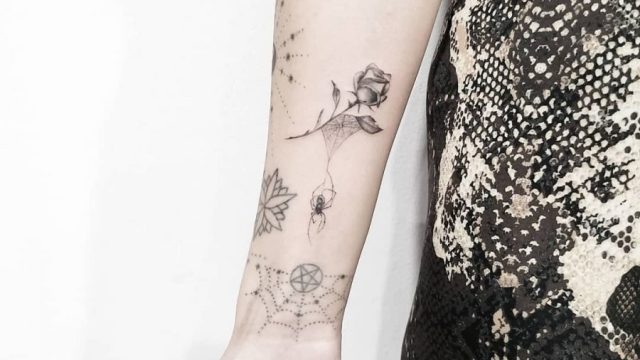 Now that it's a little chillier outside, it's the perfect season to cover your skin, but we're not talking about outerwear. After scouring the web for the perfect tiny tattoo ideas, we would like to declare this festive season as the absolute best time to get inked. There are endless designs online to appease your inner ghoul and inspire you to get a tattoo for Halloween in the creepiest, prettiest, and most creative way.
Given all the many ways one could express their love for Halloween and tattoos, we could see how a massive sleeve of your favorite characters from The Nightmare Before Christmas would be fitting. However, for those of you who are more into tiny tattoos, we've got you (minimally) covered. Now, just because this is time of year when people want to get scared by going to haunted house tours and watching horror movies, that doesn't mean you need to get a tattoo that may cause people to run away in horror.
You can totally choose a design that's more edgy than scary.
These tiny tattoos are considerably less terrifying than Bride of Chucky's menacing mug but still intriguing enough to let everyone know how much of a Halloween lover you are.
1Spider and web tat.
https://www.instagram.com/p/B3fqQN7lJPw
If you're an arachnophobe, obviously this would be the last tattoo you'd want on your skin. We can't even pretend like the sight of this spider hanging from a web wouldn't scare the crap out of us in real life, but in tattoo form, it's simply badass.
2Black cat.
https://www.instagram.com/p/B2b6FCLo86w
Peek-a-boo, we see you!
3A bat tat.
https://www.instagram.com/p/ByECfOXHamk
We think this totally "batass" tattoo is equal parts cool and and spooky.
4Spider web ear tat.
https://www.instagram.com/p/BYYwk_HnlS0
This minimal ear tat works perfectly for Halloween fanatics who want subtly festive ink.
5Witch's hat.
https://www.instagram.com/p/B3asu6PBLSd
Nothing screams Halloween quite as much as a witch hat does.
6Mummy tat.
https://www.instagram.com/p/BYMZFAenN8r
So ghoulish yet so cool. Just like every Halloween party needs mummy poppers, every Halloween lover needs a mummy tat.
7Candy corn with bat wings.
https://www.instagram.com/p/BY_6sdmgMpA
If you want to divide a room of people in the quickest way possible, just ask who loves candy corn and watch the crowd part down the middle. Love the candies or hate 'em, we can't deny that this candy corn with bat wings is a super sweet Halloween tat that gets our seal of approval.
8Dragons tat.
https://www.instagram.com/p/BwQeIsiHKRD
Even though Game Of Thrones is officially over, you can keep the spirit of these mythical creatures alive by getting ink similar to the one that the Mother of Dragons got herself.
9Tiny anatomical heart.
https://www.instagram.com/p/B2J4SVMIFlk
Anatomical hearts are one of our favorite Halloween motifs, so it's only natural that we recommend this beautiful and minimalist design.
10Tiny potion bottles.
https://www.instagram.com/p/BITQvrbj_ie
These miniature potion bottles have us completely spellbound. Because this design appeals to Halloween and Harry Potter fans, we give it two thumbs up and a pair of witch emojis.
11Ghost.
https://www.instagram.com/p/B2cRMNsDAdJ
Seriously, what better way to pay homage to Halloween than by getting a ghost tat? We are loving this design that uses white ink that, under black light, lights up the candle.
12Halloween knuckle tats.
https://www.instagram.com/p/BZXsjcpn5xJ
Nothing says edgy like knuckle tats, especially when they're Halloween-themed.