Tinder introduced a new feature that will make traveling safer for the LGBTQ community
More and more countries are legalizing same-sex marriage, but many places still have laws in place that punish LGBTQ people for their identities. (And to be honest, the U.S. isn't discrimination-free, either.) These laws can make traveling risky for members of the queer community. So it heartens us to learn that, recently, Tinder launched a new feature dedicated to helping LGBTQ users travel safely.
In a July 24th blog post, the app announced that it launched a new traveler alert to warn LGBTQ users when they set foot in a country with discriminatory laws.
"It's no secret that we believe everyone has the right to live how they want to live and love who they want to love," the company wrote in the post. "And while there are still efforts to protect our freedoms from LGBTQ discrimination here in U.S., it's important to remember that there are still nearly 70 countries around the world that have laws effectively criminalizing LGBTQ status."
Tinder's post explained that when LGBTQ users open the app in one of these countries, they'll see a notification about it.
They'll also have the option to either keep their Tinder profile hidden while traveling or to make it public. If they do make their profile visible to others, their sexual orientation or gender identity won't appear on their profiles until they've left the country.
"Based on your geographical area, it appears you're in a place where the LGBTQ community may be penalized," Tinder's traveler alert reads. "We want you to have fun, but your safety is our #1 priority. Please proceed with caution and take extra care when making new matches and meeting with people you do not know."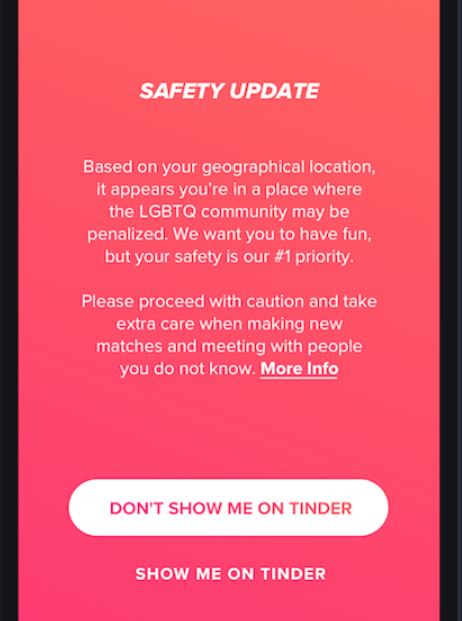 Tinder used data from the International Lesbian, Gay, Bisexual, Trans, and Intersex Association (ILGA) to help create the new feature.
According to the organization, there are 69 U.N. member states where same-gender sexual activity is criminalized in laws and two countries where criminalization is de facto. ILGA World also worked alongside the app to add new information to its safety tips.
"We hope that this development will raise awareness amongst all Tinder users, and help protect people of diverse sexual orientations in the 69 countries around the world that currently still criminalize same-sex love," ILGA World Executive Director André du Plessis told CBS News.
This new Tinder feature could make a huge difference in user safety. We're glad to see the app stepping up to protect members of the LGBTQ community.