Tinder's latest feature is here to stop the cycle of endless swiping (hopefully)
Ever feel overwhelmed by the endless stream of profiles you're swiping through on Tinder? You're definitely not the only one, and now it sounds like there may be a solution. This week, Tinder is introducing a new feature that will curate a selection of your potential soul mates called Tinder Picks, making app dating easier than ever.
According to a blog post on Tinder's website, Tinder Picks is a collection of profiles curated for you based on your previous swipes and taking into consideration factors like your potential matches' employment, education, or interests.
Basically, if you want to swipe through people who you know you might have something in common with, this will help you accomplish that. Just by looking at the profiles that Tinder Picks features, you can see at a glance why they were chosen for you, and who knows? This could get you one step closer to finding the love of your life — just a little bit faster than you would by mindlessly swiping.
To use Tinder Picks, all you have to do is tap the diamond at the top of your Discovery page. From there, click on your picks' profiles to swipe or send a Super Like.
Unfortunately, there is a catch — this feature is only available for Tinder Gold members. But if you've been thinking about upgrading, this might be a good time to do it. And if you end up using it and loving it, you can also buy more Picks to choose from.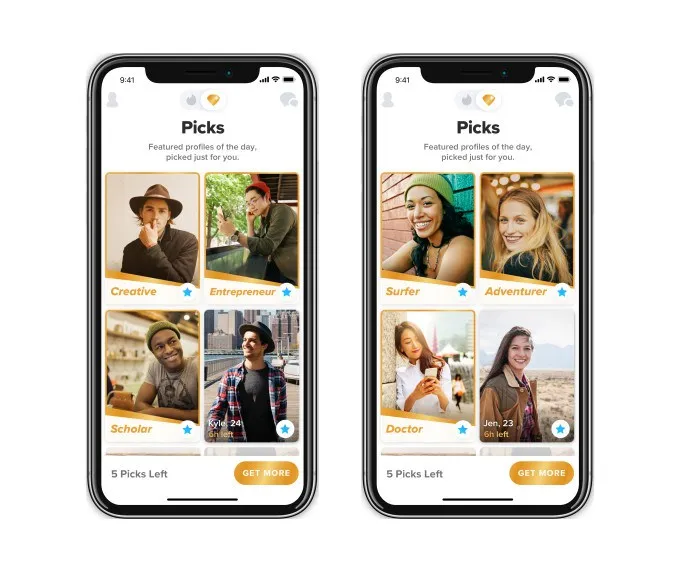 "Picks delivers a personalized, premium user experience within Tinder Gold that puts a spotlight on unique characteristics that make our users stand out," Tinder Chief Product Officer Brian Norgard told Bustle in a statement. "Just like a friend who introduces you to someone special because you share common interests, Picks makes finding potential matches even simpler, more fun, and more useful. For years, our users have asked for this sort of feature — we couldn't be happier to deliver."
So far, Tinder Picks has only rolled out in certain Android markets and hasn't hit iOS in the United States yet, but hopefully that's coming soon. Come on, aren't you dying to see who Tinder would choose for you?