This viral Tinder couple finally met after three years on live TV, and it was adorably awkward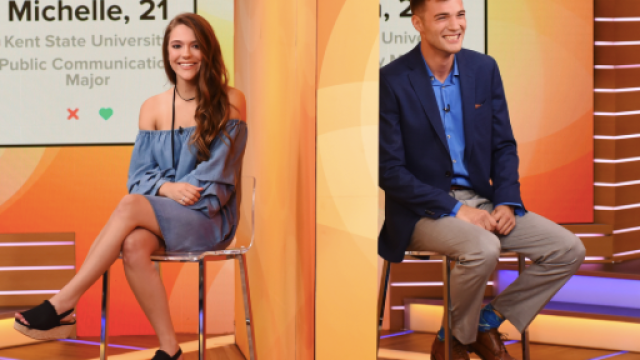 We recently reported on the two college students whose three-year correspondence on Tinder went viral. Quick backstory: Kent State University students Michelle Arendas and Josh Avsec has been carrying on an inside joke via Tinder for three years. Arendas would message Avsec, he would reply three months later, then she would reply five weeks later, and so on and so on. They carried on this intermittent texting, using jokey excuses like, "Sorry for the late reply, I was in the shower."
Once Tinder caught wind of their three-year online fauxmance, the pressure was on.
The couple went viral and everyone was rooting for them to finally meet.
Earlier today, the pair appeared on Good Morning America for their "first date." It was as awkward and endearing as expected.
Michelle and Josh were interviewed on either side of a wall, The Dating Game-style. When asked why they never wanted to meet, especially since they went to the same school, Arendas said: "I was committed to my joke…I loved the fact that we had a similar sense of humor, so I was not gonna be the one that gave in and gave up that great joke we had."
Awww.
They bumbled their way through the interview until it was time to finally meet. We were literally holding our breath. Watch the whole thing below:
So cute.
We hope they make it to their first real date soon. Fingers crossed!