Tina Fey's beautiful mind is bringing a brand new show to network TV
Good news for those who love great network television: Tina Fey is soon going to have a brand new show on primetime.
After leaving 30 Rock — both the physical location of her show, and the NBC network — Fey traveled over to Netflix where she co-created the wonderful and hilarious Unbreakable Kimmy Schmidt. The show's doing great (it was just renewed for a third season), and it can't come back onto the streaming site soon enough. But if watching TV between the 8pm and 10pm hours is more your thing, and you dig commercial breaks, Fey's newest venture is landing on CBS.
According to Variety, the show, called The Kicker, "revolves around an oddball athlete who drives family, friends and strangers crazy after he's unexpectedly cut from his pro football team."
The football player will be male, but we can hope and pray that one day Fey creates a sitcom about an oddball female pro football player, because we'd binge that so much.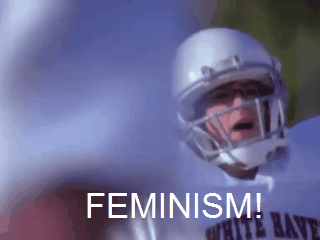 The pilot for The Kicker was written by long-term 30 Rock scribe Jack Burditt, and Fey will produce along with her long-term producing partner, Robert Carlock (and the two of them make up the duo behind Kimmy Schmidt). If all goes accordingly, we might have the next great network television show from Comedy Queen Fey on our hands – which will of course leave room for her to guest star every other week if she wants to.
(Images via NBC)