Tina Fey made a surprise appearance on "SNL" to send Felicity Jones a dire warning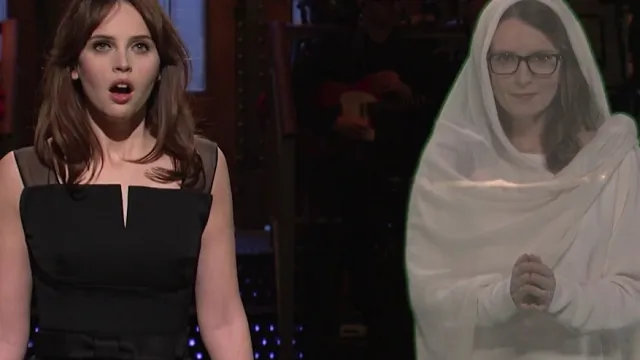 Rogue One: A Star Wars Movie star Felicity Jones hosted the first SNL show of the year last night. And lucky for her, SNL vet Tina Fey had some awesome words of wisdom to share so Felicity could start things off on the right foot.
Tina, who came to life in Princess Leia-esque hologram form, warned Felicity about all of the possibilities — including president-elect Donald Trump potentially tweeting about the show's relevance. She also dropped a few telling signs for Felicity to know whether or not she was the "funny" one in a sketch.
Tina Fey crashed Felicity Jones' open monologue on SNL to impart some words of wisdom.
https://www.youtube.com/watch?v=RHbXLcFYmzI?feature=oembed
"If Steven Seagal can do it, so can you," Tina's hologram says to deflect Felicity's nervousness. "All you need to do is go out there and do your best. Don't worry about what the reviews say."
The SNL alum shared some very nice words with Felicity that she can take with her — for sure!
"Tonight there will be a lot of sketches, and you're not always going to be the 'funny' one," Tina warns.
Hints to Kenan Thompson's importance on the show, followed by the reasoning behind Leslie Jones' horny and angry rants were then spilled. Grateful for Tina's graciousness, Felicity asked the actress and comedian how she could return the favor.
"You must get this message to J.J. Abrams," Tina begins to plea. "Tell him I am technically available to act in films."
And all of the hilariousness shared definitely set Felicity up to host a successful show.