Tina Fey has some serious regrets about her viral "SNL" Charlottesville cake sketch — but this is not her apologizing for it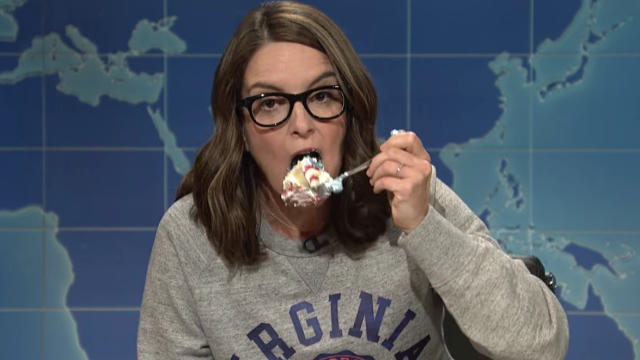 Over the course of her two decades as one of the most inimitable comedic minds in the world, Tina Fey has seen her share of controversy. But while the comedian has historically not commented or apologized for controversial jokes or sketches, Fey recently revealed to David Letterman that she did have regrets about a particular sketch from Weekend Update: Summer Edition.
On the most recent episode of My Next Guest Needs No Introduction, Fey admitted she wished her Weekend Update sketch on Charlottesville had gone a bit differently.
Last summer, Fey sparked backlash due her response to the white nationalist rally in Charlottesville on Weekend Update. The week after the rally devolved into violence and left one woman dead, Fey talked about the incident on the show. However, she incited backlash after bringing out a sheet cake with the American Flag on it and encouraging those outraged by the recent incidents to stay home and eat their feelings with sheet cake — which she proceeded to do in the sketch.
Naturally, people were frustrated by Fey's seemingly apathetic stance to the horrific events.
https://www.youtube.com/watch?v=iVvpXZxXWZU?feature=oembed
Fey revealed to Letterman that she was already apprehensive to go on Update due to her rocky history appearing in Update sketches. While Letterman told Fey he was a fan of the sketch, Fey spoke about the backlash. While she didn't apologize for it, the 30 Rock star did admit that the sketch wasn't well executed.
"You try your best, you try to have your eyes open, try to be so mindful, but it's also a fast-moving train," Fey explained. I felt like a gymnast who did like a very solid routine and broke her ankle on the landing. Because it's literally within the last 2-3 sentences of the piece that I chunked it. And I screwed up, and the implication was that I was telling people to give up and not be active and to not fight. That was not my intention, obviously."
Fey added that her intention was to encourage people to use the Southern Poverty Law Center guidance on not feeding "trolls." She said, "I just didn't want any more people — young people, old people, that crowd — I didn't want any more people to get hurt."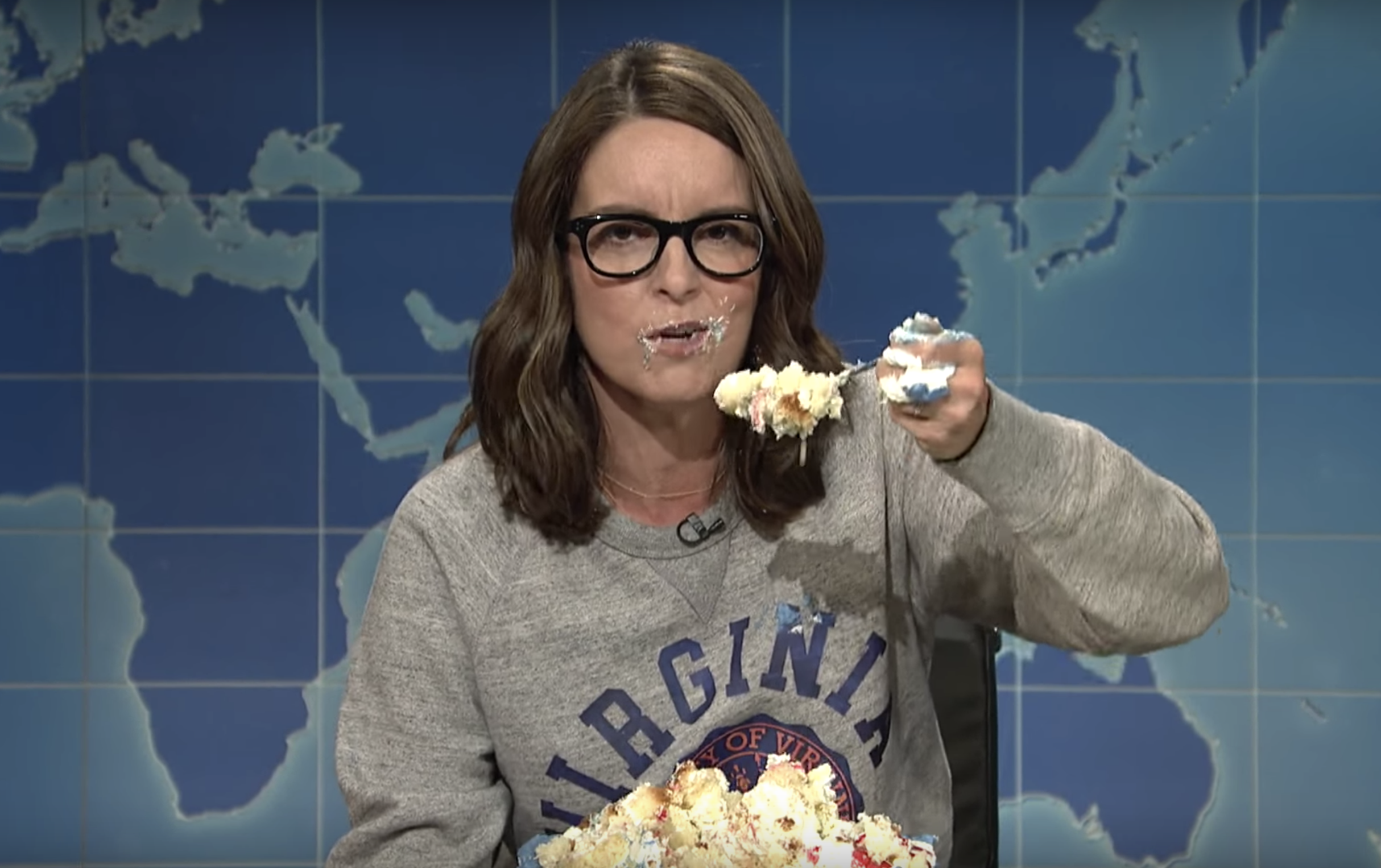 Fey also admitted that if she could go back, she would make one crucial change to her speech, an edit that she came up with two days later. Fey said she'd add, "If I could put one sentence back digitally, I'd say to people: Fight them in every way, except the way that they want."
But while Fey has regrets about how the sketch went down, she's not exactly sorry, per se. After revealing she toyed with creating a Twitter account to apologize, Fey ultimately decided not to, telling Letterman, "Culture of apology is not for me."
While we understand that Fey does hear criticism and tries to learn from her mistakes, there's nothing wrong with actually admitting to and apologizing for mistakes — especially when they hurt people and worthwhile causes. Because that, more than anything, comes across as apathetic.
But we are glad Fey took the time to admit that the Charlottesville sketch, while unintentional, had some serious faults. Fey's episode of My Next Guest Needs No Introduction With David Letterman is now streaming on Netflix.