Tina Belcher's guide to being a fangirl at PaleyFest Los Angeles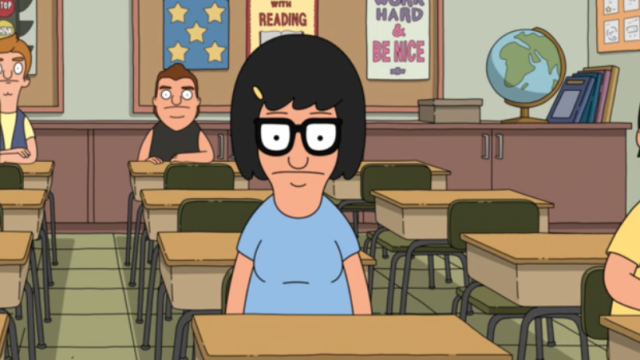 Hey, Belcher fam fans! If you didn't know, Bob's Burgers is coming to PaleyFest L.A. And yes, that means they are bringing the one, the only Tina Belcher, AKA Dan Mintz, right along with them. Tina and her alter ego are most definitely not alone. Kristen Schaal, H.Jon Benjamin, John Roberts, Eugene Mirman, and Larry Murphy, who play Louise, Bob, Linda, Gene, and Teddy, respectively, will be there too.
Basically, it's going to be one, huge Belcher bash. But, whether you're going to to see the Bob's Burgers panel on March 24th, or one of the other 11 show panels at PaleyFest, like American Horror Story: Roanoke, one thing remains the same: The relatable Tina Belcher can get you through it. Let's face it. As exciting and awesome of an experience as it is, it's a lot emotionally on a fangirl's shoulders to see her fave stars in the flesh.
Here's how to follow in Tina's footsteps to get the most out of your PaleyFest LA. experience:
The night before PaleyFest.
Get out all of that nervous energy and anxiety while you can. With parental/roommate supervision in case you hurt yourself.
The morning of PaleyFest.
In between squeals of joy, make sure to consume a hearty breakfast. You need to keep up your strength.
Look your PaleyFest best.
It isn't every day you get to see your all-time fave cast and creators in person.
You might want to add a little extra oomph.
You never know if you're going to be included in an actor's group selfie that will be displayed on Twitter and Instagram for their millions of followers to see.
Practice car ride self care.
De-stress before you arrive at the Dolby Theatre. Emotions are running high and listening to your fave show's theme song while letting the wind blow through your hair is the perfect way to channel all that passion positively. You know, so that you can avoid this:
Once you arrive, get your bearings.
It can be slightly overwhelming what with the billboards, the fanfare, and of course, the sobering realization you're going to be in the presence of your most FAVORITE stars ON THE PLANET.
Find your seat and breathe.
Emphasis on the breathing.
Maintain your composure.
Hold firmly onto the arm rests of your seat and/or your supportive friend next to you. The only thing worse than not being at PaleyFest is fainting before the panelists even walk out. It'd be a great story to tell the grandkids one day, though.
If you're asking a question, come prepared.
Don't be that person who gets the mic and totally blanks out or the person who gets a little too TMI because they're nervous.
Try not to be a Chatty Cathy during the panel.
There's only a limited amount of time in the theater. If you're whispering to your pal you might miss something vital. Take it all in! Focus! Be in the moment! Swoon!
Most importantly, enjoy yourself.
You never know what can happen at a PaleyFest panel. Maybe the actors will sing, maybe they'll dance, maybe they'll take a photo with the crowd. Maybe the creators will release a major spoiler or teaser. Maybe there'll be casting news. The opportunities for greatness are endless and you get to be there to witness it all.
Return home a changed woman.
You might be flying on that post-PaleyFest high for a while afterwards. It's only normal. Once it sinks in and you're able to form words again, it'll hit you: You now have incredible memories and bragging rights for all eternity.
Whenever you're in doubt, read this guide and have confidence in the fact that Tina Belcher would never, ever do you wrong. PaleyFest is yours for the taking.