Timothée Chalamet opened up about filming Little Women—"I would do anything Greta wanted me to be a part of"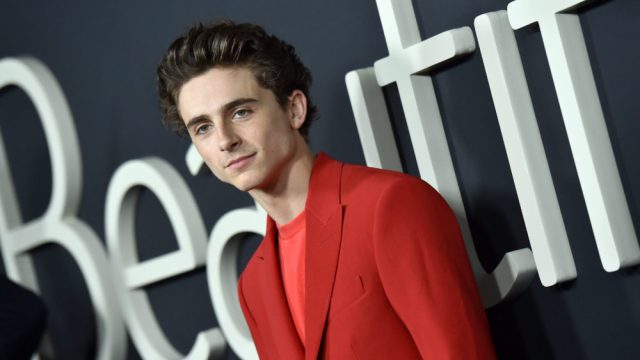 Recent breakout star Timothée Chalamet had never read Little Women when he was asked to be a part of the upcoming remake—but that didn't stop him from saying yes.
"I would do anything Greta wanted me to be a part of," the internet's new boyfriend said of director Greta Gerwig, whom he worked with on the Oscar contender Ladybird. Chalamet also revealed to Variety that the Little Women team has already "started shooting," and that "they've been very nice to me."
In case you haven't read it (or seen the 1994 film adaptation with Winona Ryder, Kirsten Dunst, Claire Danes, and Christian Bale), Little Women was first released in 1868. The classic novel follows the four March sisters—Meg, Jo, Beth, and Amy, who live in Civil War-era Massachusetts. Chalamet will be playing Laurie, the sisters' adoring neighbor and partner in mischief (and, for one sister, eventual lover). The remake is set after Meg, Jo, and Amy leave home, bringing an entirely new dimension to the beloved story.
Chalamet admitted that while he had of course heard of Little Women, he didn't know a ton about it before getting the part.
"I knew Little Women," he told Variety. "I hadn't read it. But I've read it since."
Still, he hadn't realized just how much people adored it. "I understood it to be a literary classic, but it's crazy, day by day in the rehearsals, I get more imbued in the legend of it all," he revealed. "We're shooting in the Massachusetts area where it was written, so we have a lot of people on the crew or that are just around that, like, the book is very dear to their heart and to their youths, as well."
Chalamet didn't say whether he's seen the 1994 adaptation, but we're confident he can fill Christian Bale's star-studded shoes (Bale played Laurie in that fan-favorite version)—especially since he'll be acting alongside Meryl Streep as Aunt March and Emma Watson as Meg.
We don't have an official release date for the film as of yet, but we're seriously counting the days.