Who is Timothée Chalamet dating? We know you're all wondering
The 90th Annual Academy Awards are right around the corner and while many of Hollywood's most esteemed veterans will be walking the red carpet, one of the most sought-after attendees will likely be first-time nominee Timothée Chalamet. After a whirlwind year starring as Elio in Call Me By Your Name — for which he was nominated for every major award — and a major supporting role in Lady Bird, the actor has become one of the most talked about rising stars in Hollywood.
Arguably, Timothée Chalamet  has reached young Leo levels of worldwide sensation — only instead of plastering TigerBeat posters on our walls, we're saving photos from that GQ spread as our iPhone lock screens and posting them on our finsta with the hashtag #mcm.
There's a lot to love about Chalamet — the statistics rap, the unabashed enthusiasm for anything, his bromance with Armie Hammer — and the internet is not alone in noticing this. Recently Jennifer Lawrence revealed that even she had a crush on the young actor, telling Entertainment Tonight, "Timothee, I'm waiting for him to get a little bit older, you know? [I'm] buttering him up like a pig for slaughter, and then I'm going to swing right in there as soon as he's, like, 30." Aggressive language, sure, but the sentiment is there.
Chalamet has pulled off the rare feat of transcending the label of the internet's dream boyfriend in favor of the title of the world's dream boyfriend — but is he already someone's boyfriend?
He may be the most consistent third wheel to Armie Hammer and Elizabeth Chambers' adorable marriage and…it appears the actor is currently single.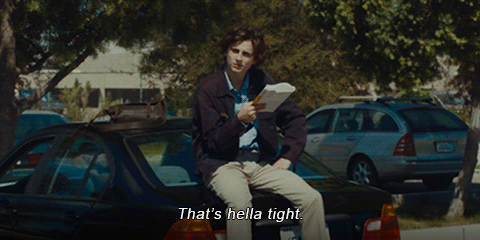 Chalamet is understandably pretty coy about his love life — you would be too if a billion people were trying to date you — but while in high school, the actor dated the daughter of one of the most famous pop stars on the planet. While attending New York's prestigious LaGuardia High School alongside Ansel Elgort, Chalamet dated classmate Lourdes Leon, who just so happens to be Madonna's daughter, for about a year back in 2013.
The actor won't say anything about their relationship — although it *briefly* came up while Chalamet and Andy Cohen recounted meeting for the first time on the dance floor with Madonna and Leon — but it appears the couple has remained friends in the years since ending their relationship. He added that while Leon hadn't seen CMBYN yet, she was "excited" to see it.
So there you have it! Timothée Chalamet is (probably) single and if you play your cards right, he might just embarrass himself in front of you and then recount the experience on a late night talk show one day! Fingers crossed.