Timothée Chalamet was caught reading at the SAG Awards, and the internet is obsessed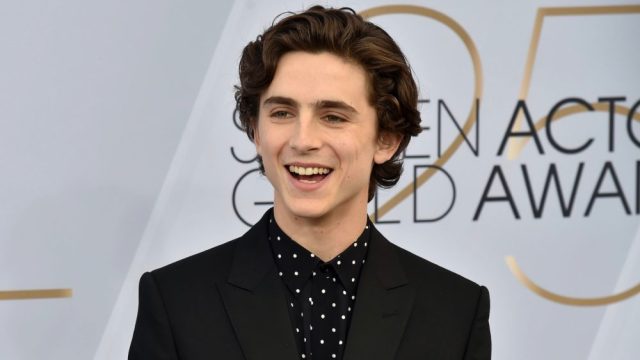 In an unexpectedly adorable moment at the 2019 Screen Actors Guild Awards, held on January 27th, cameras caught Timothée Chalamet reading what appeared to be a book while sitting in the audience. Chalamet was seated at the same table as Emily Blunt and John Krasinski, and the Twittersphere noticed that when cameras panned to the famous couple, the Beautiful Boy star sat reading in the background. The moment quickly went viral, with fans understandably curious about what Chalamet was reading in the middle of an awards show. Was he reviewing lines from a movie script? Thumbing through a page-turner that he couldn't wait to finish?  The possibilities are endless, of course, and Twitter had plenty of thoughts.
Here's the actual photo:
Some fans not-so-secretly hoped he was reading the script to a Call Me By Your Name sequel.
Others joked about his age.
And others simply related to being at a glamorous social function and wanting nothing more than to disappear into a good book.
As for what Chalamet was actually reading? It appears he was merely checking out the evening's program (per a server who was in attendance). Basically, can he live?
Regardless, this moment was relatable AF. Thank you, Timothée.