Time's powerful new cover featuring Christine Blasey Ford will give you chills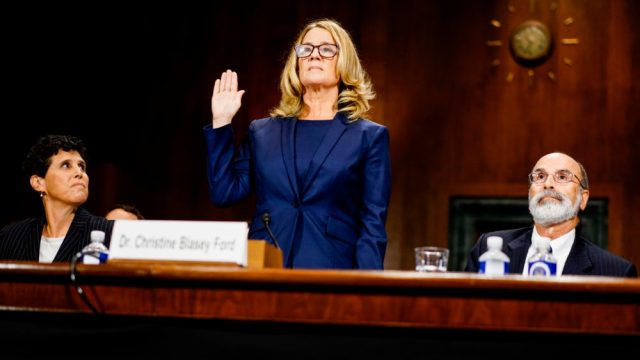 One week ago, on September 27th, professor and research psychologist Christine Blasey Ford shared her raw, powerful account of the night she says Supreme Court nominee Brett Kavanaugh sexually assaulted her. Ford's testimony has already had a huge impact, inspiring others to come forward with their stories of assault. And as the Senate prepares to determine whether or not Kavanaugh will be confirmed, Time magazine has honored Ford with a striking cover.
According to Time, the cover for the October 15th issue was created by San Francisco-based artist John Mavroudis, who used Ford's words to recreate the now-iconic picture of her raising her right hand with her eyes closed, swearing to tell the truth. Mavroudis drew each letter by hand, building the image from words in a process that he described as "like putting a jigsaw puzzle together."
"The memory quotes would be attached to her forehead area, and the quotes about wanting to help I placed on her hand. The hand could be seen as welcoming, but also deflecting," he told Time. "It's a fascinating process to watch the face take shape, while hoping that you've captured the essence."
The final result is both haunting and powerful.
After the hearing on the 27th, the Senate's final vote on Kavanaugh was delayed until an FBI investigation could be carried out. And according to CBS News, senators received the FBI's report about the investigation today, October 4th. The confirmation vote has not been scheduled yet, but it will probably take place on Saturday, October 6th.
Regardless of what the Senate decides, Ford's testimony has left an indelible mark on American history, and Time's latest cover shows it.
In the accompanying cover story, Haley Sweetland Edwards writes that Ford's testimony "was a powerful warning that wealth, status and a record of professional accomplishments were no longer enough to override credible allegations of sexual assault, no matter when they occurred."
Ford's immense courage won't soon be forgotten. We hope that, no matter who becomes the next Supreme Court justice, her words cause those in power to rethink the way sexual assault allegations are both perceived and handled in this country. We stand with all survivors, and that includes Ford.