Tim Kaine gets emotional over Hillary Clinton's defeat, we have tears in our eyes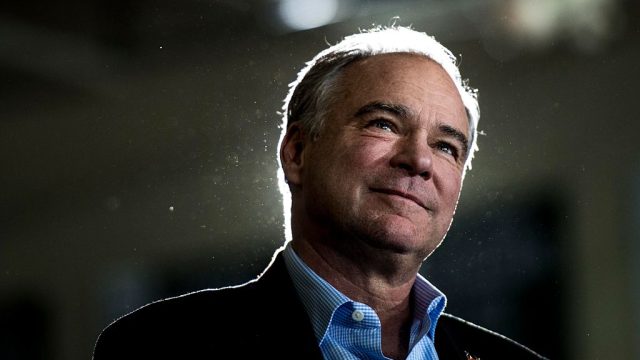 Last night's election was shocking and difficult for everyone who hoped to see the first woman president elected to office. But it was particularly difficult for vice presidential nominee Tim Kaine, who got emotional over Hillary Clinton's defeat when he introduced her before her concession speech this morning in New York.
Speaking softly and slowly, with tears in his eyes, Kaine reflected on the kind of president Clinton would have been. To an audience of campaign staffers at The New Yorker Hotel, he said,
"We know she would've made history as a president in one sense, but we've never had a president who's made their whole career about the empowerment of families and children, and I was as excited about that in the Oval Office as I was excited to have my friend Hillary there."
https://www.youtube.com/watch?v=blar_5HcwZY?feature=oembed
Kaine spoke of his running mate's loyalty and compassion, and her kindness to supporters both long-term and brand new, saying he's proud of her because "she loves this country." And, making clear reference to remarks Donald Trump made repeatedly throughout his campaign — right up until the election had been called — Kaine added, "Nobody had to wonder [if she would] accept an outcome of an election in our beautiful democracy."
Clinton's running mate wrapped up his moving speech with a quote from William Faulkner: "They've killed us, but they ain't whooped us yet" — a sentiment we should all hold onto as we move forward into the next chapter of our nation.