OMG: Tim Allen just revealed that the original The Santa Clause script was WAY darker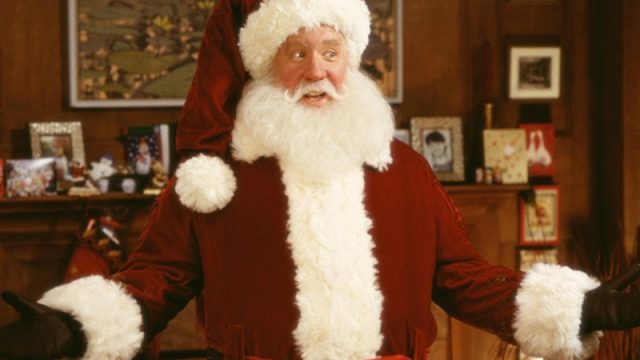 Any true child of the '90s will likely remember the 1994 classic holiday movie The Santa Clause. The festive film entails workaholic dad Scott (Tim Allen) literally becoming Santa after the previous man-in-red accidentally slips and falls off Scott's roof. Sure, it sounds kind of dark…but the actual (extremely kid-friendly) movie never felt that way. In fact, most millennials will likely best remember the movie's heart, laughs, and yes—that hot cocoa machine built directly into Santa's sleigh.
However, it turns out the original conception for the film was way darker. Allen appeared on the November 21st episode of The Tonight Show Starring Jimmy Fallon to discuss the upcoming Toy Story 4 (have you seen the teaser? It's amazing), as well as spill a few details about the classic holiday family comedy.
"The original Santa Clause is a little darker, written by two comedians. I actually shot and killed Santa, in the original movie," Allen, 65, told Fallon. "And he fell off the roof, because I thought he was a burglar. He gives me the card and the whole movie starts. And the kid goes, 'You just killed Santa.' And I said, 'He shouldn't have been on the roof when he wasn't invited.'"
He continued, "[…] The head of Disney at the time said, 'Well, we can't start a movie like that.' I said, 'Why not?' He said, 'Well, we can't start a Disney movie with you murdering Santa Claus.' I said, 'I'm a comedian. Why not? That's funny. You killed all the parents in your other movies anyway.' Don't they? They do that. I'm a comedian!" Eventually, the script was rewritten and Allen's character no longer shot and killed Santa…and we have to admit that was a pretty solid call.
Watch Allen tell the whole story here (around 2:48).
https://www.youtube.com/watch?v=Fc7f9keSrfM?feature=oembed
Now let's all get in our PJs, forget about that horrific first draft, and watch The Santa Clause on repeat for the next 30 days or so.