Tiffany Haddish used to pretend to be Halle Berry's niece to get into clubs, and it totally worked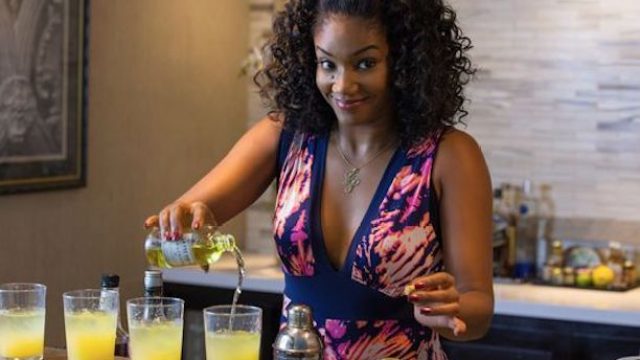 We officially have a new celebrity crush. Get used to the name Tiffany Haddish, because the funny woman is about to be everywhere. She's one of the stars of the newly-released female friendship movie Girls Trip, and she's hilarious both onscreen and off.
If you haven't seen Girls Trip yet, you need to remedy that ASAP, because you'll fall in love!
The more we learn about the actress, the more we adore her. In a recent interview with Vanity Fair, Haddish revealed that she used to use Halle Berry's name to get into clubs. For real.
When I was young, people used to be like 'You look just like Halle Berry—out of Losing Isaiah. I don't care; she was still beautiful in that movie! And I used to use her name to get in clubs. I used to be like, 'Halle Berry's my auntie.'
And apparently, it worked every single time. That's true charm! We don't blame her for cashing in on the opportunity.
Girls Trip came out on Friday and has already made nearly $28 million in its first weekend. Haddish stars alongside Regina Hall, Jada Pinkett-Smith, and Queen Latifah. Her character Dina is a bit wilder than she is IRL, but we could listen to her stories forever.
Haddish made headlines last week regaling Jimmy Kimmel with a story about using a Groupon with the Pinkett-Smith family.
https://www.youtube.com/watch?v=C2PneBztZ3g?feature=oembed
Due to the quick success of the film, we are already hoping for a sequel. We know Haddish is into it. She told Vanity Fair that she has already picked her dream movie mom.
Putting it out there for Meryl Streep to be my mom in Girls Trip 2. Everybody will be like, 'How you got a white mama?' And I'll be like, 'I told y'all I was in the system. I was in foster care, stupid!'
Haddish didn't have the easiest childhood. After her mother survived a traumatic car accident when she was only 9 years old, Haddish became her caretaker. She grew up quickly and was in and out of the foster care system. We love that she can recall her experiences in a light-hearted way. It takes true strength to laugh in the face of adversity.
We are rooting for that Girls Trip sequel starring Meryl Streep as Mama Dina. Fingers crossed!