Tiffany Haddish landed *two* new movies — but honestly, we want MORE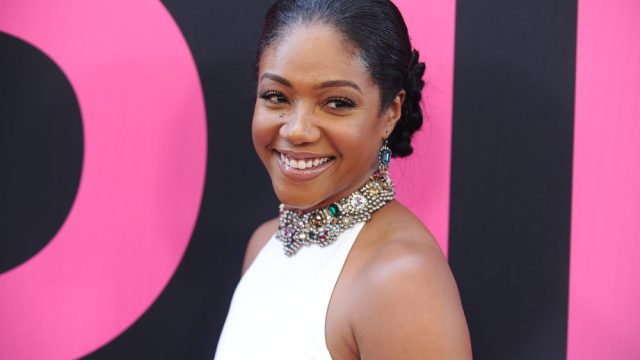 After working as a comedian for years, Tiffany Haddish broke out in 2017's Girls Trip. She went on to become the first black female comedian to host Saturday Night Live, which she crushed, and she has a TBS comedy with Tracy Morgan heading our way in 2018 (among other awesome projects). And now, Tiffany Haddish has lined up two incredible movie roles — but we already want more from her.
She's in talks for a part in The Kitchen, which is adapted from a series of DC comics, according to Variety. Essentially, the film is about a bunch of mob wives in Hell's Kitchen who take over for their husbands when they're sent to jail. So that'll be amazing.
But wait, there's more: The comedian extraordinaire will star in The Temp!
There isn't much information out there about The Temp, other than the incredible fact that it's another female-driven comedy, written and produced by Dana Fox. Fox is producing The Temp with Will Packer, who produced Girls Trip.
And there's even more ahead for Haddish. As previously announced, she just finished filming Night School with Kevin Hart, and will star in and executive produce a project called Limited Partners.
If her hectic filming schedule weren't enough, Haddish has two off screen projects already lined up.
Her first book, The Last Black Unicorn,will hit bookstores December 5th, so now you know what you're getting your sisters, friends, aunts, moms, and — let's be honest — everyone in your life for the holidays. Then, she's taking her standup comedy on the road in 2018. Haddish's all-new standup tour, "She Ready," will come to a city near you soon.
Talk about a super woman. We can't wait to see The Kitchen and The Temp, and everything else Tiffany Haddish is working on.