Tiffany Haddish Opened Up About Being Sexually Assaulted by a Cop When She Was 17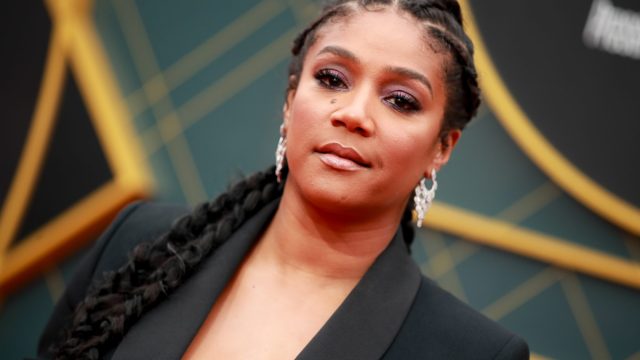 Trigger warning: This post discusses sexual assault.
In today's episode of the podcast Hustling with Vivica A. Fox, Tiffany Haddish recalls the painful and traumatizing experience of when she was sexually assaulted by a police cadet. As E! reports, Haddish has never shared the details of her assault, "nor has she ever publicly identified the individual by name" (which is her prerogative), but she opens up to host Vivica A. Fox about how the assault has affected her life and her relationships with men.
Haddish was 17 when she was raped by a police cadet, after which she felt like she "lost this little bit of [her] soul." She also shared with Fox that "nobody really helped" her navigate her life after the assault, and reporting the incident to the police didn't result in the justice that was required.
"I don't know why I thought these police would do something to this other police officer because he took advantage of me—like I wasn't even taken advantage of, that motherfucker just took me," Haddish reportedly says.
Haddish attended counseling, but the "trauma" of her assault altered her perception of men and relationships.
"I dated a police officer, a judge, a lawyer, Haddish says. "I dated several different kinds of dudes, thinking, 'Oh if I date them, they'll love me and they'll try to help me with my crusade of getting justice for my family and myself.' 
Haddish has previously opened up about this experience with sexual assault in her September 2018 cover story for Glamour, as well as on a 2017 episode of The Champs podcast. On the podcast, Haddish revealed that the rape occurred on the night of her homecoming dance, when the cadet, whom she had previously met at a family member's baseball game, offered to give her a ride home. Instead, he took her to his house and raped her. She also spoke to Glamour about how the assault forced her to use various defense mechanisms against men.  
"I notice that men are afraid of women that are aggressive. So to protect myself I become semi-aggressive," she told the magazine. "You hear about, 'Tiffany always hitting on somebody,' but that's to keep them from hitting on me." 
But in the new podcast episode, Haddish told Fox that her understanding of what "revenge" looks like has changed for the better.        
"I had to learn revenge is not really where it's at," she said. "Really the true revenge is in your success."
If you are a sexual assault survivor and need help, you can call the National Sexual Assault Telephone Hotline at 1-800-656-4673 to speak to a trained counselor. You can also chat online with a counselor here. Both services are available 24/7.