Watch Tiffany Haddish push THE button in her "Saturday Night Live" promo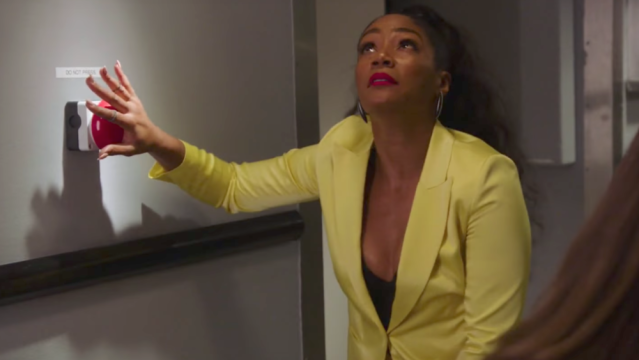 Because sometimes the TV gods are nice and wonderful, Tiffany Haddish is hosting this week's Saturday Night Live — with Taylor Swift as the musical guest.
And if that alone doesn't get you PUMPED, Saturday Night Live has gifted us with a promo — offering a mere taste of the hilarity that the Girls Trip star is *sure* to bring.
She's not supposed to push the button, but like, how are you not going to push a big, red button when you're told not to? Like, 1) that's just wrong on so many levels, and 2) it's pretty damn near impossible.
https://www.youtube.com/watch?v=TiDVJkaL1P4?feature=oembed
That's *exactly* what Tiffany was thinking too. Great minds? I think, yes. "Aidy, here's something you need to know about Tiffany Haddish, okay," she says. "She pushes buttons…especially ones she's not allowed to push."
Aidy begs her not to — DON'T BE SO SHADY, AIDY — so Tiffany agrees. Needless to say, that lasts for like, a hot sec. "Psych," Tiffany exclaims, then hits the button. Nothing really happens. The lights dim and Kyle Mooney is ejected from the building. You know, NBD.
That might be all that particular button does, but knowing Tiffany's mad comedic skills, we're expecting her to push some other buttons when she hosts Saturday Night Live. And Taylor too, for that matter, when she performs, since her new album — Reputation — will have finally dropped just a day before she takes to the SNL stage.
So like, can Saturday get here now, or what?