Tiffany Haddish shared her experience with Roseanne Barr, saying, "[She's] been racist, why'd you all give her a TV show?"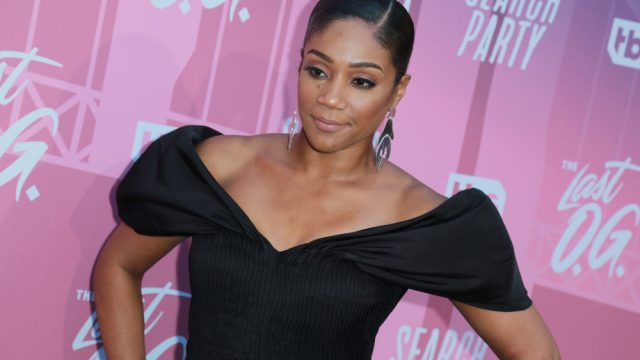 Roseanne Barr's recent string of racist tweets came as a surprise to a number of fans, but at least one person wasn't the slightest bit surprised: Tiffany Haddish.
In a revealing new interview, the Girls Trip star told The Hollywood Reporter about a personal encounter with the disgraced comedian nearly two decades ago. According to Haddish, Barr's casual and vulgar racism isn't new. Haddish shared that she used to visit her friend in El Segundo, California, where Barr lives. "If you're black and you're driving through El Segundo, you're going to get pulled over," Haddish said.
Moreover, according to Haddish, Barr was absolutely part of the problem.
"One day, we were walking around the neighborhood, and Anna says, 'Oh, Roseanne lives there,'" she recalled. "Now, I loved Roseanne, and the next day we walked by, and she was in her yard. I say, 'Hiiii, Roseanne.'" Barr apparently made a "disgusted" face and retreated into her house.
"I thought, 'Maybe she don't want to be bothered today,'" she continued. "A week later, we walk by again, and I told Anna — she's Hispanic, but she looks white — she should say hi this time. So she says, 'Hi, Roseanne,' and Roseanne goes, 'Hey!' I thought, 'Maybe she got to know us.' Then I go back, like, a week later, I wave again and say, 'Hi, Roseanne! I love your comedy,' and she (makes the same disgusted face) and turns her head."
After three tries, Haddish concluded that Barr's rudeness toward her wasn't random, and more than likely had to do with the color of her skin. "That was 2000, maybe 2001, so it's not new," she said.
"She been racist, why'd you all give her a TV show?"
Haddish definitely isn't the only one asking that question at this point.
"I'm super good friends with her stepmom and her dad, and they were mad at me," she admitted. "But I didn't try to ruin her career. I never said her name! I was just trying to say how Beyoncé kept me from goin' to jail that night."[/quote]
Thank you for your candor, Tiffany. Please never stop being you.