Tiffany Haddish tries — and hilariously fails — to teach Kevin Hart math in the trailer for "Night School"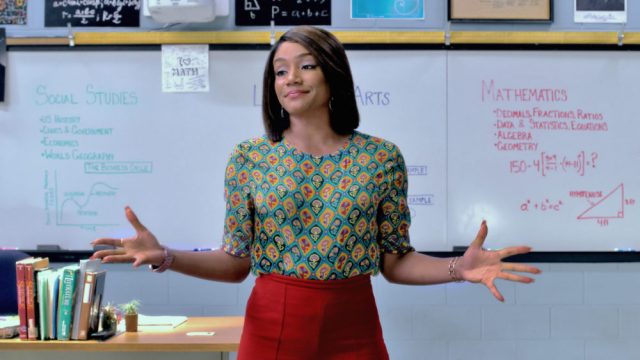 It's time to put your thinking caps on, people! We're about to enroll in Night School. Tiffany Haddish and Kevin Hart, two of the most popular comedians today, have teamed up to star in what looks like would be the biggest comedy of the year. We all know what that means: Haddish + Hart = rib pain-inducing, thigh-slapping laughter.
Kevin Hart plays a superstar sales clerk who's aspiring to become a stock analyst. There's only one thing keeping him from becoming one though: he's a dropout. And not the Mark Zuckerberg, dropped-out-of-Harvard-type of dropout, but a Piedmont High School dropout. To impress his fiancé and fulfill his dreams of succeeding in the finance world, he enrolls himself in night school to get his GED. He sets up a meeting with the school principal (Taran Killam) who tends to "use a black voice" — his words, not ours — and insists that he doesn't "hear color."
Hart then joins a group of misfits — including an inmate who attends the class via webcam — and what do you know, his teacher happens to be Kerry (Haddish), who admits that she only applied for the teaching gig to make extra cash so she could "afford the warrant that she got."
Despite his enthusiasm, Hart appears to have trouble learning the material, and Haddish decides to help him. But the thing is, he is, uh, let's just say, slower than your average student.
"My suspicions were correct," she says. "You're clinically dumb. There is no cure for what you have."
"Oh my god, I got learning herpes?!" Hart cries in disbelief.
Without further ado, here's the hilarious trailer:
https://www.youtube.com/watch?v=t9QtXGirWf0?feature=oembed
While Night School marks the first time Kevin Hart and Tiffany Haddish have starred in a film together, the two actors have actually been friends for a long time. In an Instagram post, Hart revealed how he once gave the then-homeless Haddish $300 to help her get on her feet. Fast forward to today, they are now top billing a movie. That just screams friendship goals!
Night School, directed by Girl's Trip's Malcolm D. Lee, opens in theaters on September 28th.