Tiffany Haddish literally jumped over a rope at the 2018 Oscars to meet Meryl Streep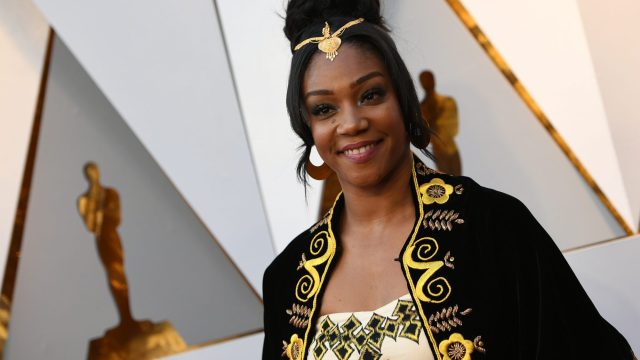 While on the red carpet for the 90th Academy Awards, Tiffany Haddish told Ryan Seacrest that she was looking forward to meeting Meryl Streep and asking her to play her mom in a sequel to Girls' Trip. A little while later, opportunity knocked, and Haddish jumped at the opportunity to come face-to-face with the Hollywood icon.
While we probably would have passed out at the mere sight of the Iron Lady actress, Haddish proved that she's more than just an incredible actress and comedian — she's also an expert high-jumper. Wearing a stunning Eritrean gown in honor of her late father, who passed away last year, the actress actually jumped over a rope to meet Streep, who was making her way down the carpet. After patiently waiting for Streep to greet the photographers and fans calling her name, the Girls' Trip actress curtsied for the three-time Academy Award-winning actress.
Naturally, Streep seemed completely enamored with Haddish, embracing her in a hug and holding onto her hand before continuing along the red carpet. Meanwhile, Haddish fulfilled her promise to Seacrest, calling after Streep, asking her to play her mother in a movie.
It may have been one of our favorite moments from the Oscars thus far.
But Haddish didn't just fawn over Streep on the red carpet. While presenting the Best Live Action Short Film alongside Maya Rudolph, Haddish, waved to Streep, saying, "Hi Meryl, I want you to be my mama one day. Let's get this money, girl." 
Someone start a GoFundMe because we need to see Tiffany and Meryl on-screen together, like yesterday — and it seems like the crowd agrees with me.
Sure, 2017 was officially the year of Tiffany Haddish, but the actress is one hundred percent continuing her reign into 2018.