Twitter officially thinks Tiffany Haddish and Maya Rudolph should host the next Oscars, and we're down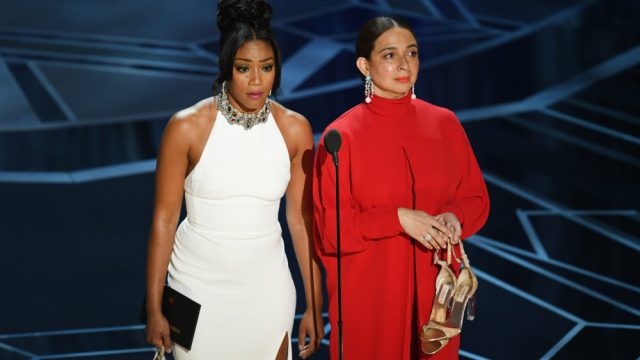 It's official: Tiffany Haddish and Maya Rudolph just won the 2018 Oscars with their awards show banter. That's right, Haddish and Rudolph accomplished that rare, golden feat: They genuinely made us crack up while presenting an award. And now, people far and wide are calling for them to host the Oscars next year à la Amy Poehler and Tina Fey at the 2013 and 2014 Golden Globes.
If you need a refresher, Poehler and Fey absolutely slayed their hosting duties two years in a row, and we're now officially certain that Haddish and Rudolph are the perfect duo to continue the tradition of hilarious ladies crushing awards shows.
And we're not the only ones who think so. Here's what Twitter has to say about it.
false
false
The jury is officially in: Haddish and Rudolph should 100% host the Oscars. Or at the very (very) least, star in a buddy-cop comedy ASAP.
Haddish, of course, became a household name this past year after her scene-stealing performance in the hilarious Girls Trip, and Rudolph is a comedy veteran of places like SNL and Bridesmaids. So needless to say, any awards show would be lucky to have these two (and again, we know their chemistry is OFF THE CHARTS).
So come on Academy. Let's make this happen.