Tiffany Haddish was the first black female comedian to host SNL, and her whole monologue is so on point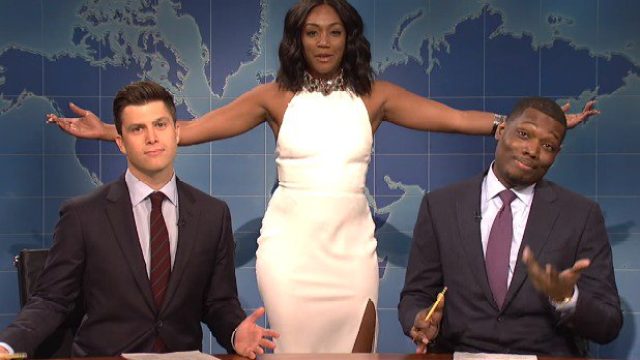 Saturday Night Live has been doing a phenomenal job this season. And things only got better when the show announced that Tiffany Haddish would be hosting this weekend's November 11th episode. Not only is the Girls Trip actress hilarious and an incredible storyteller, but Haddish is SNL's first black comedienne host. Admittedly, it's sad that in 2017 we're still reading headlines about "the first black…" anything. But we're choosing to focus on Tiffany's amazing monologue last night, instead of the confounding lack of diversity in Hollywood.
Tiffany Haddish walked out onto the SNL stage and hit the most perfect Nae Nae before kicking off her opening monologue. And she killed it, obviously.
Throughout the monologue, we learned quite a bit about Haddish, like the fact that she spent time in foster care and the "dangers" she faced growing up in a group home where kids just couldn't agree on a TV show. She also revealed that, like most of us, she has no issues rocking a repeat outfit. In fact, the gorgeous white Alexander McQueen dress she wore on SNL was the same dress she wore to the red carpet event for her hit summer 2017 comedy.
"I feel like I should be able to wear what I want, when I want, no matter how many times I want, as long as I Febreezed it, she joked.
We totally feel you, girl!
But perhaps the most important part of Haddish's monologue was the moment she addressed the wave of sexual misconduct allegations that have made headlines in recent months. She even offered a tip to men out there.
https://www.youtube.com/watch?v=32byfjSXIX0?feature=oembed
"Listen, fellas. Listen," she said. "If you got your thang-thang out and she's got all her clothes on, you're wrong. You're in the wrong. Wait till she takes her own clothes off, and then pull your thang out."
We know it sounds simple enough, but based on the current news cycle, it's clear most men have a hard time grasping "Tiff's Tip."
We loved seeing Haddish dominate the stage.
We'd be remiss if we didn't mention the fact that Maya Rudolph, who is also a black comedienne, hosted the sketch comedy show in 2012. The difference? Rudolph is also a former cast member. The reality is that, in the show's 42-year run, only 12 black women have hosted SNL to date including Haddish and Rudolph: Gabourey Sidibe, Cicely Tyson, Oprah Winfrey, Halle Berry, Taraji P. Henson, Queen Latifah, Rosario Dawson, Janet Jackson, Octavia Spencer, and Kerry Washington.
There's no denying that black women are generally amazing and hilarious AF. In the future, we're hoping to see SNL tap even more women of color for hosting duties.