Tiffany Haddish says that Drake once stood her up — and seriously, how dare he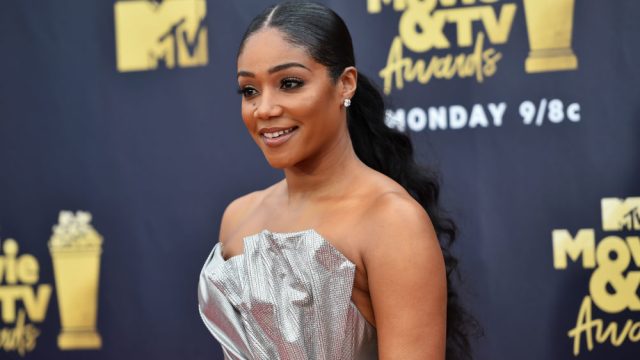 Tiffany Haddish has never been shy when it comes to talking about her experiences with other stars in Hollywood — remember that amazing story about her encounter with a celebrity who bit Beyoncé? — and it's one of the reasons we love her so much. And in a recent interview, Haddish opened up about something even more personal: She said that Drake once stood her up, and honestly, how dare he.
Haddish described the NOT meet-cute encounter with the rapper during a recent stop on the Facebook Watch series Red Table Talk with her Girls Trip co-star Jada Pinkett Smith. The two got around to the topic of relationships, and Haddish admitted, "I would like to date. I really don't have a lot of time for it, but when somebody asks me out on a date that I'm interested in and like hanging out with, I will clear the schedule. I will make some time."
When Pinkett Smith asked if anyone special had asked her out recently, Haddish didn't hesitate to bring up Drake — and get super real about it. According to Haddish, Drake asked her out when they were talking about her appearance in his music video for "Nice For What" (a little ironic, don't you think?), saying he wanted to take her to dinner. Haddish said she blocked a bunch of time off for him, as one does when Drake says he'll take you out to dinner. But then:
"Like shoot, I go get my mustache waxed, get my armpits waxed, got me a nice little dress. Then I'm like, 'So what time are we heading out? Are you sending a car, like where we going?' And then he's like, 'Oh man, my bad, family emergency. I'm in Canada right now.'"
Of course, Haddish had a pretty hilarious response: "And I was like, 'Okay. Okay! I could have made $1,000,000 today, but I was trying to see what that D do. But all right!'"
Is it possible that Drake had a family emergency in Canada? Sure, maybe. He does only love his momma, after all. But is it also possible that was a lame excuse, similar to one used by many before him? Definitely. And if that's the case, we have to say we're pretty disappointed in Drake's choices. Luckily, Haddish seems to have a good attitude about her single status. She told Pinkett Smith,
"I love me a lot. Guaranteed to be satisfied over here when it's with me."
You can watch the rest of the hilarious interview in the video below:
Now that she's gone public with her story, we're anxiously waiting to see if Drake responds.