Tiffany Haddish Revealed She Tested Positive for COVID-19
She and Dr. Fauci talked about how coronavirus is disproportionately affecting Black and Latinx communities.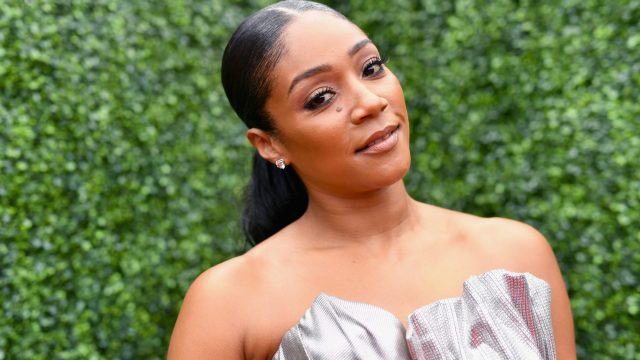 In a new interview with Dr. Anthony Fauci, Tiffany Haddish revealed that she tested positive for coronavirus (COVID-19) three months ago, shortly after testing negative. Haddish chatted with Fauci to help answer some of the questions so many of us have about coronavirus, with the pair proving that there's still so much we're learning.
The Girls Trip star spoke with Dr. Fauci, who serves as the director of the National Institute of Allergy and Infectious Diseases and has been a leading voice in the fight to slow the spread of COVID-19, in a video she posted to her YouTube channel on August 31st. They talked about how to slow the spread of COVID-19 and how it's disproportionately affecting the Black and Latinx communities—with Haddish opening up about what seems like a confusing journey to finding out she herself had contracted it.
"I was working on a movie and someone in the movie contracted coronavirus," Haddish shared. "I was not in direct contact with them. But they sent all of us home, we stopped the movie. They suggested I go get tested. I got tested, got the results back—two days later, they said I didn't have the coronavirus."
She went for a second test after learning a friend she'd been in contact with had tested positive, though she hadn't experienced any symptoms.
"I'm not feeling any symptoms or anything, and it comes back like two days later, and they said I did have the coronavirus," she said.
After her positive result, Haddish went into self-quarantine, adding, "Then I went and tested again, didn't have the virus, and then I got tested for antibodies, they said I had antibodies. That was three months ago."
Haddish has gotten tested 12 times due to being back on film sets, but she shared that she doesn't currently have any antibodies—one of the many question marks surrounding COVID-19 is how long antibodies actually last.
More widely, Fauci talked to Haddish talked about the heathcare system's inherent bias against Black and Lantix people. "I think particularly the African-American community, which over decades, historically, have suffered from being taken advantage of by medical community testing, we need to engage the community, to be very transparent, and tell them everything they want to know: exactly what's in the vaccine, what the risks are, etc." he said.
In true Tiffany fashion, she joked, "I think I'm superhuman." But all jokes aside, the message is clear: Avoiding crowds, socially distancing when you are around others, wearing a mask, and frequent hand washing are crucial to help slow the spread and prevent getting yourself and others sick. There are still so many unknowns with this disease, and we're grateful to this duo for helping to dispel some of the myths and misunderstandings out there right now.