Tiffany Haddish canceled her performance in Atlanta over Georgia's abortion law, and standing ovation, please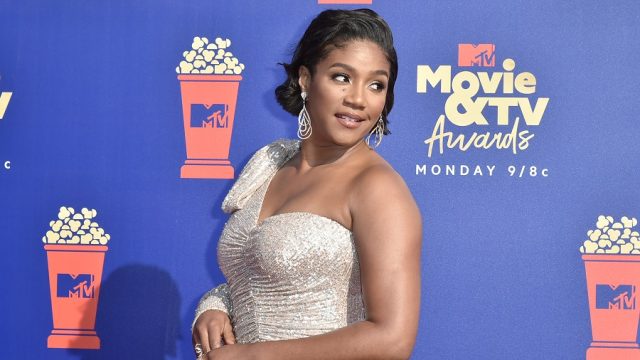 It has been a month since Georgia Governor Brian Kemp signed a law prohibiting most abortions after six weeks gestation, and in that time, several celebrities have joined those opposing the law. Ariana Grande recently made her feelings clear by donating the proceeds from an Atlanta concert to Planned Parenthood. Others have threatened to stop working in the state, and now, Tiffany Haddish has canceled a show in Atlanta over the new abortion law.
On June 15th, Atlanta NBC affiliate 11 Alive reported that the comedian canceled her June 22nd performance at the Fox Theatre. A spokeswoman for the venue told the news station that those who purchased tickets would be granted a full refund.
"After much deliberation, I am postponing my upcoming show in Atlanta," Haddish said in a statement to 11 Alive. "I love the state of Georgia, but I need to stand with women and until they withdraw Measure HB481, I cannot in good faith perform there."
According to the Atlanta Journal-Constitution, the abortion law will take effect on January 1st, 2020. The newspaper also notes that the law will likely face legal challenges, and Sean Young, the legal director of the ACLU of Georgia, told the Journal-Constitution in May, "The lawsuit is coming soon."
Haddish is the latest star to vocally oppose the law. HuffPost reports that several major studios, including Netflix, have threatened to withdraw their productions from the state if the law takes effect. Meanwhile, Ozark star Jason Bateman told The Hollywood Reporter in May that he would no longer work in the state if courts allow the law to stand. And THR also notes that others have pledged to donate some of the fees from their work in Georgia to organizations fighting the law—like J.J. Abrams and Jordan Peele, who are working together on the upcoming HBO drama Lovecraft County.
The decision to terminate a pregnancy should be a personal one, and we're applauding those like Haddish who are standing up for this right. If you wish to speak up against restrictive abortion laws, consider donating to the ACLU, Planned Parenthood, or other pro-choice organizations.