Tiffany Haddish responded to Beyoncé's song diss by going straight to Queen Bey's Oscars after-party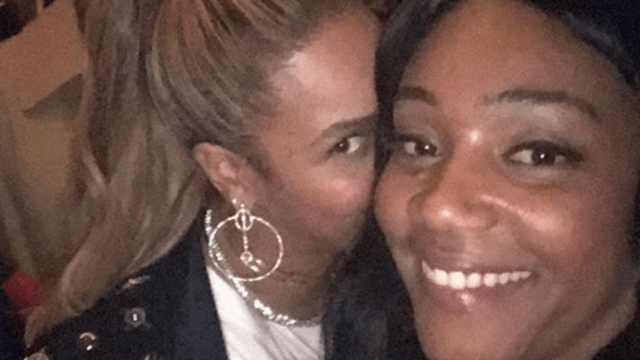 Beyoncé called out Tiffany Haddish in her new song "Top Off," but looks like there's no bad blood because Haddish snagged an invite to Bey and Jay-Z's 2018 Oscars after-party anyway.  Here's the story: DJ Khaled's new song "Top Off" features Jay-Z, Beyonce, and Future, and a certain Bey verse includes the line, "If they're tryna party with the queen, they gon' have to sign a non-disclosure." This is in reference to the time Haddish partied with Beyoncé and then talked about it to the media. It was a funny story, but when you party with the queen, you keep the sacred details to yourself. First rule of Beyoncé: You do not talk about Beyoncé.
It's not quite a diss — it's more like a subtweet through song — regardless, Haddish is ecstatic about the call-out.
"I made it!" Haddish told Entertainment Tonight at the 2018 Oscars. "Beyoncé put my name in a song. I made it! I was like [gasp] that's me! I was so happy. I was like, 'Ohhh I love me some Beyoncé! Where are them NDAs at so I can sign 'em?'"
She then told the ET reporter that she was heading to Bey and Jay's Oscars after-party following the awards show.
"I got an invitation. As soon as I get out of the car I'll be like, 'Um, where are the non-disclosure forms at? Where's the NDA and I ain't never saying her name out loud again,'" Haddish said before delivering the funniest thing we've ever heard. "[Beyoncé] could probably call me on the phone and I'm going to act like her name is Gladys."
You know you've reached icon status when artists want to diss you and hang with you.
When Haddish first heard "Top Off" on March 2nd, 2018 she tweeted: "I will sign A NDA any day For Beyoncé."
The moment Beyoncé hints to in the song references the time Haddish says Bey stopped her from getting into a fight at a party.
"I'm not at liberty to say what had went down at the party, but Beyoncé was just telling me to have a good time, and I was like, 'No, I'm gonna end up fighting this bitch!'" Haddish told Vulture earlier in 2018. "She was like, 'No, have fun, Tiffany,' and I said, 'I'm only going to have fun if you take a selfie with me.'"
So clearly, Haddish had the last laugh. A selfie with Beyoncé, a name-check in a song, and an invite to the most exclusive Oscars after-party? Yeah, she won.