12 tie-dye picks for instant mood boosts, all under $70
Whether it's satin slip dresses, dad sneakers, or chain link necklaces, we've all pined over a trend—and been crushed when sky-high prices prevent us from even experimenting with the style. With Stylish Steals, we'll bring you the latest trends seen on the runway, Instagram, in-store, and on the street—all at affordable prices. Consider us your new, price-savvy personal shopper.
When I think of tie-dye, I'm transported to summer camp as a 10-year-old: I'd wrap rubber bands around a cotton t-shirt, dip the fabric into buckets of dye, and wait. Hours later, I'd carefully cut the rubber bands and eagerly spread open the shirt. To my childish delight, a rainbow of colors would appear in a swirly design, and I'd smile, knowing I'd just made my new favorite shirt.
Now, 12 years later, I no longer make my own tie-dye clothing (although that would be a fun quarantine activity) but I do still wear it. Tie-dye fashion is making appearances everywhere these days, from celebs' streetwear sweatpants to scrunchies and shoes in countless stores. The retro pattern instantly adds a playful vibe to your look, and there's no better time than now to channel that free-spirited energy.
Although I typically opted for bold, bright colors when making tie-dye clothes during my summer camp days, today's tie-dye fashion offers subtler looks. Neutrals, pastels, and so subdued you'll say, "is that technically tie-dye?" are the patterns everyone's rocking these days. Think the daydreamy, rose-colored glasses vibes of Taylor Swift's album Lover.
Below, we rounded up our favorite tie-dye fashion items for you to shop—from clothing to accessories to shoes.
1Blank Denim Sweet Spot Sweatshirt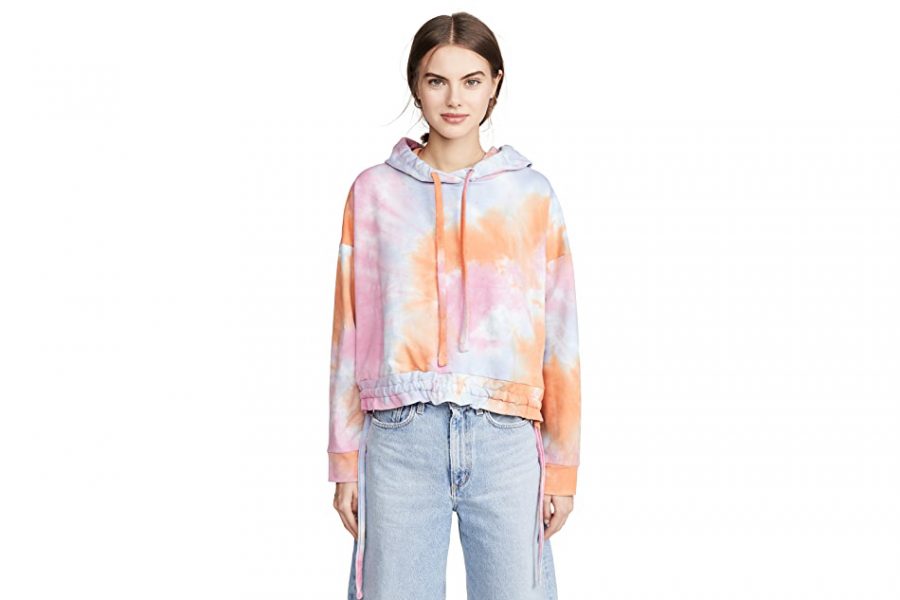 This hoodie has us wanting a scoop of tangerine sherbet, stat. The bright colors are mood-brightening, and the ruffle drawstring hem adds a playful touch.
2Freedom Moses Two Band Slides
Looking for a splash of color in your white summer outfits? These tie-dye sandals will do the trick. We can already see ourselves walking all over town in these colorful shoes (and getting compliments left and right) once we're able to socialize again.
3Bali Serious Swagger Tie Dye Skirt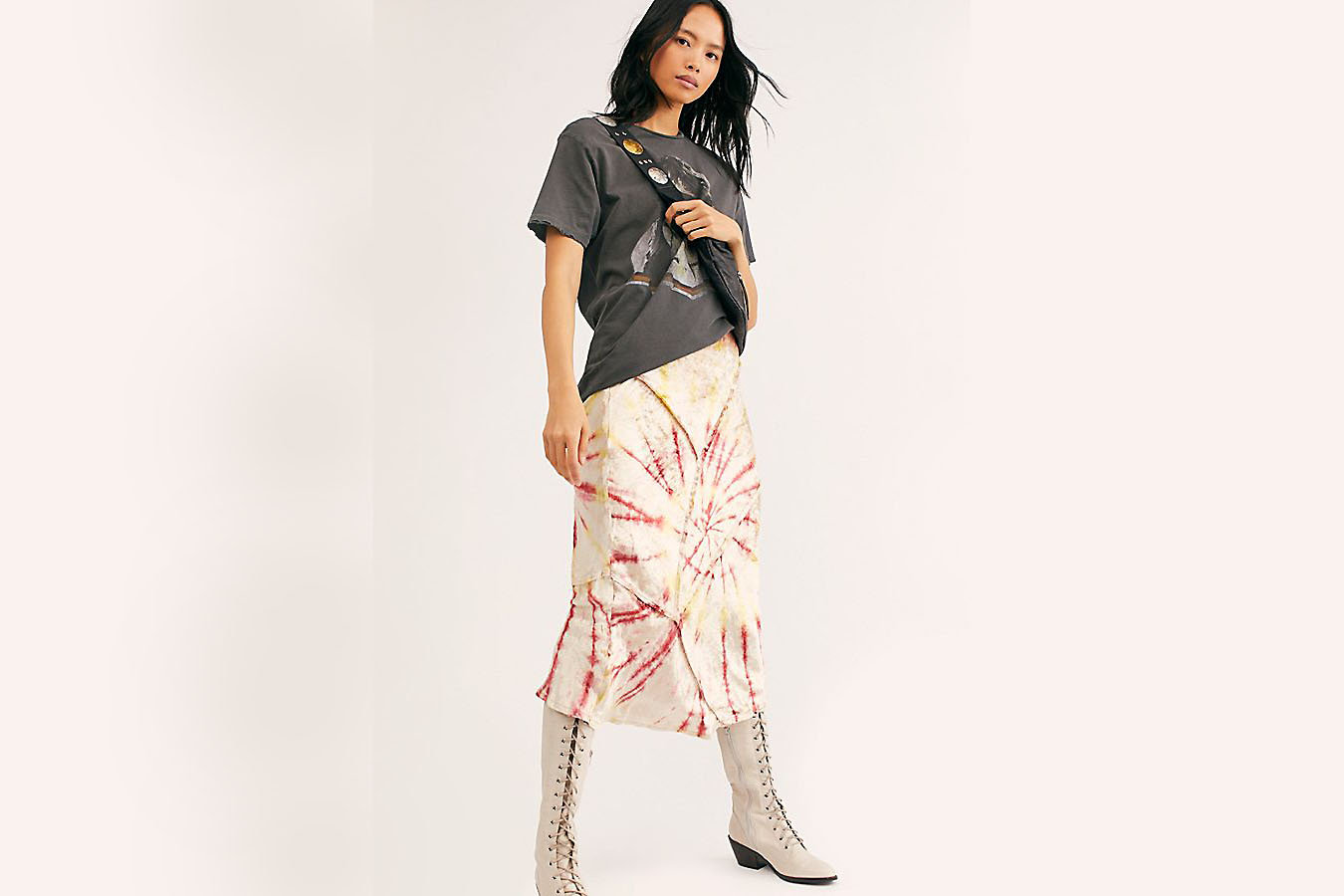 $49.95 (orig. $128)
Shop it
Available at Free People
Hey there, '90s cool-girl. Was there ever a more perfect skirt to pair with your favorite concert tee? The pink, yellow and orange tie-dye pattern is so pretty, but it's the velvet fabric that really elevates the whole look.
4Madewell Tie Dye Bandana
A tie-dye bandana—could this be more summer camp chic? We love the subtle lime green pattern, and plan on tying this around our neck, in our hair, and maybe onto a tote, on other occasions, too.
5BDG Urban Outfitters Tie Dye Hoodie
$46.80 (orig. $78)
Shop it
Nordstrom
Keeping with the green theme, this subtler green tie-dye pattern (with a hint of sky blue) makes for the perfect quarantine hoodie. We'll be cozying up in this until further notice.
6Women's Tie-Dye Print Satin Joggers
These are labeled as pajamas, but we'll be wearing them all day long while self-isolating. They're even cute enough for a quick run to the grocery store.
7ASTR the Label Bias Cut Sleeveless Satin Midi Dress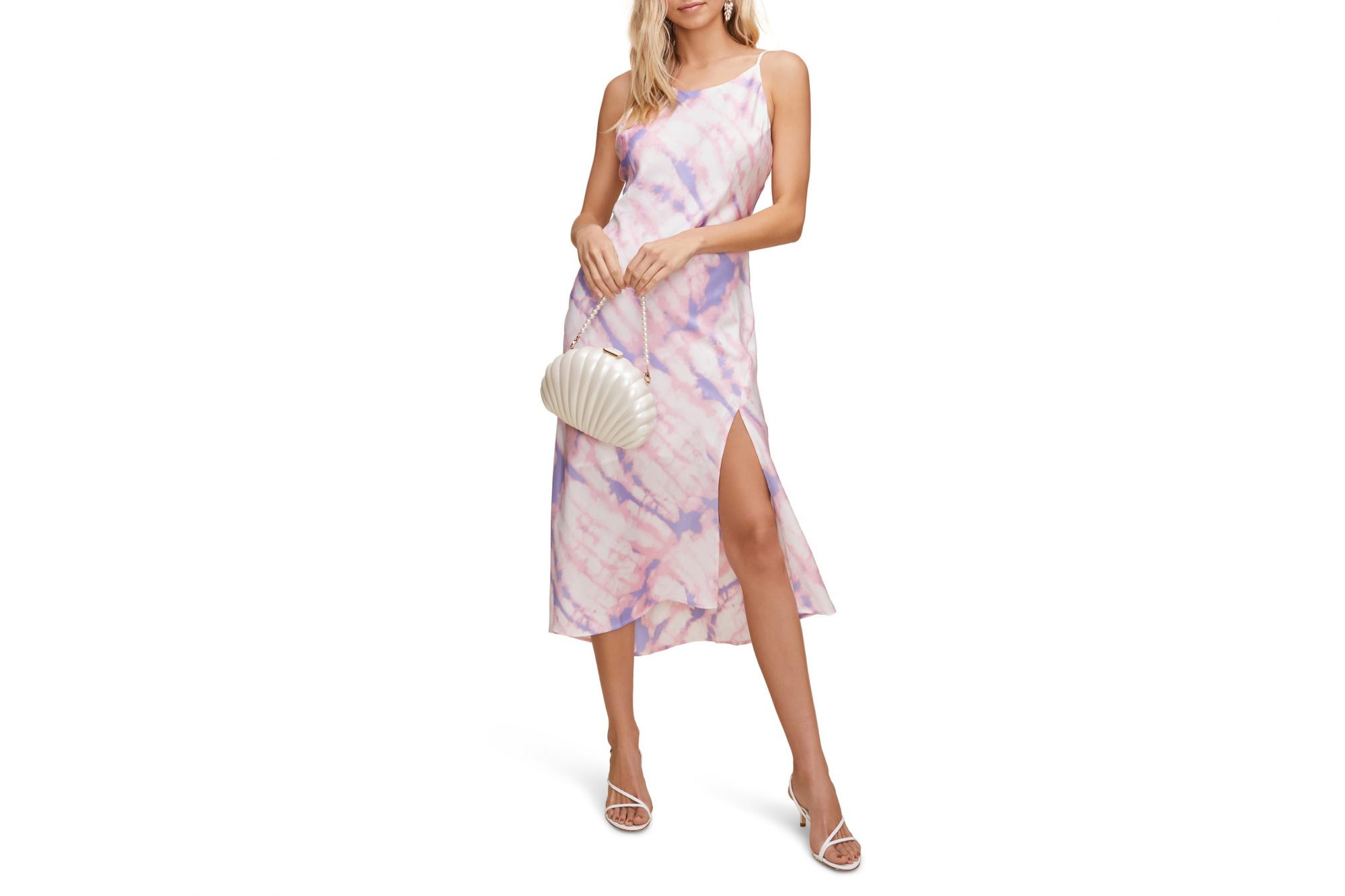 For those of you prepping for date nights once we're able go out again, this dress can be the star of your daydream. We'll never say no to a satin midi dress, especially when it's in this romantic print.
8American Eagle Tie Dye Bandana Top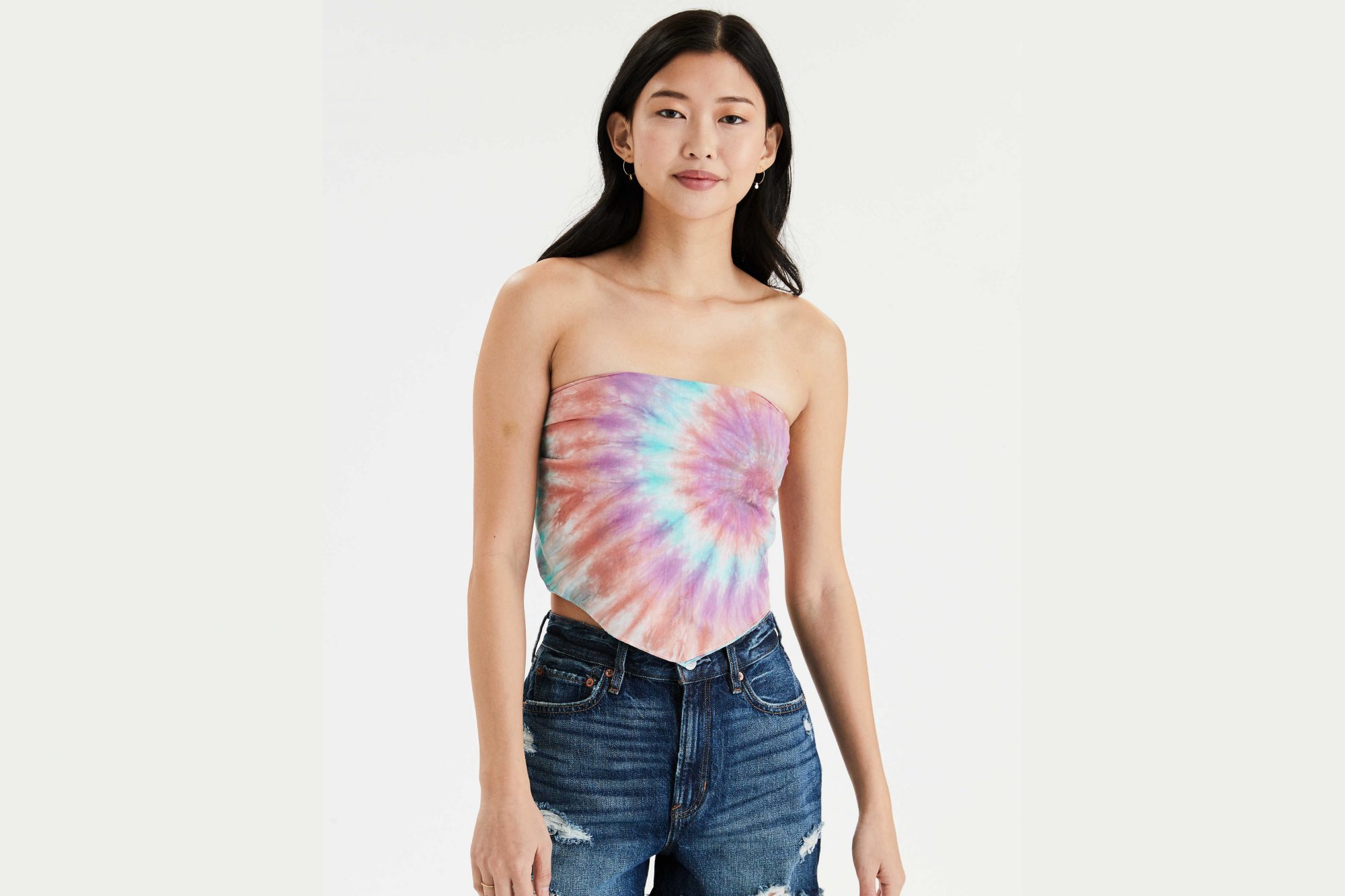 $8.97 (orig. $17.95)
Shop it
American Eagle
We like to think of this look as summer camp bonfire, but all grown up. The bandana top ties into a bow in the back, and is topped off with with fringe tassels.
9SHEIN Tie Dye Twist Front Top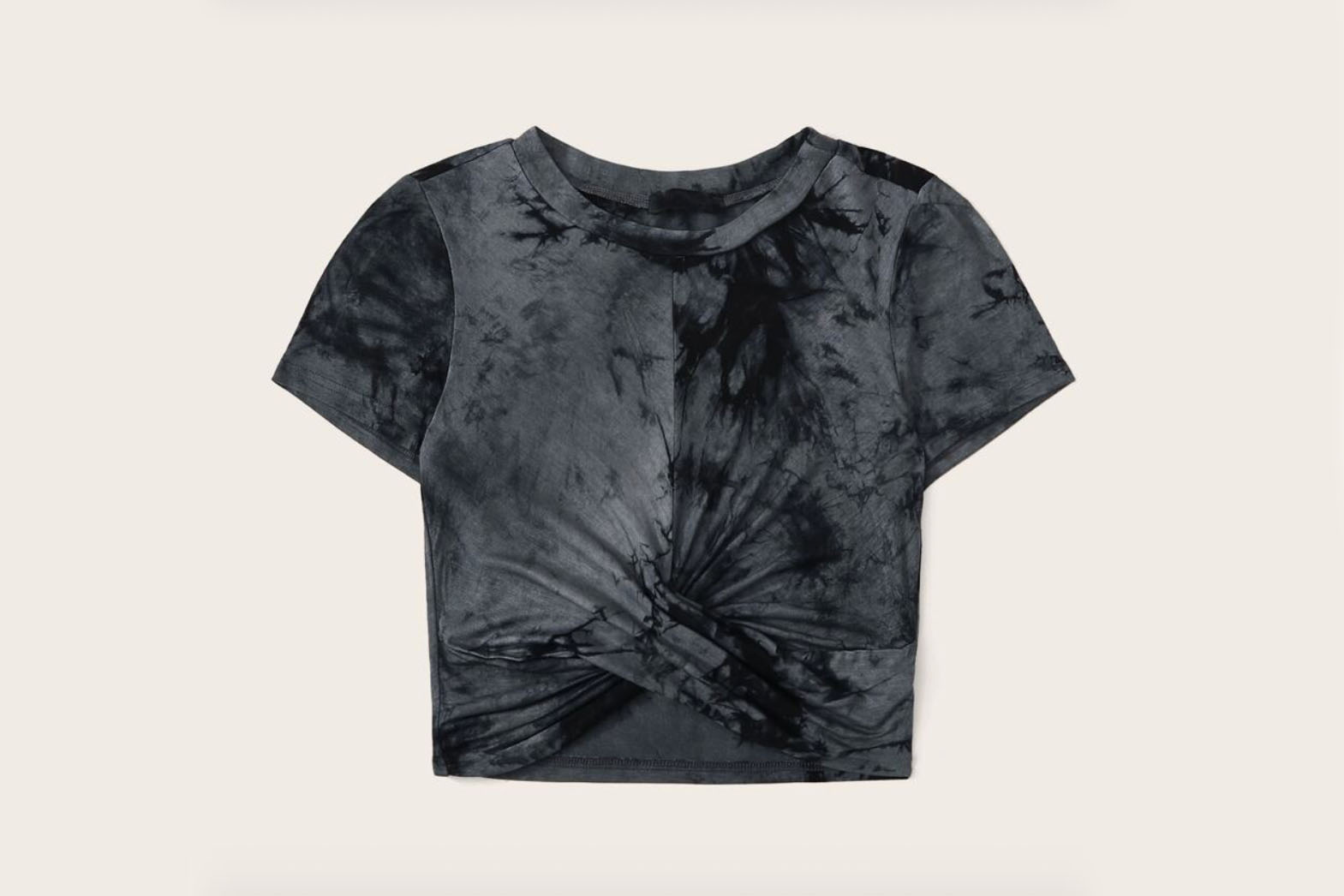 Tie-dye prints don't always need to be colorful. If you lean towards neutrals like black and grey and want to dip your toes into the trend without stepping too far out of your comfort zone, this could be the top for you.
10Lovers + Friends Tropez Scrunchie Set
You can never have too many scrunchies, in our opinion. These tie-dye bow scrunchies will add a dash of playfulness to your look.
11American Eagle Tie Dye Twist Sandals
$14.97 (orig. $29.95)
Shop it
American Eagle
Twisted tie-dye sandals are the spring and summer shoes we've been waiting for—we just didn't know it until now.
12Tommy Hilfiger Dolphin Tie-Dyed Shorts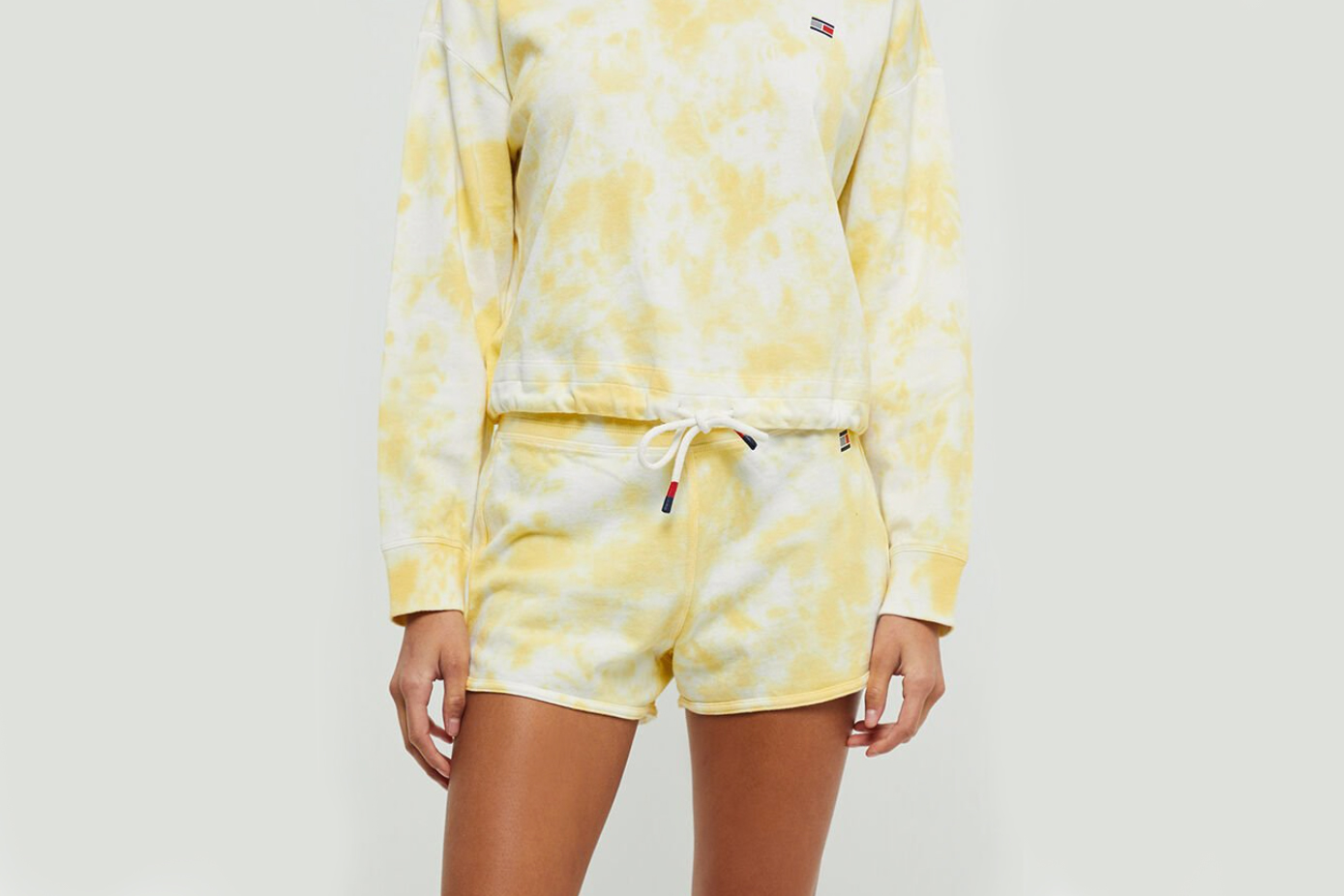 Soak up the sun (or your couch) in these mid-rise shorts and matching sweatshirt.