T.I.'s daughter Deyjah addressed her father's medically inaccurate "virginity test" comments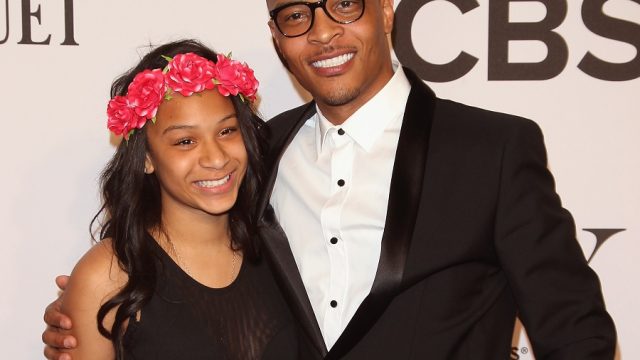 Rapper T.I. made headlines in a really big, really bad way in November 2019 when he claimed to attend his now-18-year-old daughter's gynecologist visits to "check her hymen" and make sure she's still a virgin. Yup, that's a thing a father said about his daughter, in public, last year. The whole ordeal resurfaced on Monday's episode of T.I. & Tiny: Friends & Family Hustle, when T.I.'s daughter, Deyjah Harris, spoke out about her father's "awkward and uncomfortable" and medically inaccurate comments.
The family found out about T.I.'s now-infamous interview on the Ladies Like Us podcast while on vacation in Mexico. "I'm scrolling on Twitter, and I see that I've been tagged in a post," Harris said on the reality show, according to Complex. "The only word that I saw was 'gynecologist' and I didn't even need to read the whole title 'cause I just knew."
My heart sank—very shocked, hurt, angry, embarrassed," Harris added.
Harris later told her cousins that her father had indeed accompanied her on gynecologist visits since she was "14 or 15." Because of her age, she "couldn't have said no" to his choice.
For his part, T.I. confirmed to his mother, Violeta Latrice, that he did go to the gynecologist with his daughter, but he claimed that he stretched the truth on the podcast. "I told a joke that was laced in truth, also [with] a lot of major embellishments," he later said in a confessional interview.
The "joke" excuse echoes what he said on Jada Pinkett Smith's talk show Red Table Talk in November 2019, on which he appeared expressly to clarify his perspective.
"From a place of truth, I began to embellish and exaggerate and I think a lot of people took it extremely literal," T.I. told Pinkett Smith, adding that the media "misconstrued" and "sensationalized" his comments. He was also apologetic for making his daughter feel uncomfortable—not necessarily for allegedly ensuring that her hymen is intact, but for talking about it in public. See the issue there? (To clarify, we would never call T.I.'s love for his daughter into question, but we will absolutely call out his behavior.)
"I am here to protect all of the children from themselves until they make it to a point where they have awareness, a sense of self, and discernment to be able to make certain decisions on their own that will impact their lives indefinitely," T.I. added on Red Table Talk. "I'm not there to protect necessarily virginity, I just know that is a big move."
We probably don't need to tell you that a hymen's status is not indicative of a person's virginity, though T.I. told the Ladies Like Us hosts that Harris' doctor did clarify this fact to him. As the doctor noted, hymens can tear through physical activities other than penetrative sex, like riding bikes, horses, and playing sports.
A few other things that should be eminently clear by now: Sex doesn't necessarily require penetration, women and teenagers have the right to a private relationship with their doctors, and not a single person on this green Earth—including a parent, even a well-meaning one—is entitled to dictate what a person decides to do with their body.
Unsurprisingly, news of T.I.'s interview, and the social media backlash that followed it, created a rift between father and daughter.
"I need more time to figure out what I want to say, but things are completely awkward and uncomfortable between me and my Dad," Harris said on the show. "Prior to all of this happening, our relationship was pretty decent, but after all of this, it's changed, honestly."