What I experienced at "Through Her Lens," an incredible event celebrating women filmmakers
It's Halloween, but you know what's not scary — WOMEN SUPPORTING WOMEN, and that's what this event was all about. THROUGH HER LENS: The Tribeca Chanel Women's Filmmaker Program took place last week. It's only the second year, but hopefully there will be many more. The program is presented by Tribeca and CHANEL, in collaboration with Pulse Films, and ran by the Tribeca Film Institute.
Jennifer Westfeldt (actor/director/writer and one of the five jurors) said:
"It's incredibly important to foster community and to provide encouragement, mentorship and opportunity for female filmmakers and emerging artistic voices — and that's just what TFI and Chanel and Pulse have done with this grant. It's a wonderful thing to give meaningful funding to a female filmmaker and development funds to all of these five worthy filmmaking teams.
Five new and emerging U.S.-based female filmmakers of short-form narrative films were chosen for the Through Her Lens three-day workshop. The filmmakers chosen were Joey Ally, Sonejuhi Sunha, A.V. Rockwell, Catherine Eaton, and Ani Simon-Kennedy. Each of them were also allowed to bring along their producing partner of the short film. The event brought together so many talented women in the industry to support, inspire, and teach other women.
I had the awesome opportunity to attend a master class taught by composer Laura Karpman.
She first talked about her career, and then taught the filmmakers about how music should be composed for films. Each woman showed a part of a short film they had made, and then thoroughly described how music sets a scene revealing to the audience how a character is feeling.
While attending the festival's last event and cocktail party, I spotted the ladies from the master class -- joining in a circle, hugging each other, and trading their contact information. I could already tell that they made lasting connections before I even spoke with them. It was the perfect time to jump into the love fest and ask how their three days went.
Sonejuhi raved about the program, "It was everything I hoped and more. I learned so much and just met so many people that I've been such a huge fan of this whole time. It was great to be face-to-face with them and just get to know them..like it was great just to get to know Jenni Konner and personally be like, what are you doing next weekend?"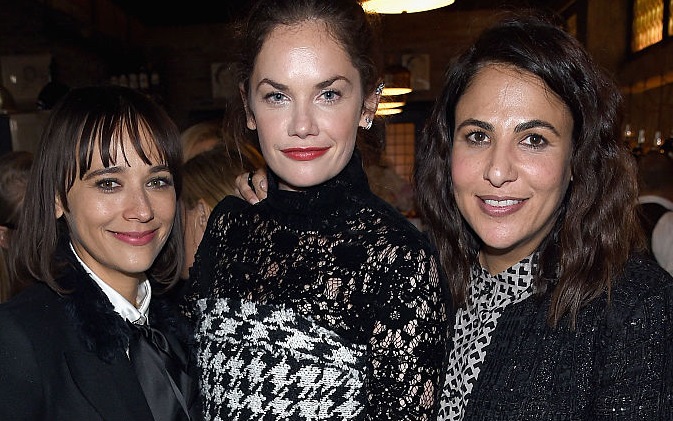 Joey Ally mentioned that she's even been to Sundance, but this experience far exceeds. Every one of the girls could not stop talking about how incredible it was and how grateful they were that they were even chosen.
The five filmmakers came into the program already being given $5,000. The jury presented A.V. Rockwell with the big prize of the program, which was $80,000 to fully fund her short film, Feathers. A.V. spoke with me about her whole experience:
"Aw man. It was so magical. It was so intensive. They really had us booked cover-to-cover, morning to night, but it was amazing. I really feel like the conversations and insight that they shared about making films and crafting your voice as a storyteller were all experiences that I'll forever cherish.
When I asked Westfeldt if anything stood out during the pitches that inspired her, she said:
"Mostly, I was struck by the range and diversity of the work, and the originality of these women's voices. I am excited to see what they do next and to see these five films come to fruition.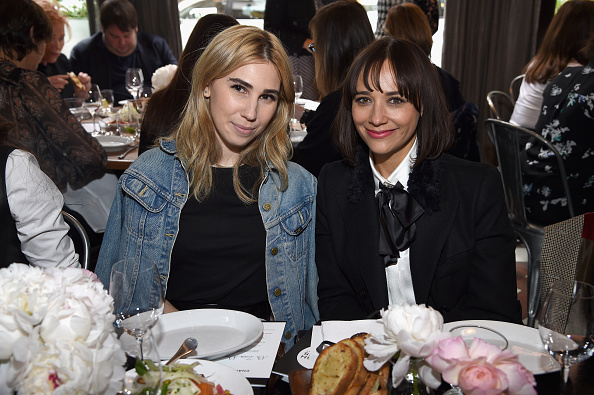 I didn't even attend the one-on-one mentorship sessions (Rashida Jones was one of the mentors!), master classes, or peer-to-peer talks — and I still came out feeling inspired. These women got a once in a lifetime chance to connect with each other and learn an insane amount from other women in only three days. I only got a little taste of what the Through Her Lens program was all about and it made me crave more.
I'll leave you with something said by Catherine Eaton that I found really inspiring:
"It doesn't have to be one of us. It can be all of us. It's really important to me and to everyone in this program. It's about mentorship and bringing other women up in the ranks. We want to share our work and progression along the way while we're making these shorts, and to see cuts of each others work and make a community.
So whatever field you're in, help shatter that glass ceiling, create a community, and inspire each other to be the best you all can be.