A thousand Frida Kahlo fans dressed up to break a world record on the painter's birthday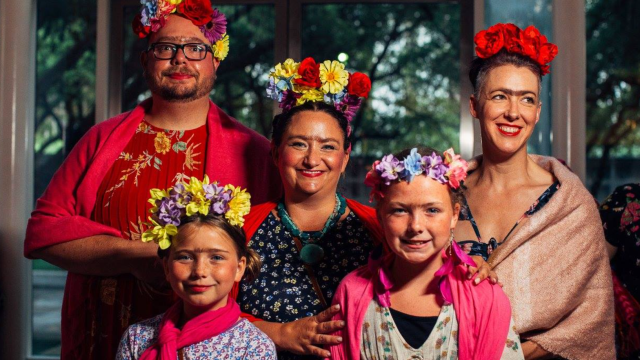 On July 7th, we celebrated the 110th anniversary of the birth of Mexican artist and activist Frida Kahlo. To commemorate the legacy of the icon, The Dallas Museum of Art hosted over 1,100 costumed Fridas, in an attempt to break a world record for the most impersonators gathered at once…and they did it.
Beating out 895 Elvis costumers and 676 Harry Potters, the record-breaking Fridas are a testament to dedication and the incredible impact of the artist. Men, women, and children gathered at the museum to show off their costumes, which consisted of a floral dress, pink shawl, flowers in the hair, and of course, a unibrow.
The museum partnered with the Latino Center for Leadership Development to help bring Frida Fest to life.
The center helps cultivate leadership in the Latinx community through trainings and programs, which is something we're sure Frida would have been all for.
Yet, not every Frida is created equal. To actually be considered a Frida impersonator, participants had to wear a floral dress with no slit, at least three flowers in their hair, and a pink shawl.
But of course, once you had these basic pieces down, you were able to accessorize even more. Fridas at the event added beads, more flowers, and bright makeup to really honor the icon.
Besides breaking a world record, the impersonators were also able to explore the museum, attend events, and even see performances.
Frida may not be with us any longer, but her legacy and impact continues to live on; and now she has a world record.
Happy belated birthday, Frida. We love you!