Karl Urban can't stop gushing about "Thor: Ragnarok" costar Cate Blanchett, is all of us
In the ultimate example of stars being just like us, Karl Urban — Eomer in the Lord of the Rings films and Bones in the Star Trek movies — is just as amazed by actual goddess and Thor: Ragnarok costar Cate Blanchett as we all are.
And given that we're completely obsessed, that's saying a lot.
In fact, Blanchett — along with director Taika Waititi and the emotionally compelling script — was a major draw for Urban when signing on for Thor: Ragnarok, in which he plays Skurge, the Executioner, opposite Blanchett's Hela, Goddess of Death.
"She was one of the main reasons that I decided to do this film," Urban told HelloGiggles. "Practically all of my scenes were with her, and I just have so much love and respect for Cate and her professionalism, how she approaches the role. "Just being part of the conversation leading up to it, discussing the characters and how they interacted and what their purpose was, it was just a wonderful process."
You'd think working with a talent as great as Blanchett in such a twisted role could be a little intimidating.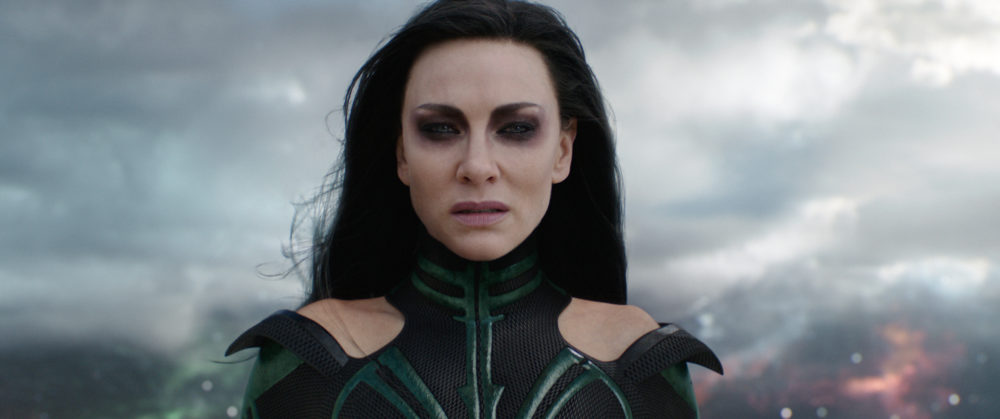 I mean, even Thor himself, Chris Hemsworth, basically said as much. But for Urban, it was quite the contrary.
"No, she's lovely. I wasn't intimidated at all," he explained. That said, he did welcome a, um, return to her brighter look by production's end. "I must say, it was wonderful to finally see her with blonde hair, as she had this black wig on the entire time. Literally, every time I'd see her for the entire six weeks we were shooting, she was in that character, in that mode."
But that doesn't mean that Urban and Blanchett didn't bro out in between takes.
* You read that right, CATE BLANCHETT BROS OUT *
Marvel productions tend to bring out bromances (Science Bros, anyone?), and Urban explained that Thor: Ragnarok was no exception. "My bromance [on set] was with Cate. We had so much fun," he said. And added that it was also a pleasure to work with Waititi, who kept a very fluid and creative set, with music constantly playing. "It seemed like the most un-work work environment that I've ever experienced."
As for Blanchett's character, Hela is Marvel's first female villain and she's as badass as they come — and Tessa Thompson's Valkyrie is equally kickass. Urban said of both, "There is great strength in both of their characters. Both of them have a wonderful swagger, they're both strong, independent individuals, and I think that they just simply made the film better."
So like, we're ready for a Hela (and Valkyrie!) spinoff whenever Marvel wants to make that happen. Until then, we'll be counting down the days until Thor: Ragnarok lands in theaters on November 3rd.