This YouTuber recreated Beyoncé's CMA gown with breakfast cereal and we are LOL'ing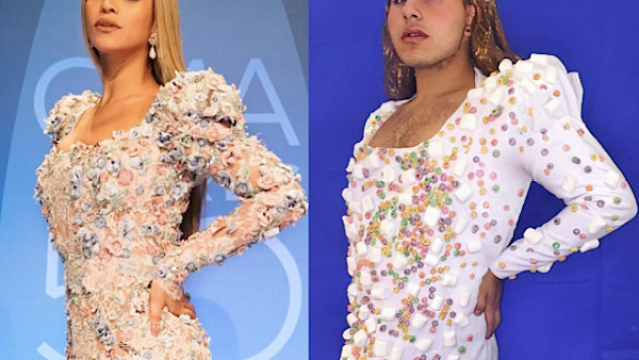 A few days ago, the internet went wild when rumors started flying that Beyoncé was going to perform at the Country Music Awards. Her performance with the Dixie Chicks was on fire and Beyoncé's CMA gown was fierce as heck too, but this YouTuber who is famous for recreating pop stars' iconic outfits, replicated Bey's very own CMA gown using cereal and marshmallows. It may be the best thing we've seen come from the 2016 CMAs.
Queen Bey slayed not only her performance, but the gown was everything we want and TBH, expect, to see from Beyoncé. It was elegant, and covered in beautiful details like flowers and lace. Mina Gerges, a YouTuber from Toronto, Canada, had his own take on her gown and we're seriously dying of LOLs.
Here's Bey's:
And here's Gerges food-centric take:
Gerges, who chats about celebrities, fashion and everything else that's fun in the world on his YouTube channel, It's Mina Gerges, recreates pop fashion for his social media followers this CMA gown is literal perfection.
At first glance, he did a really great job at nailing the power and personality of Bey's pose from head to toe, plus his dress looks amaze.
But, when you take a closer look at his gown, you'll see one major difference: his looks good enough to eat.
So I made this #Beyonce dress out of marshmallows and Fruit Loops 😍👌🏽, Gerges captioned his social share. "Never felt more fierce in my LIFE! 👸🏽
This isn't the first time he's been able to totally nail celebrity fashion — he's put his own take on other celebrity gowns in the past.
Katy Perry at the Met Gala.
Lady Gaga's iconic meat dress was no match for his creativity.
And he even killed another Beyoncé look — her Met Gala gown and that swoon-worthy pony.
Seriously, we're LOL'ing in the best way because we're both jealous he can make this look so effortless, and delicious, too.