This YouTube star's new music video will make you want to have a dance party STAT!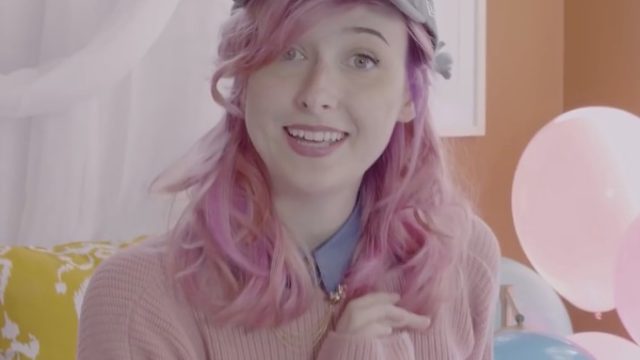 It's no secret that we love us a YouTube singer-songwriter. The site's user-generated content means it's a virtual goldmine of independent creativity, and also means that unsigned — yet super awesome — talent is able to find an audience.
And our latest YouTube-found obsession is a singer-songwriter by the name of Tessa Violet.  She's been sharing music online for years and just independently released a music video for her incredible (and incredibly CATCHY) song "Not Over You" from her new EP Halloway.
Not only is the song a super-relatable anthem for any and all of us who just can't seem to get over a certain special someone (we feel you girl, HARD), but the video itself — in all its dancing, girl-power glory — is kind of making us leap for joy.
Take a look:
https://www.youtube.com/watch?v=Dg4setI1nMk?start=4&feature=oembed
We warned you it was catchy.
We're utterly digging the video's simple aesthetic (it's kind of like Zooey Deschanel meets Katy Perry meets the best friend you always wished you had), and more importantly, we're extremely appreciative of the fact that her video features a slew of women of all shapes and sizes dancing crazy and seemingly having a genuine blast.
If, like us, you're loving Tessa's sound, here's another recently-released (and seriously stunning)  music video from her new EPthat also blew us away. Seriously, check it out!
https://www.youtube.com/watch?v=-4NLarMj4xU?feature=oembed
And if you're now dying to see and hear more of Tessa, you can find her on Spotify, as well as visit her official YouTube page (where she posts incredibly sweet and insightful weekly songs and personal vlogs).
Oh, AND she's currently touring, so definitely check here to see if she's coming to you live anytime soon! Now excuse us while we go listen to her songs all day on repeat (because hey, it's Monday and we need this).