This woman's stunning dual dye job proves we don't have to choose when it comes to picking out a new hair color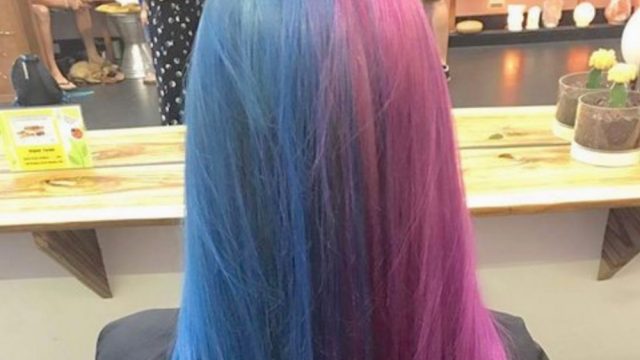 One of the hardest steps of dying your hair is picking the right color. What if you finally decide on a color and then realize it wasn't what you wanted after all?! After seeing this woman's stunning dual dye job, you may feel inspired to pick two bright hair colors instead of just one because why choose if you don't have to?
Earlier this week, the Reddit user Moniquey posted a GIF of her two-toned blue and pink hair, and it's giving us flashbacks to the ambitious and mildly terrifying glow-in-the-dark hair trend. Except in Moniquey's case, rather than having hair that glows like old Sketchers, she opted for two-toned mermaid dream hair.
At first glance, you can't even tell she has two hair colors. Then she does the hair flip and her secret is revealed.
Also, what magic conditioner is she using to keep her hair in such good shape?
The people on the Reddit thread titled Fancy Follices responded with much of the same bewilderment as us. How did she get such clean and bright colored hair and how will she maintain it? We feel tired just thinking about it.
As you can see from the back, her neon two-toned locks are pristine.
This is proof that two hair colors are better than one.