This woman discovered a whole new way to use Bumble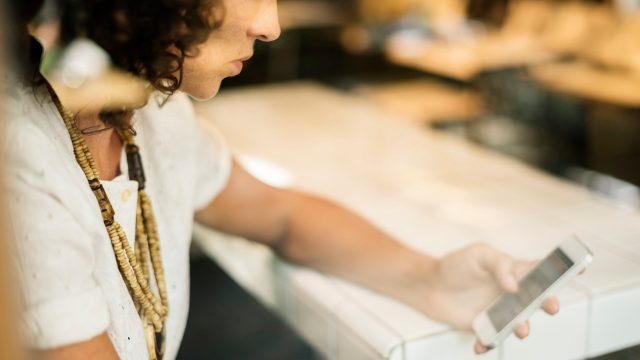 We've all been there, swiping through guys on Tinder or Bumble with such velocity that their smiling faces start to blur together. All the pictures of bro-tank wearing men atop Machu Picchu and Mount Kilimanjaro become one hazy Mount-Kilimanjicchu, all because of of the panicked mantra repeating in your mind: Must find soulmate!
The dating game has changed in the past five or so years, and millennials now use Tinder so much that 26 million users make "matches" (anyone else just realize why it's called Tinder?) each day. Oftentimes people say that using dating apps is like playing a game, and if that's the case, shouldn't it be more fun?
Maria Del Russo recently wrote about realizing that she was using the app all wrong, and it's so relatable that it might change the way you use dating apps forevermore
In her essay for Refinery29, Del Russo explains that she was used to using Bumble with such a limited goal that she began to stop enjoying the process of reading people's profiles, especially if they seemed like a waste of time.
"The guys who listed things like, 'just looking to have fun,' or, 'not interested in anything serious right now,' got a swipe left. Mama didn't have any time to fuck around. In the words of every contestant on America's Next Top Model, I'm not here to make friends," Del Russo writes.
Her description of swiping left at the first sight of certain signs is SO relatable. For many, the words "not looking for anything serious" are a quick indication that a person isn't worth matching with, and people who are looking for "nothing serious" might similarly swipe left immediately because of the word "relationship." (And that's not even considering the visual cues we immediately swipe left or right for.)
When Del Russo decided to break her pattern and actually match with a guy who said he wasn't looking for anything serious, an amazing thing happened: she made a FRIEND!
"'We met on Bumble,' one of us will say. 'Yeah, but we have never hooked up,' the other will clarify. And when this conversation inevitably comes up, I think back to the hard-and-fast rules I used to have when it came to online dating."
Yep, she was able to actually meet a guy who she had natural conversation with and whose company she enjoyed, and it only happened because she broke one of her "Bumble rules."
The guy who became her friend, who she calls Julio in the essay, became a confidant who helped guide her through subsequent relationships. He ended up being an important person in her life, and had she simply swiped left because he wasn't exactly what she was looking for in a boyfriend, she would have missed him.
Think about all the potential BFFs you've missed out on because you swiped left on them while thinking you wouldn't want to DATE them.
Because really, not wanting to date someone is probably the #1 quality that makes them friend-potential! Del Russo learned her lesson, and it's a pretty good one for making dating apps more enjoyable and interesting in general.
She writes, "Along with mindfully swiping, I'm attempting to look at the men on my apps as actual people with interests, instead of humans who could potentially fill the role of 'boyfriend.' You never know who you might meet on these apps, so you might as well have a little fun with it while you're also looking for love."
Bumble has already tried to branch out from being just a dating app by offering Bumble BFF for friend-shopping (to put it bluntly), and Del Russo's essay offers convincing reasons to use those "dating apps" for more than just, well, dating. There's no point in missing out on meeting cool people just because they're not exactly what you're looking for in a S.O.