This woman changed the Vans Warped Tour, and now she wants to change the music industry
America's so-called "punk rock summer camp" came to an end when the Vans Warped Tour made its final stop in West Palm Beach, Florida last month, August 5th. For 24 years, the festival traveled during the summer season, bringing thousands of punk rock, pop punk, ska, metal, and rock fans together on fairgrounds across the country. People of all ages gathered to listen to bands like Blink-182, New Found Glory, Rancid, Taking Back Sunday, and more—but female bands and musicians were often missing from the main stage, or from the lineup altogether. Then Shira Yevin—lead singer of the pop punk group Shiragirl—helped change that.
Shira was first struck by the lack of women performing with Warped when she worked for the Truth Campaign during the tour in 2003. The following summer, the singer told Kevin Lyman, founder of the tour, that the festival needed a women-centric stage. While Lyman supported the idea, he told Shira it would have to wait—so Shira took matters into her own hands. Harnessing the DIY attitude of punk, she crashed the tour by rolling up in a pink RV, creating her own stage, and performing there with Shiragirl. A large, excited crowd quickly formed, and the positive response from festival goers resulted in Lyman asking Shira to host an official Shiragirl Stage the next summer.
Over a decade later, roadies have packed up the Vans Warped Tour for a final time and more than 200 female-fronted and all-women bands have graced the Shiragirl Stage—including the iconic Joan Jett, as well as Paramore on their first ever tour. The Shiragirl Stage offered opportunities for bands who had never before been invited to the Warped Tour—and maybe never would have been. Performances on the Shiragirl Stage led to many of those bands returning to perform on other stages, and the general representation of women on Warped stages increased.
Shira Yevin's girls-to-the-front activism may have forever changed Warped Tour history—she is profiled in books about the tour and earned a spot in the Rock and Roll Hall of Fame's Warped Tour exhibit—but that's not the only way she is changing the punk rock scene. She has made music about the Women's March and even performed there in 2018, and her recently released EP Brooklyn Goes Hollywood has been described as "[challenging] punk rule book [and embracing] solidarity between female musicians" by Alt Press. Billboard's review mentioned that "Shiragirl has defied easy definition for the past decade." And now that Warped is over, Shira tells me, "I'm looking at taking the concept of the Shiragirl Stage and seeing what we can do as far as developing our own festival."
After the tour finished, I spoke to Shira about the impact of the Shiragirl Stage, her favorite memories of that beloved punk rock summer camp, ways the Warped Tour improved, and reasons why the music industry still needs to change.
HelloGiggles (HG): What happened when you first approached Warped Tour founder Kevin Lyman about starting a women's stage?
Shira Yevin (SY): I had noticed that there really were no women on stage. There was maybe one band with a female singer, and then every now and then, there would be a local band. So I approached him and I said, "Hey, I'd really love to bring some female bands to the Girls' Garage tent," which was an area that they had set up for women, for young girls. He said, "Great idea, love it. But, this year's the 10th Anniversary. We got a lot going on, so how about next year?"
He was very supportive from the start, but he was certainly in no rush—as we were. We just thought, "Next year?!" When you're young, that's like a world away. So, we came and set up a stage anyway.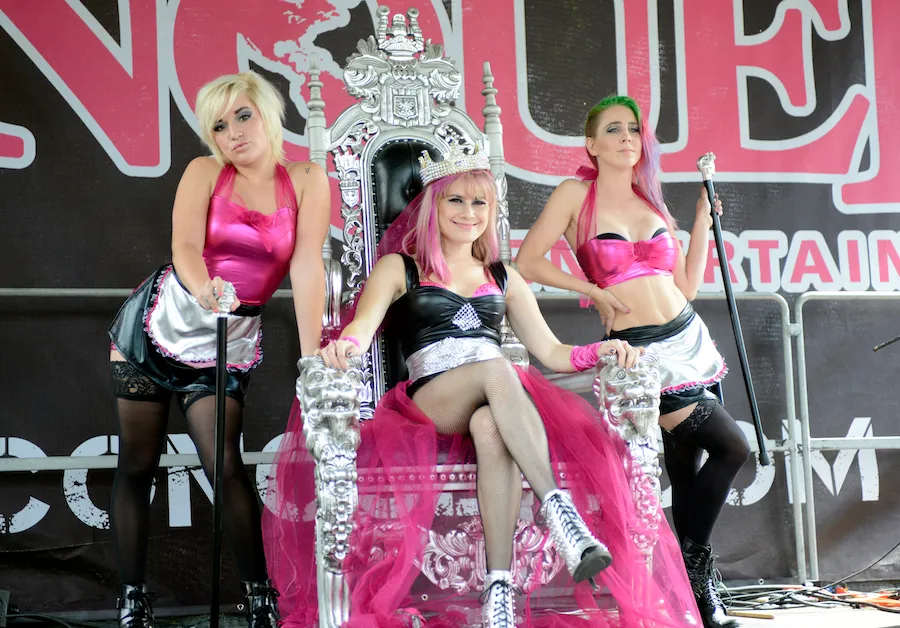 HG: What was it like to see the Shiragirl Stage up and running that first year?
SY: It was super DIY. We did everything ourselves. We built our own stage everyday, we actually called upon the [performing] bands to help us load in and set up. We ran our own sound. We did everything ourselves. It was very punk rock, very grass roots. We bought a box truck from Avis and painted it pink, and just called upon some friends. We cut out the side of it and we screwed in the poles. It was very guerrilla, shall we say.
I think at first people kind of doubted us because we were doing it ourselves—sometimes the truck would break down or we wouldn't make it in time. But, we showed up. We were there until the end of the tour. Of course, that first year we had Paramore on [our stage], which was their first ever tour. So that was super cool…They had the hugest crowds, so it was great for us.
HG: Now that the Warped Tour has come to an end, is there a musician or band you're especially excited to say performed on your stage?
SY: Definitely Joan Jett. She's a legend. The fact that she made a guest appearance on our stage and I actually got to sing "Bad Reputation" while she played guitar and sang backup—it was a dream come true. We were all rehearsing on the side of the stage right before we went on; I felt like I was in The Runaways.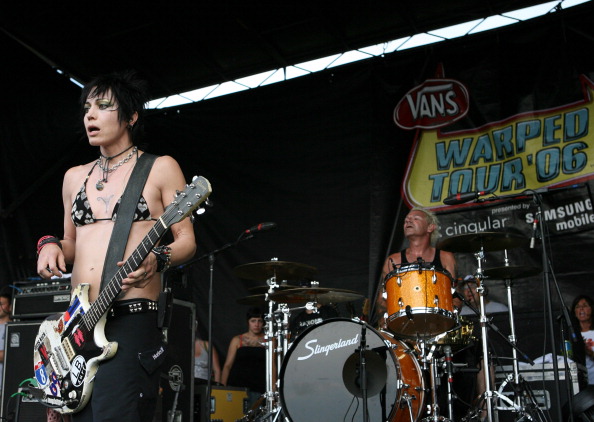 HG: When you reminisce about the years-long impact of the Shiragirl Stage, what are you the most proud of?
SY: A couple things. First of all, some people said that, over the years, you could see more women getting onto other stages—bigger stages, main stages—such as Paramore. We're definitely really proud of being part of that history and that story. [Paramore] is a huge runaway success. So, I think when people recognize that—I don't take credit for their success—but when people come to me and they say, "You really made a difference," it makes me feel good to know that we made an impact.
The other thing is when girls come up to us after a show and they say, "I want to be in a band now. I'm going to learn the guitar." We just had an eight-year-old girl come up to us when we played in Milwaukee a few weeks ago. She was with her parents and she said, "You guys are my favorite rock band!" It was cool, you know? We weren't a girl band to her—we were just a rock band. When you think about influencing the next generation, that really makes me excited.
HG: After you introduced the Shiragirl Stage, in what ways do you think gender equality and diversity improved at the Warped Tour over the years?
SY: There were more bands playing that main stage—female-fronted bands. Paramore, Echosmith, Tonight Alive, The Interrupters. It's great to see women in bands on every stage, not just my stage. Some people would say, "Oh, well. What do we need a girl stage for? That's segregated." But what people didn't realize is that without the Shiragirl Stage, those bands wouldn't have played the main stage.
We got to help increase the percentage of women on the Warped Tour stages. Before, even though you did occasionally see female-fronted bands, you rarely, rarely ever saw all-female bands until my stage.
HG: If Warped Tour had continued, what else could have been done to improve gender diversity at the festival?
SY: I think they could've put Shiragirl on the main stage. (laughs) I couldn't play my own stage, right? That was a running joke between me and Kevin. Like I said, I just would've liked to have seen more bands with more female musicians.
But it's not just a Warped Tour problem. People like to blame Kevin Lyman and say, "Well, why aren't you putting more women on stage? Why isn't rock radio playing a lot of women?" That's what you have to look at—the bigger industry. Kevin is a businessman; he has got to book bands that sell tickets. Well, what are the bands that sell tickets? Those are the bands that are assigned to labels, that are getting played on the radio. Those are the bands that are going on tours year-round, not just on Warped Tour. That are being invited by other bigger bands to play, you know?
So you have to be willing to look at the whole music industry—Warped Tour is just one slice of it.
HG: What else do you want our readers to know about inequality in the music industry?
SY: I want to continue the conversation about the trajectory of women in rock and the music industry. I love seeing bands like The Interrupters. They also recorded with Tim Armstrong—he produced their album—and they have a single that's climbing the rock charts right now. It's really great to see bands that you support living the dream. It's very inspiring. I tell Aimee Allen [from The Interrupters] all the time, I'm like, "Your success is inspiring to me. It tells me to keep going and never give up." She's been in the game a long time. So, yeah. Just to any aspiring female musicians, I'd say the same thing that Joan Jett said to me years ago: Keep going. Keep doing it.