This video of Britney Spears working out to "Fergalicious" is weirdly hypnotic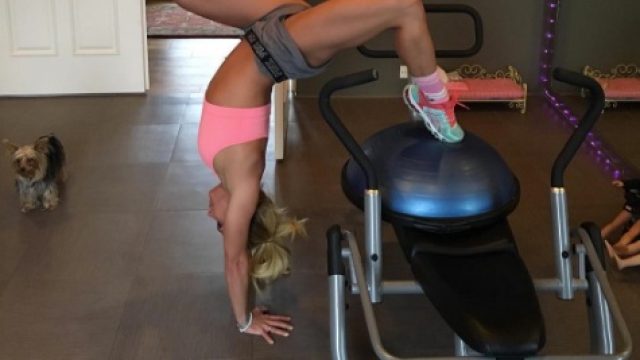 If there's one thing we love, it's Britney Spears. And if there's two things we love, it's Britney Spears and the Fergie classic "Fergalicious." So naturally, we're kind of losing it over Britney Spears working out while listening to "Fergalicious" (because we're people of simple pleasures, and no we won't apologize).
Brit Brit posted a video to her Instagram account of her lifting weights while donning black yoga pants and basically the cutest sports bra we've ever seen (it has a cat on it, and some digging tells us it's by Bombshell sportswear, fyi).
Not only is this 35-year-old mother-of-two KILLING it, but she's doing it to a beat. CHECK IT OUT:
https://www.instagram.com/p/BPqyxirAVH9
And even though Ms. Spears posted this a mere 12 hours ago, it's already been viewed well over a million times (guess we're not the only ones kind of obsessed with this mashup).
We'd imagine that performing multiple times a week in her Vegas show is pretty darn exhausting, so we're glad to see that Britney can take some time out for self-care. And this isn't the first time that she's wowed us with her physical prowess. Remember this:
OR THIS:
Dang. Excuse us while we go evaluate our life choices (because we're still not 100% sure we could touch our toes RN).
As always, thanks for the inspo, Britney! And please never stop gracing us with videos to obsess over. Thank you in advance.
H/T People