This student was shamed for not wearing a bra, which is clearly so messed up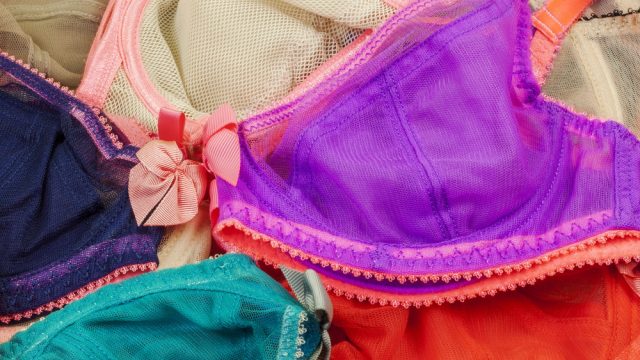 It's back-to-school season, which means that school dress code enforcers are out in full force. It doesn't help that it's still hot outside, so a lot students will be donning weather-appropriate tank tops and skirts that some school administrators will deem too distracting for math class. Actually, it's already begun. In Beaumont High School in Southern California, a girl got in trouble for not wearing a bra. Yes, because whether or not a student is wearing underwear will have a direct effect on their performance.
Remy Altuna lasted almost a full day in a scoop neck black bodysuit and jeans without getting "dress coded" by the security guards, aka, teachers who normally call out violations. But when she was in the vice principal's office getting a paper signed, an assistant vice principal told her to put a jacket on. "She said that my shirt was low cut. Then she asked if I was wearing a bra. She went on to say that because I wasn't wearing a bra, she didn't want people to think anything bad of me or talk inappropriately or have anything bad to say."
Beaumont's dress code policy does say that "tops must cover all parts of undergarments and shall not be low cut or revealing," though Altuna says that she didn't feel the neckline was *that* low or that she needed a bra with it. In any case, if she had worn a bra, the straps would have shown, and she would have been in trouble for that, too.
Remy said it wasn't so much the dress code violation that bothered her (although it did, obviously), but the reasoning behind it, according to that administrator. She reportedly didn't want anyone to "think badly" of her because she didn't have an underwire supporting her boobs? Let's all take a minute and acknowledge that women know when they need or want a bra or not, precisely because our bodies are judged constantly for what's appropriate. How many bodysuits with shelf bras have you doubled up with a bra for proper support? Or worried about your "side boob" in a slinky dress?
Well, a lot goes into that obsession, of course, but school dress codes and comments like this one aren't helping. If anything, the administrator sexualized her body right there in the vice principal's office. Altuna told Yahoo! News that the dress code police unfairly target girls.
"This year it just seems like they're really out for blood, looking for anything. It would be one thing if they were dress coding boys and girls equally, but she notes that girls have been the biggest targets, while the boys' violations, such as ripped jeans, are overlooked," she said.
It gets, worse, actually. Another girl at her school tweeted, "So today security heard a guy comment something sexual bc of my leggings & then tried to dress code me for it instead of talking to him?" Um, WHAT?
Instead of teaching boys by punishing girls for their comfortable clothing choices that women's bodies are "distracting" or "bad," maybe school administrators should focus on teaching the boys to pay attention to their school work and stop gawking or catcalling their peers in the hallway. Because this dress code thing does not work.