This spooky, heart-shaped candy box will warm your cold black heart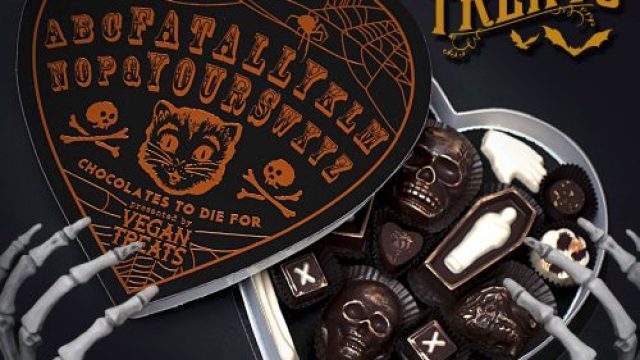 As the temperatures drop and all the ghosts of Halloween emerge to breathe their cold death upon us, it's important to find ways to warm the freezing cockles of our heart — and what better way than dessert?! The makeup connoisseur and tastemaker Kat Von D made it clear she also has sweets on the mind when she posted an Instagram photo of a Halloween-themed chocolate box from Vegan Treats. The Halloween-edition gourmet candies, known as the Fatally Yours Gourmet Chocolate Box, is packaged in a heart-shaped box with Ouija board print and features exquisitely molded vegan chocolates to both creep you out and stoke your senses.
The chocolates in this box will certainly fill the dessert void in your life, but will they haunt you with bigger voids?
Because they're limited-edition, orders for the Fatally Yours Gourmet Chocolate Box are filling up fast! If you absolutely must have these treats from the abyss, put in your order on the Vegan Treats website for the terrifying price of $115.
While the Halloween treat box this year is impressive, this isn't the first year Vegan Treats has gone all out!
Last year, Vegan Treats released a Fatally Yours Gothic Chocolate box that looked equally poisonous and laden with gold leaf.
Are these pricey skull chocolates what you need to warm the cold chambers of your heart? You better decide quick, because they're disappearing as fast as our mortality!