This Selena-inspired tee will remind you of those funny bikini shirts you get on the boardwalk
If you grew up in the '90s or have spent time visiting Venice, California or any beach really, you'll remember those funny tees with bikinis or lingerie drawn on them, making the wearer appear scantily clad and svelte. Well, those boardwalk shirts just got a Selena makeover, and we needed one last week. Thanks to Hot Sundae, we can have all of our Selena dreams true, no work involved.
The shirt features an image of one of Selena's classic styles, a black and silver busti-caca and a gold and pear chain link belt, giving one the instant star treatment. Simply slip on the soft cotton shirt and some bright lipstick to channel the singer herself, no workout or push up bra necessary.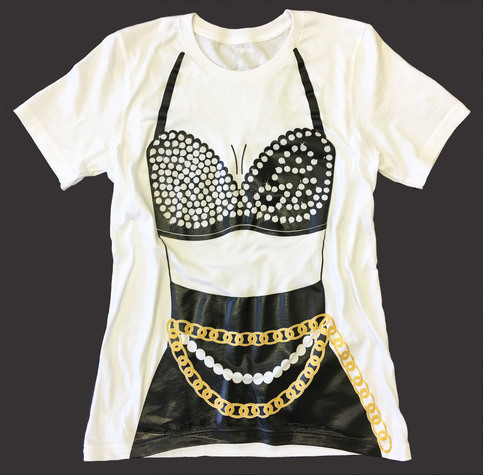 We're doing the washing machine, and jumping for joy.
The best part about this shirt is that it looks even cuter on. Even in a joking, boardwalk style way, this shirt has swagger. To finish off the look we suggest a bedazzled western shirt or a bolero, or even a pageboy or military hat.
You can also update the shirt with wide net fishnets or some cool sneakers.
https://www.instagram.com/p/BRbi9zYFazg
And when you order from Hot Sundae, you're also supporting a women-owned, local business. So not only can you feel iconic, but you can also support a woman whose mission is to help you feel like the queen! Selena would be proud.
Here's to our reina forever. You can shop the tee for $28, and other Selena-themed items, here.