This rainbow skull makeup puts a colorful twist on our fave Halloween look and we're dying to try it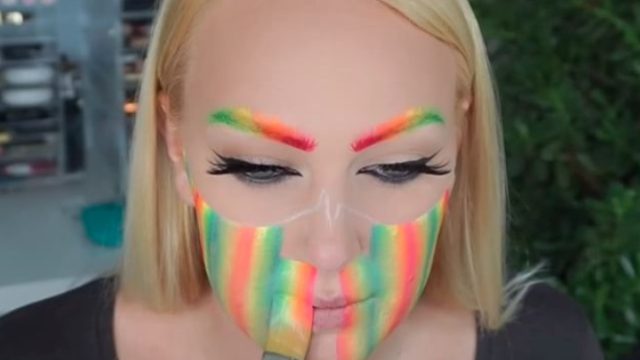 We have all the heart eyes for Halloween. It's seriously the best time of year for us to express ourselves through the most unique Halloween costumes and amazing Halloween makeup. And we're shouting TG for Halloween makeup looks that make it so much easier for us to make our ~spooky dreams~ a reality! This rainbow skull look by Jamie Lee is one of our new faves, and we can't wait to give it a shot.
Like, how amazing is this stunning rainbow skull look?!
https://www.instagram.com/p/BLQ8DKJAabr
She captioned the tutorial,
"Rainbow skull tutorial, will be attempting more Halloween looks this week."
Yes, yes, and yes. We love nothing more than an ah-mazing, head-turning Halloween mask look!
Here's how to get the look!
https://www.instagram.com/p/BL1yp8PgwEt
See? It's actually decently easy! And if you mess up, no worries. It's all in the spirit of Halloween.
She explained,
"Halloween look number 1...... I knew I wanted to do something colourful and a skull so I incorporated both!! I have never seen this been done before so thought I'd give it a go! Hope you like it my loves ❤️❤️💀💀"
And she continued with the inside scoop on what products you need, TG.
She said to use: "@dfxfaceart and @mehronuk face paint, @wonderlandmakeup powder foundation and pigment in diamond white, @lapaigetrends lashes in ONYX (new favourites), @anastasiabeverlyhills clear brow gel and number 12 brush for brows, @urbandecaycosmetics Gwen  Stefani palette for shading, @thebalmeu mad lash mascara."
We're taking notes!
And it isn't her only flawless Halloween look.
Like this killer pumpkin.
And this one that would be so perfect for an edgy vampire.
We're so grateful to this super talented artist for making our most vibrant dreams come true. We're ready to rainbow skull it up!