This pizza-themed makeup look is the most extra way to celebrate National Pizza Day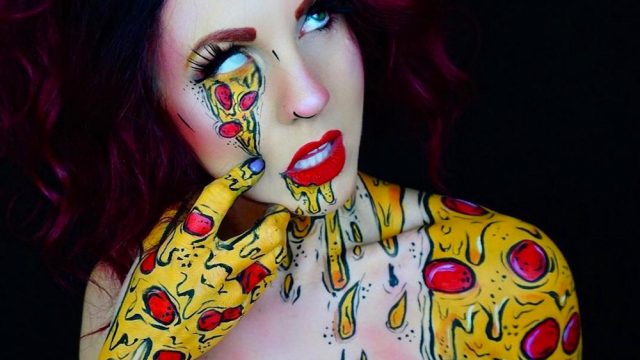 We have a serious question. Can every day be National Pizza Day? So that we can celebrate this glorious holiday on the daily by eating an entire pie with our pizza loving friends. We are so stoked that the beauty and fashion world is embracing true love, and by that, we mean our fave Italian dish. From pizza patches to pie-inspired nails, our love for the perfect meal can now be expressed in a myriad of ways. Makeup artist and body painter Corie Willet (aka @twistinbangs on Instagram), who is best known for her bejeweled skull makeup looks, always goes all out with her themes.
Corie came up with a pizza-inspired lewk that is super extra, and we aren't just talking about the cheese.
Inspired by fellow artist and pizza enthusiast, @deladeso's gooey art, Corie turned herself into our favorite triangle shaped superfood.
She used a combo of readily available favorites like Sugarpill Cosmetics and NYX, mixed with a combo of industry faves like Ben Nye and Mehron to create the epic look. Tbh, pizza makeup is actually really beautiful and it's making us oddly hungry.
Will you theme your makeup for National Pizza Day? We are already breaking out the yellow and red eyeshadows!