This photo of two women kissing at a Trump protest went viral, and it's bring serious tears to our eyes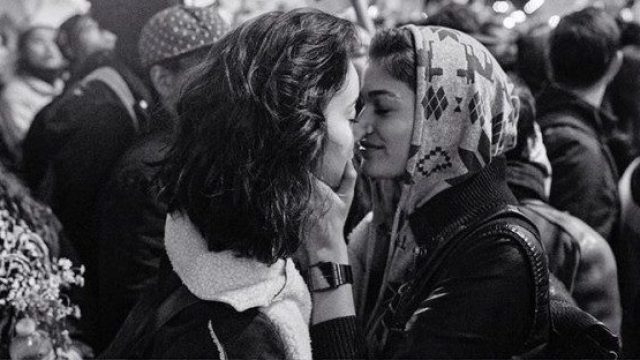 This has been a trying time for many people, so when small moments of hope arise, we're flooded with relief. And this is one such moment. A photo of two women kissing at a Trump protest went viral, and it's seriously the most beautiful thing we've seen in ages. Especially when you consider the damaging effect Trump could have on the LGBTQ+ community, this photo is especially revolutionary. It's a moving, tender moment, and one that will likely be remembered for a long, long time as a staple of the anti-Trump protests.
So what was behind the viral picture? Photographer Hennessy Vandheur explained,
"walking in the trump protests last night in manhattan was absolutely incredible. this was probably my favorite moment from the entire night and i'm happy to have been there to capture it."
https://www.instagram.com/p/BMo__0VDV0Q
"love in the midst of chaos and uncertainty. we stand together, against the hate in this country right now - and nothing will put out the fire in our hearts. i stand with our brothers and sisters, POC and LGBTQ, women, immigrants, and everyone else whose lives and well-beings trump endangers. #lovetrumpshate"
According to BuzzFeed News, the two women kissing at a Trump protest featured in the shot are Laura Hetherington and girlfriend Giovanna "Jo" Barba.
Hetherington explained,
"Protesting was just as much about coming together and providing support and emotional understanding for each other."
And that's a message we can definitely get behind.