This makeup artist's MAC Fix Plus hack is an easy and amazing way to get a glowy finish
There's no wrong way to use MAC Fix Plus spray. We've seen it used to prep skin, set powder, and moisten Beauty Blenders. Makeup artists use it on brushes before grabbing shadow to add intensity, and we've even been known to spray it on our faces midday to revive makeup and feel a lil fancy. (Try it, it's diviiine!)
One makeup artist has a hack for Fix Plus spray we haven't seen before. By mixing shadows and pigments with Fix Plus, MUA Joelle Phillips creates custom sprays with ALL THE GLOW.
In a now deleted post, she showed off some of her concoctions. She's pretty much got it down to a science and we are taking notes.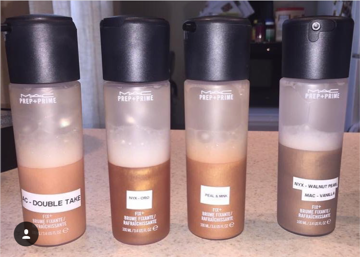 What makes this DIY even cooler is that she isn't just using pricey pigments. We spy NYX Loose Pearl Shadow in Oro and NYX Walnut shadow making cameos in Joelle's custom sprays.
Check out her glowy Fix Plus sprays in action
We've got big BIG plans for this DIY. We're thinking of making two versions, a lighter mixture for face and a more concentrated option for our body. Maybe a peachy version to compliment the Too Faced Sweet Peach collection or something with a little rosiness that'll work with the MAC's Year of the Rooster collection?
Oh yeah, it's going DOWN.