The "This Is Us" showrunner explained why Jack died *that way* and we're horribly sad all over again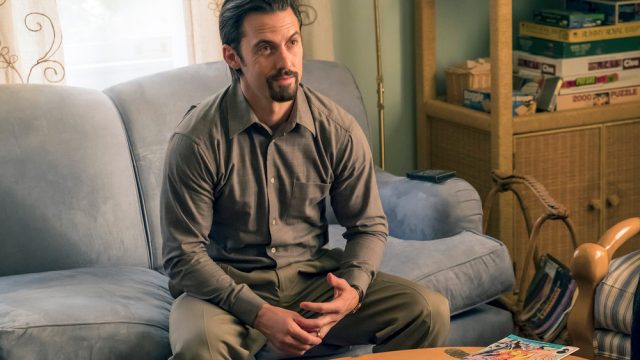 As much as it hurt to say goodbye to the world's best father and husband, Jack Pearson, we knew it eventually had to happen. We also know it's time to pick ourselves up and (try to) carry on, just as the rest of the Pearson family did. But that doesn't mean we're going to stop wondering why Jack had to die the way he did on This Is Us.
Thankfully, we do have some answers on that front. Speaking to Entertainment Weekly, Dan Fogelman — the brilliant mind behind the NBC family drama — answered our burning (no pun intended) This Is Us questions.
Namely, the series creator explained that the death itself was meant to happen in "a really small way," and that was the idea from the get-go.
"When I started to write this thing, in my mind's eye, there was a fire at the house that the patriarch of the family heroically got the family out of the house, and then died in a really small way, without proper cinematic good-byes, hours later in a hospital by himself," he said. "And that was really the plan from 'go.' So we were always writing towards that."
He added that they always knew Kevin wouldn't be around for the fire, and that "the fundamental parts of the fire were always firmly entrenched," but the details — like final conversations with Jack — were fleshed out later on.
That in mind, it makes sense that he would want the way Jack actually dies — in the hospital, and not in the fire — to happen in a quieter way.
"The show is about the little stuff," he adds. "We don't normally live in a space where Jack's running, holding a mattress over his daughter in a flaming building. Normally, it's two people having conversations in a car.
"And that's kind of how we wanted to attack the death of our major character here — let it live in the really small, quiet, regular moments. I think we were really successful at that, and I think that's because of the way Milo and Mandy played that last scene — and then what Mandy does in that final scene is so crazy."
So now that we finally know the reasons behind how Jack's death played out and how that terrible, terrible day went down, we can start preparing for the new era of This Is Us.
This Is Us returns to NBC on February 27th — plenty of time to (attempt to) recover.