This couple had a "This Is Us"-themed wedding photoshoot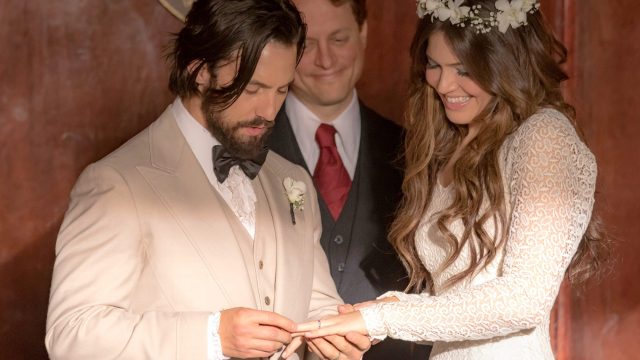 NBC's This Is Us came into our lives and reminded us how beautiful (and tragic) true love can be. Now that the first season is over, we're missing "The Big Three," but most of all, we're missing Jack and Rebecca's magical love story. Fortunately for us and for fans everywhere, one couple's decision to have a This Is Us wedding photoshoot is giving us something to hold on to until the Pearsons return.
Wedding photographer Karen Rainier recruited real-life couple (and Rebecca and Jack's doppelgängers) Peter and Emily to recreate some of the most romantic and iconic moments from the This Is Us wedding. And the end results are so perfect you might end up craving your very own magical TV-inspired love story.
Grab your tissues and scroll through Karen's Instagram to see what we mean.
Like most of us, Karen has been obsessed with the show since the first episode premiered and while speaking to Cosmo.com, she had this to say,
"Sometimes it is good to stretch your creative wings, and I had been trying to come up with a completely unique wedding inspiration shoot that hadn't been done yet. It seems like a lot of the wedding blogs have been publishing the same styles over and over again. So instead of drawing inspiration from colors or popular wedding trends, I decided to look outside my industry for inspiration. When I saw the episode of This Is Us where Jack and Rebecca get married, it hit me right then and there that I had to do it."
From there, she worked with an awesome team to make sure all the details were just right. From Rebecca's vintage-inspired lace dress to the perfect towel — we think they nailed it!
The photos are beyond gorgeous and will definitely make the hopeless romantic in all of us a little happier. We can't wait to see what happens next season on This Is Us.